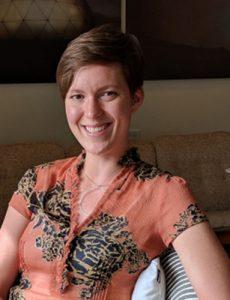 Stephanie Edwards
Alumni,
---
Profile
---
"At Western I got to work with professors and people from all over the country. This made for a more holistic understanding."
The summer of 2017 was a time of new beginnings for Stephanie Edwards. She began work towards Western's M.A. in Art, Gallery Management and Exhibits Specialization (MGES, now MGMM) soon after her son Clayton was born.
"I remember coming home from the hospital and I had to read all the materials for the practicum still," Edwards said. "I had a four-day-old baby and I remember turning the pages while I was nursing him."
Attending the practicum itself required some logistical creativity. Edwards, along with her newborn son, her husband, and their two other children lived in one of Western's residence halls together.
"I did practicum with a two-week-old nursing baby at my side," Edwards said.
The low-residency master's degree program was an ideal opportunity for her to acquire the knowledge and experience she needed to move forward in her career. Today she is an associate curator for Nine Dot Arts, an art consultation and curation firm in Denver. She is also a committed advocate for artists.
As an undergraduate student, Edwards studied sculpture. She realized along the way that her interests lay in a different area of the art industry. Rather than become a professional artist, she wanted to focus on "the narrative and choreography of curation and exhibition design." Advocating for artists became an important part of her undergraduate experience, carried through her career and factors in her future goals.
A friend who happened to be a student of Western Art Professor Heather Orr heard about the MGES program before it was officially "live."
The program intrigued Edwards.
"It was one of the only degrees specialized in both curatorial studies and the art business that was accessible to me at that time," Edwards said. As a new mom, the remote learning option made it possible for her to earn her degree without leaving her young family behind.
Early on in the MGES program, Edwards interned at Black Cube, a Denver-based experimental art museum. During that time she determined she wanted to acquire "a versatile set of skills to be a curator who's an advocate in my art eco-system in Denver."
While in the program, MGES Grosland Director Jeffrey Taylor approached her about an internship opportunity with Nine Dot Arts. It was an ideal fit for her interests and skills. Edwards began a part-time internship in August 2017. By January she was hired as a full-time employee, and earlier this year she was promoted to associate curator.
"We represent clients and create a vision or narrative for their brand story through artwork," Edwards said.
In addition to her work as a curator, Edwards actively advocates for local artists. She regularly coaches artists on an individual basis for free, helping them prepare portfolios or review submissions. She is even working toward converting a portion of her home into a space for art exhibitions or possibly an informal artist residency.
She values her Western experience because of the opportunity to work with professors and students from all over the country.
"Having the opportunity to work with people from a variety of different experiences and places helped me connect to art communities I wouldn't otherwise have had access to," Edwards said.