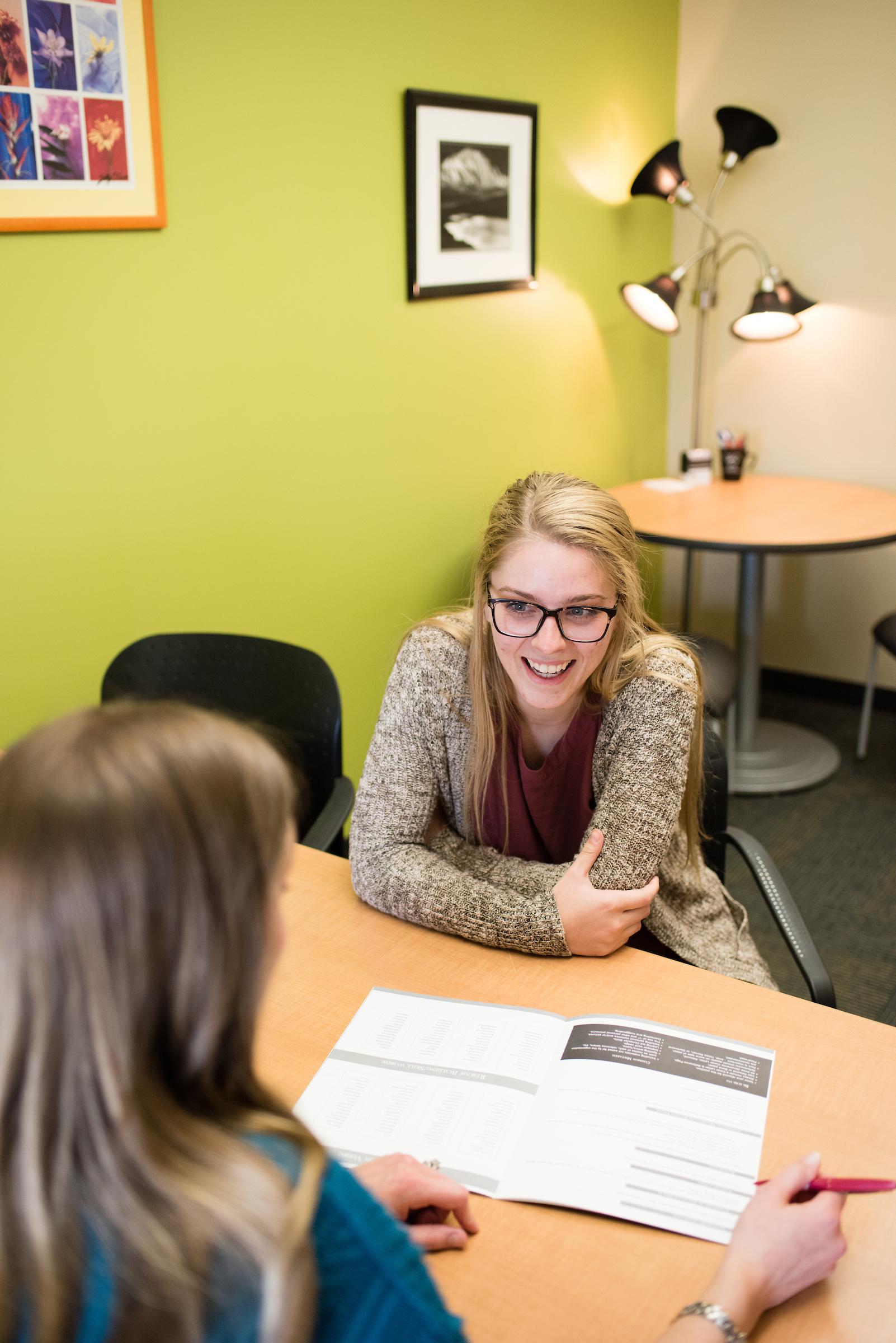 Forge your path.
Career Services will help you assess your strengths and provide the tools you'll need to forge your path to personal and professional goals. As a Mountaineer, we know you're an adventurer, pioneer, and entrepreneur – career services is here to help.
Learn More
Getting ahead
A Western student faces interviewers in a mock graduate school interview.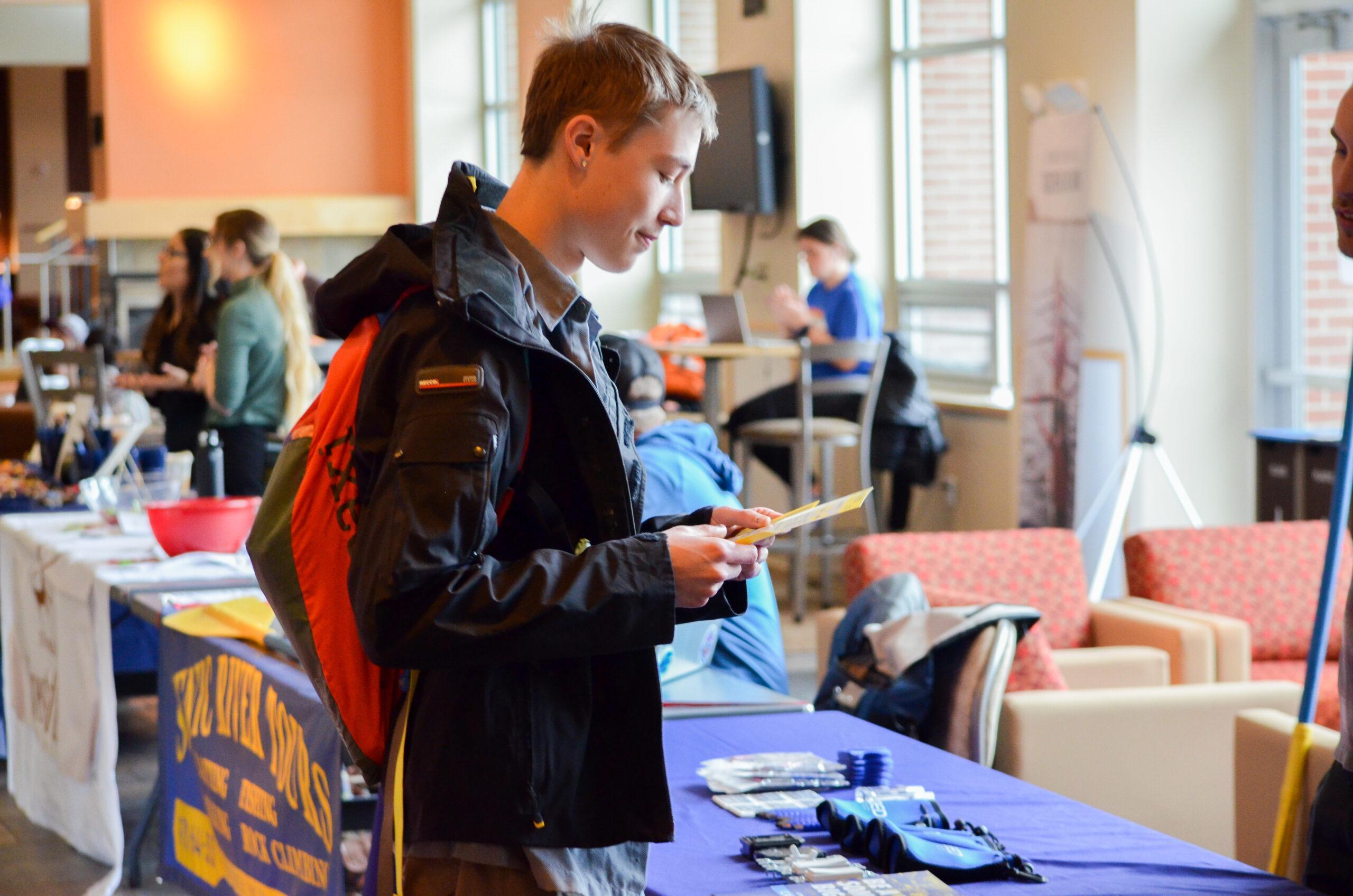 Hire at Western.
Western's Career Services office supports students and alumni at all levels of career development. We work with students individually and in group settings to develop the knowledge, attitudes and skills to envision, plan and execute successful internship and job searches.
Learn More
Finding top talent
Western student speaks with employer at a recent career fair.

Handshake connects Western students, employers and alumni.
Whether you are a student, employer or alum, Handshake is your hub for building connections, finding jobs and internships, growing your team, and beyond. Learn more and get started below. For help with the platform, check out the Handshake Help Center or contact us.
Use Handshake to schedule appointments with Career Services, search for jobs and internships, register for events and more. No need to request an account; new student accounts are created automatically after you register for classes. Getting started is easy:
Use your Western email credentials to log in and activate your Handshake account. Some basic information will already be populated for you.
Fill out your profile as completely as you can to get the most out of Handshake, including AI-powered job recommendations and improved visibility to employers.
When you are happy with your profile, upload a current résumé and make your profile public so employers can start finding you!
Start searching for work-study positions, jobs and events, or participate in the Handshake community for insight and advice from other students from all over the country.
Contact Career Services if you'd like help with your profile or feedback on your résumé prior to uploading.
If you already have a Handshake account, simply add Western Colorado University. If you are new to Handshake, create your Handshake account and request to connect with us when prompted. Your free account allows you to post jobs and internships, create events targeted to Western students, register for career fairs and more.
On-Campus Employers
Western faculty and staff who plan to hire on-campus positions through Handshake should create an employer account using their employee email address and then join the appropriate departmental Handshake account. Start typing "Western Colorado University" when prompted to find university accounts and search the list for your department or office. If you don't see an appropriate department account, contact us to create one for you.
Work-study Program
Off-campus organizations and companies who would like to hire students through the work-study program will require additional documentation and permissions to post work-study positions. After creating your employer profile, please contact us to be sure you are approved to post these types of positions.
Western alumni get access to Handshake for life. Depending on when you graduated, the way that you access Handshake may differ.
New Graduates
Your Western credentials may remain active for a few months after graduation. If you are a recent graduate, use your Western credentials to log in to Handshake. If you are unable to log in using these credentials, see the next section.
Graduates from May 2017 to Present
If you provided a permanent email address on your graduation application, then an alumni account has already been created for you. To log in:
Navigate to Western's Handshake login page.
Click on "sign in with your email address" below the large "Sign On" button.
Enter your permanent email address and click "Next."
If your email is associated with an account but you have not set a password before, you will be prompted to do so. If you have set a password before but have forgotten it, you can reset it from this screen.
If your email is not associated with an account, please do not create a new account. Please follow the instructions in the next section.
Graduates Prior to 2017 and Alumni without a Permanent Email on File
Contact Career Services and we will be happy to set up or update your account for you. In your message, please include your full name, maiden name (if applicable), major(s) and graduation month/year. Be sure to send your message from the email address that you would like us to use for your account.
Have questions or need help? Contact us anytime.
Information for Job-Seekers
The office of Career Services at Western Colorado University posts job and internship opportunities for the convenience of our students. Western does not endorse or recommend employers, and a job or internship posting should not be interpreted as an endorsement or recommendation. Western makes no guarantees or warranties about job and internship postings or the accuracy of information provided by employers in those postings. Western is not responsible for wages, working conditions, safety or any other aspect of off-campus employment without limitation. Students engaging in a job or internship search are responsible to perform due diligence in researching potential employers, including researching the history and reputation of each organization to which they are applying. Any job seeker, including Western students, should use prudence and common sense when applying for or accepting any employment or internship offer.
Look for relevant information
Visit the company website. If the company does not have a website, or if the website does not appear to match the advertised position, be cautious. Take note of how "professional" the website looks and look for specific pieces of information that you would expect on any corporate or organizational site: Is there specific contact information? Are jobs and internships actually posted to the website itself? Can you find a physical address that is verifiable via Google Maps?
Check Consumer Services
The Better Business Bureau and the Federal Trade Commission track formal complaints that have been lodged against businesses.
Check the Company's References
Request a list of other employees or contractors, then reach out to those people to discuss their experience with the company. If a company is not willing to share references you should consider it a red flag.
Be Skeptical of Any Employer that Requires You to Pay Fees
Most legitimate employers will not charge applicants to apply or to accept a position. Do not send money for employment directories, hiring advice, company information, application fees or anything else related to a posted position. Some legitimate internship programs require placement fees, but remember that Handshake and other free databases are available to help you find internship opportunities.
Never give an employer information about your bank account, credit cards or other electronic payment accounts.
Do not register for direct deposit before your first day of actual work.
Do not "wire" funds or send payment by courier (e.g., UPS, FedEx, DHL) using a personal account.
Follow your gut. Do not reply to any posting that seems suspicious. Remember, if it seems too good to be true, it probably is.
In general, never agree to pay a fee to obtain a job or internship without consulting with trusted individuals first. While some fee-based programs are legitimate, most are scams designed to separate you from your money.
Review Salary/Payment Information
Be sure you understand the terms of payment prior to accepting any position. Ask if the position is paid via hourly wage, stipend, salary or commission, and how often you will be paid. Pay extra attention to any position that is unpaid.
Office of Career Services
Campus Location
Western Colorado University
University Center 122
1 Western Way
Gunnison, CO 81231