Western Board of Trustees announce Brad Baca to be 15th President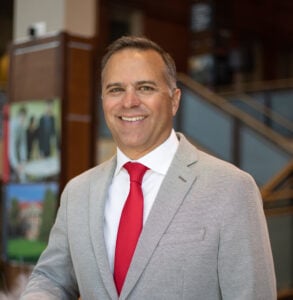 Brad Baca is the 15th President of Western Colorado University. He joined Western in 2002 as Vice President for Finance and Administration. In 2013-14 he served as interim President.
During his time at Western, Mr. Baca has developed a reputation as creative and trustworthy, someone who can convene stakeholders, facilitate problem solving, and accomplish complex goals. Whether it is leading campus-wide strategic initiatives, serving on a statewide task force, or representing Western at the State Capitol, Mr. Baca has always demonstrated passionate stewardship of Western's mission and values and a strong dedication to student success.
Prior to joining Western, Mr. Baca served for over three years as Director of Budgets for the Colorado Community College System. He also served as a budget and policy analyst on the staff of former Colorado Governor Roy Romer.
As a rural Colorado native and a first generation Hispanic student, Baca earned a B.A. degree in Government from Dartmouth College in Hanover, New Hampshire. He also earned an M.A. in Public Policy from the University of Colorado-Boulder, focusing on education policy.
Baca lives in Almont with his wife Julie, a Western alumna, and their four children. He is an avid outdoorsman and enjoys spending time with his family mountain biking, skiing, camping, fishing and bow hunting.