Welcome to the President's Office of Greg Salsbury, Ph.D.
Congratulations on finding one of the greatest little institutions in higher education today. This school in the heart of the Rocky Mountains has been attracting academically adventurous students for more than a century, but in the last couple of years some incredible things have caused quite a few more candidates to check us out.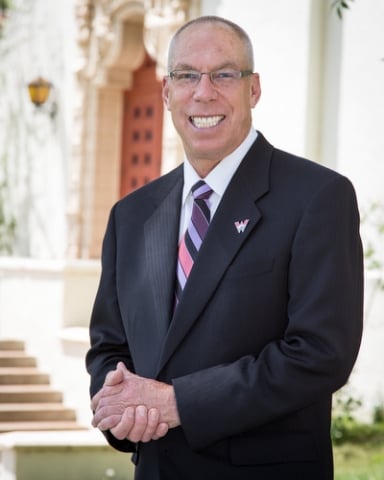 We have a number of new undergraduate and graduate programs that are making headlines. One is our new Paul M. Rady School of Computer Science & Engineering, which is funded by an $80 million gift. Launching alongside the new school is a partnership with the University of Colorado Boulder, allowing students to complete the first half of their education as Western Colorado University students and the last half as CU students. This allows them to graduate with a CU diploma without ever leaving Western Colorado University's Gunnison campus. Another new program is our Outdoor Industry MBA, the only one like it in the country.
All of our programs are taught by dedicated professors who will ensure you'll graduate with a deep understanding of your subject, prepared to enter the professional world and ready to contribute meaningful work to your field.
Western Colorado University offers an intimate, customized educational experience on a campus of approximately 3,000 students. Eighty-seven percent of our faculty hold the highest degrees available in their fields of study, and with an average class size of 18, our students and professors know each other on a first-name basis.
Academic rigor, a personalized approach to each student's goals and the surrounding environment define the Western Colorado University experience.
Mountaineers leave Western Colorado University with a huge family of close friends they develop as part of our robust and diverse student life. With more than 50 student-run clubs and organizations on campus, students don't have to compete with throngs of others to be officers in student government, host a show on the campus radio station or travel to New York to represent Western Colorado University in the National Model United Nations.
Our students learn in a hands-on environment, where academics are enhanced by our Rocky Mountain location and small classes. Whether they're heading into the field to study Petroleum Geology or building a business plan for a local retailer, Western Colorado University's one-of-a-kind location is a huge plus.
I hope you explore all we have to offer, starting with this website. To learn more about Western Colorado University, visit the Admissions webpages or email admissions@western.edu.
Of course, the best way to learn about Western Colorado University is to visit us here in Gunnison. I hope you and your family will come by my office in Taylor Hall to say hello when you're on campus.
If we can answer questions you have, or if you have suggestions about how we can improve, please contact me personally.
Gregory B. Salsbury, Ph.D.
President, Western Colorado University
970.943.2114