We are here to prepare students in the School of Business to graduate with the professional skills and experience necessary to be competitive and competent applicants in the job market. Whether you have just declared as a Business major or you are entering into your final classes, there are many advantages to utilizing this resource.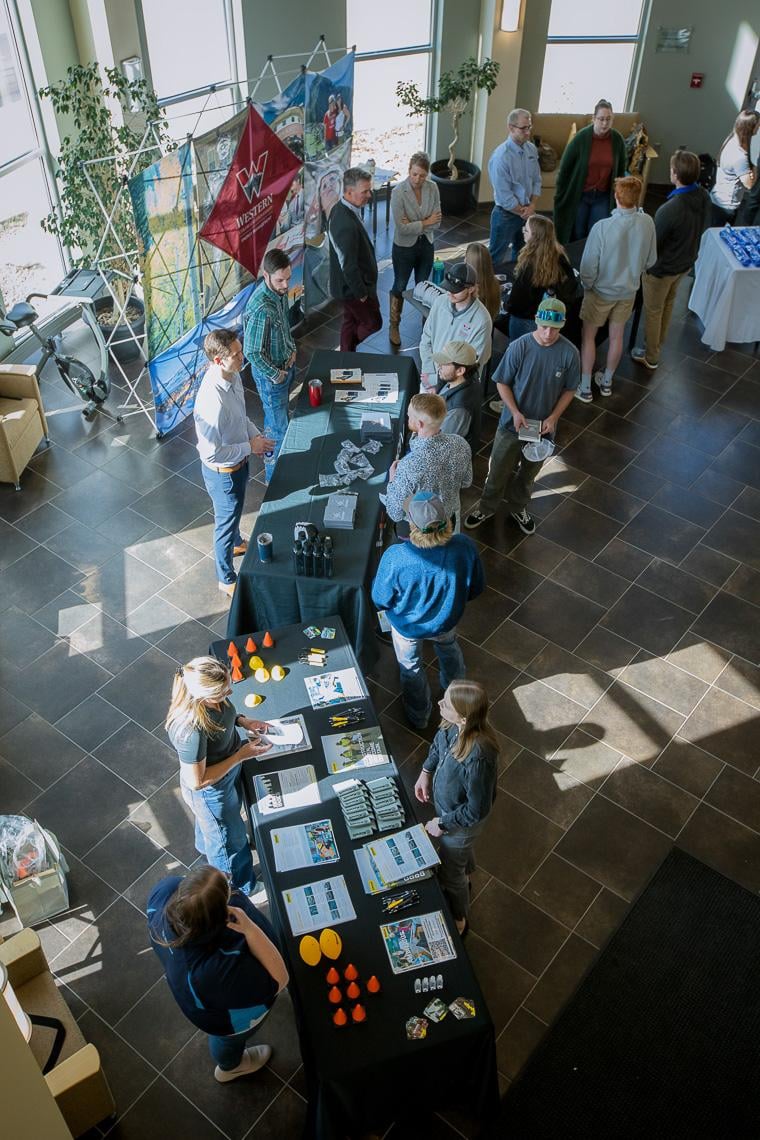 Providing you with the resources and industry experience to succeed.
The Office of Career Success provides guidance for professional development through available on and off campus resources, workshops, events, career counseling, and career related document critiquing. We leverage new and existing relationships with Western alumni and professional networks to provide internships and employment during and after a student's time in the School of Business at Western.
Contact Us
Resources to help you succeed
Western students attend one of many annual career fairs in Borick Business Building.
Handshake: Jobs & Internships
Your resource for internship and job opportunities
Students
Use your Western credentials to login to Handshake and claim your profile. Once logged in, we encourage you to upload your resume, complete your profile, and make your profile public so employers can find you. Contact Career Services if you'd like help with your profile or feedback on your resume prior to uploading.
Employers
If you already have a Handshake account, simply add Western Colorado University! If you are new to Handshake, create your free Handshake account and the request to connect with Western Colorado University. Your free account allows you to post jobs, internships, and events targeted to Western students.
Alumni
Western alumni also get access to Handshake! If you are a Western alum and would like to access Handshake, simply register your free account online and you're good to go.
Login to Handshake
The office of Career Services at Western Colorado University posts job and internship opportunities for the convenience of our students. Western does not endorse or recommend employers, and a job or internship posting should not be interpreted as an endorsement or recommendation. Western makes no guarantees or warranties about job and internship postings or the accuracy of information provided by employers in those postings. Western is not responsible for wages, working conditions, safety, or any other aspect of off-campus employment without limitation. Students engaging in a job or internship search are responsible to perform due diligence in researching potential employers, including researching the history and reputation of each organization to which they are applying. Any job seeker, including Western students, should use prudence and common sense when applying for or accepting any employment or internship position. 
Look for relevant information
Visit the company website. If the company does not have a website, or if the website does not appear to match the advertised position, be cautious. Take note of how "professional" the website looks, and look for specific pieces of information that you would expect on any corporate or organizational site:  Is there specific contact information? Are jobs and internships actually posted to the website itself? Can you find a physical address that is verifiable via Google Maps?
Check Consumer Services
The Better Business Bureau and the Federal Trade Commission track formal complaints that have been lodged against the company.
Check the Company's References
Request a list of other employees or contractors, then reach out to those people to discuss their experience with the company. If a company is not willing to share references, you should consider it a red flag.
Be Skeptical of Any Employer that Requires You to Pay Any Fees
Most legitimate employers will not charge applicants to apply or accept a position. Do not send money for employment directories, hiring advice, company information, application fees, or anything else related to a posted position. Some legitimate internship programs do require placement fees, but remember that Handshake and other free databases are available to help you find internship opportunities.
Never give an employer information about your bank account, credit cards, or PayPal account.
Do not register for direct deposit before your first day of actual work.
Do not "wire" funds or send payment by courier (e.g., UPS, FedEx, DHL) using a personal account.
Do not reply to any posting that feel is suspicious. Remember, if it seems too good to be true, it probably is.
In general, never agree to pay a fee to obtain a job or internship without consulting with trusted individuals first. While some fee-based programs are legitimate, most are scams designed to separate you from your money.
Review Salary/Payment Information
Be sure you understand the terms of payment prior to accepting any position. Ask if the position is paid via hourly wage, stipend, salary, or commission, and how often you will be paid. Pay extra attention to any position that is unpaid.
The School of Business Office of Career Success is here to help you reach your goals.
Preparing for the world of work goes beyond having the degree. Start perfecting your professional skills now to make an easy transition into the internship or job you desire.
Tips & Resources
Get Involved in campus activities.
Join clubs and organizations.
Take on leadership positions.
Participate in internship opportunities.
Gain work experience related to your career interests.
Resumes, Cover Letters and Interviewing
The Office of Career Success is here to help you put your best face forward when it comes time to apply to internships and potential jobs. Your cover letter and resume are the first opportunity to make a positive impression and to highlight to employers your qualifications for being a good addition to their team. Make an appointment to fine tune your resume, create a cover letter, and discuss the vast networks of alumni and professional organizations that The School of Business has as resources to you.
Request assistance
For more information contact Western's Director of Career Success:
Kim Ribich
School of Business, Borick Building Room 216
970.943.3006
kribich@western.edu
Recruit from the School of Business at Western Colorado University to find career-ready professionals.
Schedule interviews
We invite you to schedule on-campus interviews and information sessions with students studying in the School of Business. We will work with your scheduling needs and will be happy to market your presence on our campus to our students.
Post a job or internship opportunity
We invite you to schedule on-campus interviews and information sessions with students studying in the School of Business. We will work with your scheduling needs and will be happy to market your presence on our campus to our students.
Get started
For more information contact Western's Director of Career Success:
Kim Ribich
School of Business, Borick Building Room 216
970.943.3006
kribich@western.edu
Internship & Career Placements
The following businesses and Mountaineers have connected through The Office of Career Success
School of Business – Career Success
Campus Location
Western Colorado University
Borick Business Building 216
1 Western Way
Gunnison, CO 81231