There are several questions to ask when visiting colleges that can help determine if a university is the right fit for you. Selecting a university is a major decision, so it's important to do your due diligence before committing to a school. Whether you need clarification on academics, campus culture, financial aid, career opportunities, or anything in between, representatives on-campus should be able to answer your questions so you can make an informed decision. Discover some of the best questions to ask when visiting colleges like Western Colorado University below:
How to Plan College Visits
Wondering how to plan college visits? College visits are one of the most immersive ways to get a feel for a university. It's also a great time to meet with current students, academic advisors, and other faculty to get answers to all your questions. Western provides campus tours throughout the year so you can visit the area, see the facilities, meet students and faculty, and learn about the programs.
On top of that, we also offer preview days, which are full-day events that give you a glimpse into life as a Mountaineer. Visitors can get one free night of lodging in Gunnison (while supplies last) and spend the day on campus to attend academic program fairs, department presentations, tours, club fairs, and more. By the end of the day, you can get all your questions answered and see if Western is the right fit for you.
Questions to Ask When Visiting Colleges
Academics
Academics should be the first priority if you're wondering what questions to ask when visiting colleges. Your university should offer rigorous, well-rounded coursework that prepares you for a career in that field. This usually comes down to well-structured programs, great professors, and hands-on academic support. Some questions you should ask about academics are:
Who are the best professors at the university/in this program?
What is the student to faculty ratio?
When do I graduate if I opt for an accelerated degree program?
Where do I go if I'm struggling in a class?
Why is the curriculum for this program organized this way?
How are classes hands-on and engaging?
Culture
What is this campus community like? University culture impacts nearly every other aspect of your academic experience. Finding a good culture fit is a great way to make like-minded friends, work in the right academic environment, and explore exciting hobbies and opportunities. Some questions you can ask about campus culture include:
Who do I go to if I want to join or start a club?
What are the best food spots on and off campus?
When are some fun campus events during the semester?
Where are the best spots to hang out and meet people on campus?
Why did you choose this university?
How can I make the most of my time here?
Explore Student Life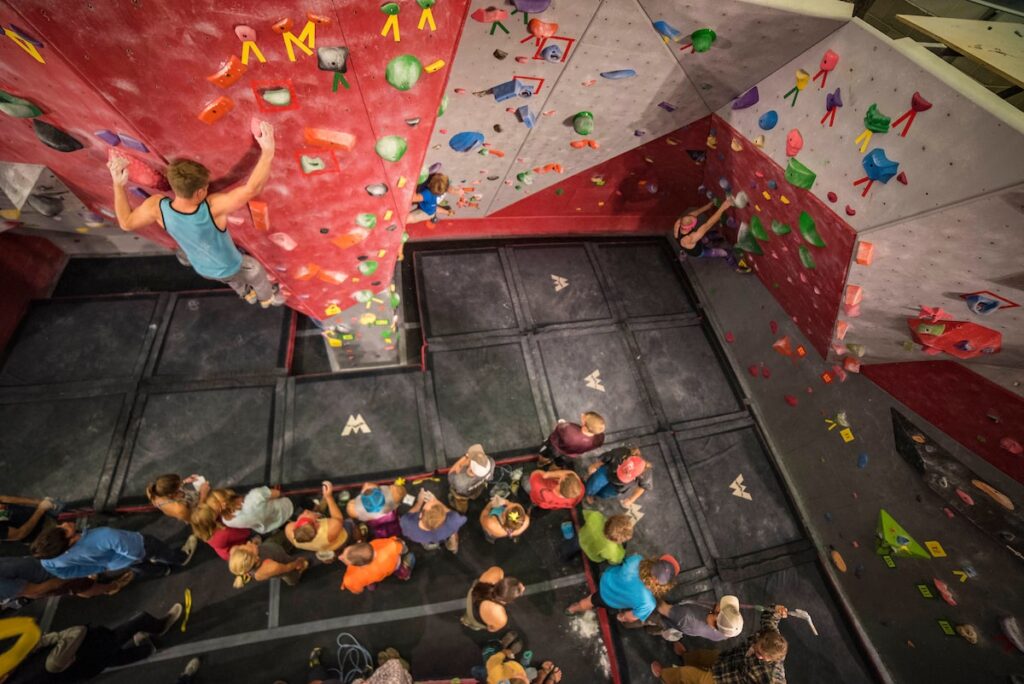 Activities
What's happening on and off campus? Whether you're an adventurer, a gamer, an athlete, a traveler, or anything in between, activities are a key component of a great college experience. It's how most people make their friends and stay busy during the week. Some questions you could ask about activities are:
Who can I talk to about joining a sport or team?
What do students do for fun on the weekends?
When can I sign up for clubs and organizations?
Where are the nearest ski mountains/hiking trails/swimming spots?
Why is this town/region an exciting place to live?
How else can I get involved and meet new people?
Amenities
What facilities, services, and other amenities does this college offer? This can speak a lot to the value you get out of a campus. Outdated or unavailable spaces, technology, and equipment can get in the way of your learning, training, and fun. Some questions you can ask about campus amenities include:
Who do I talk to if I'm having computer/tech issues?
What are the dorm and housing options like?
When is the best time to go to the gym and what equipment is there?
Where can I rent gear for climbing, boating, etc.?
Why should I join a mentorship program?
How easy is it to get around campus? Is it safe?
Explore Residence Life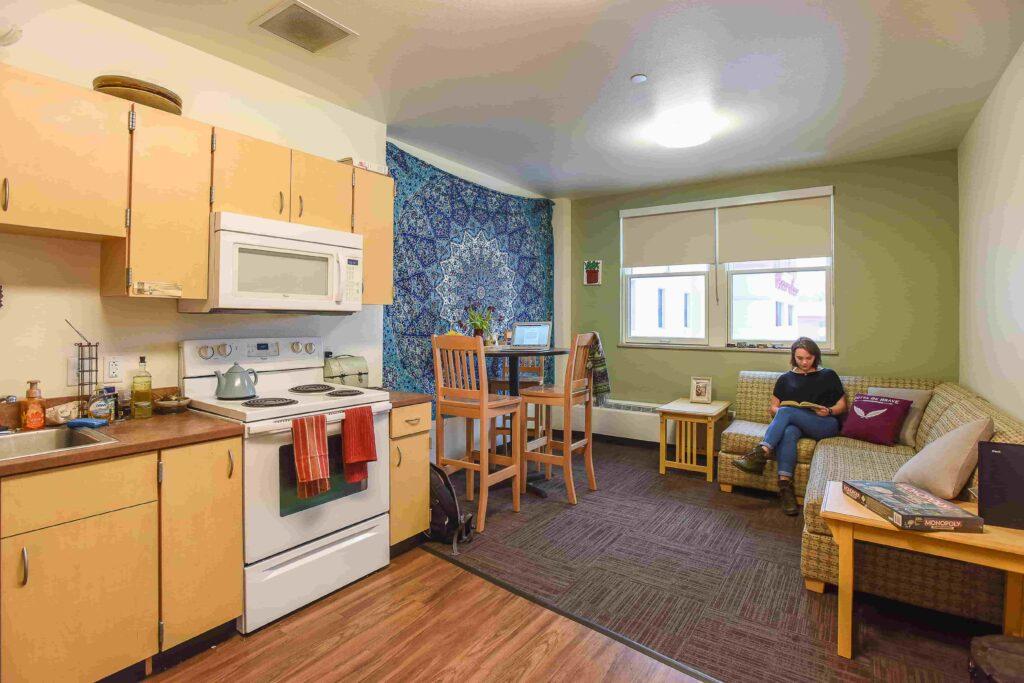 Aid
College is a major investment, but you shouldn't have to handle the cost on your own. At universities like Western, there are tons of opportunities to make school more affordable. Speaking to an advisor can unlock scholarships and other financial aid that significantly bring down the cost of education. Some questions to ask about financial aid include:
Who can I speak to about financial aid and scholarships?
What are some scholarships that apply to me or my major?
When do I need to fill out the FAFSA/scholarship applications by?
Where can I learn about scholarships and financial aid online?
Why is this major/program a good investment in my future?
How can I minimize my student debt post-graduation?
Initiatives
College is a time to get involved and put your energy toward causes that you care about. Luckily, universities like Western make a point to empower students with clubs, organizations, and even direct funding to support various initiatives on campus and in the community. Some questions that you can ask about on-campus initiatives are:
Who can I go to if I want to recommend a new campus initiative?
What does this college do to support sustainability on campus?
When is the club and organizations fair?
Where in the community can I get involved in volunteering?
Why does this major make an impact on the community?
How does this university support minorities and LGBTQ+ communities?
Career Prep
Ultimately, you go to college to equip yourself with the skills and credentials to build a great career. The coursework, faculty, and services should support this effort at every step. Career preparation topics are some of the most important questions to ask when visiting colleges, because it can determine a lot about your future. Some questions you can ask about career prep include:
Who are some successful alumni that graduated this program?
What kind of career paths can I expect from this degree?
When is the best time to get an internship?
Where on campus can I get help finding an internship or job?
Why do students choose this major/career path?
How does Career Services support me pre- and post-graduation?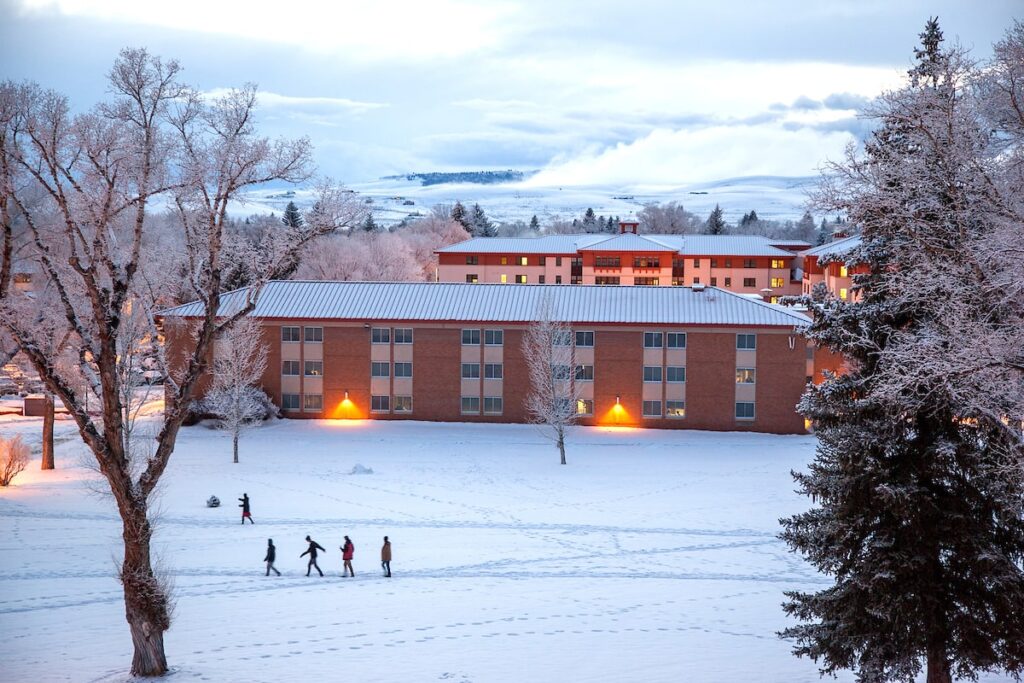 How to Plan College Visits to Western
Wondering how to plan college visits to Western? Schedule a campus visit to Western today to see what an education in the heart of the Rocky Mountains has to offer. As part of your tour, you can attend information sessions, speak with faculty, and more. Don't have time to make the trip yet? Explore Western remotely through our virtual tour to see important spots throughout campus and in Gunnison.
Questions to Ask When Visiting Colleges: Get More Answers
If you have other questions that you need answered about Western, you can always schedule a virtual counselor meeting. This connects you with a specialized Admissions Counselor/Recruiter to discuss all things academic at Western. Want to hear first-hand what it's like to be a Mountaineer? Schedule a virtual student meeting to talk about courses, campus culture, activities, and more.
To discover how to become a Mountaineer, check out our admissions resources and apply today.