Scouting for colleges in Colorado can be one of the most exciting times in one's life. It can feel like you are on the edge of possibility as you begin your search for an undergraduate program in your desired field of study in a place that inspires you. When it comes to pursuing the college that is ideal for you, it is always best to head straight to your campus of choice to get a real sense of what college life is like there. Colorado is rich with natural wonders, the striking Rocky Mountains, and a unique history in the west that has people flocking to the state. It also has universities throughout the state, which has motivated students around the world to continue their education here.
College Tours at Western Colorado University
At Western Colorado University, we pride ourselves on offering a balanced experience that combines cutting edge facilities, personal guidance, and a combination of academic merit, hands-on research opportunities, and an inclusive student experience. A memorable college experience is well-rounded and provides students with intellectual, physical, and creative opportunities to set you up for success. Here, we share the best practices when it comes to Colorado college tours, like speaking with current students and faculty, knowing what facilities and resources are available to students and understanding your financial aid opportunities.
Quick Resources:
Speak with Current College Students
For an honest and detailed account of what life is really like at a college campus, there is no better resource than current students. Their feedback comes from lived experiences about their academic opportunities, social life, and outdoor pursuits that provide prospective students with a strong sense of what their new life could look like. During many college tours, you connect with current students where you can share your inquiries and listen to their feedback and experiences.
At Western, we promote the personal and professional growth of our students to prepare them for leadership roles in their local, national, and global communities. Our students have a unique opportunity to pursue their academic interests while living in the stunning Gunnison Valley in Colorado's Rocky Mountains, which offers world-class skiing, hiking, biking, and mountaineering pursuits. Plus, our emphasis on diversity and inclusion means students from all around the world can find their place in our open-minded college environment that helps you actualize your potential and reach for success.
Connect with Faculty and Staff
Leadership begins in the classroom. The faculty and staff that students interact with during their studies can immensely impact their overall education and the direction of their careers. It's not just about the content of the subject matter you are studying, but the professor's methods of teaching, demonstrating and communicating that can make all the difference during your academic pursuits. During your college tours, consider asking about the opportunities to connect with professors in your field of interest and to speak with staff to get a clear understanding of their approach and teaching style.
Explore our undergraduate programs that cover 110 areas of study, from social and natural sciences to the arts and humanities.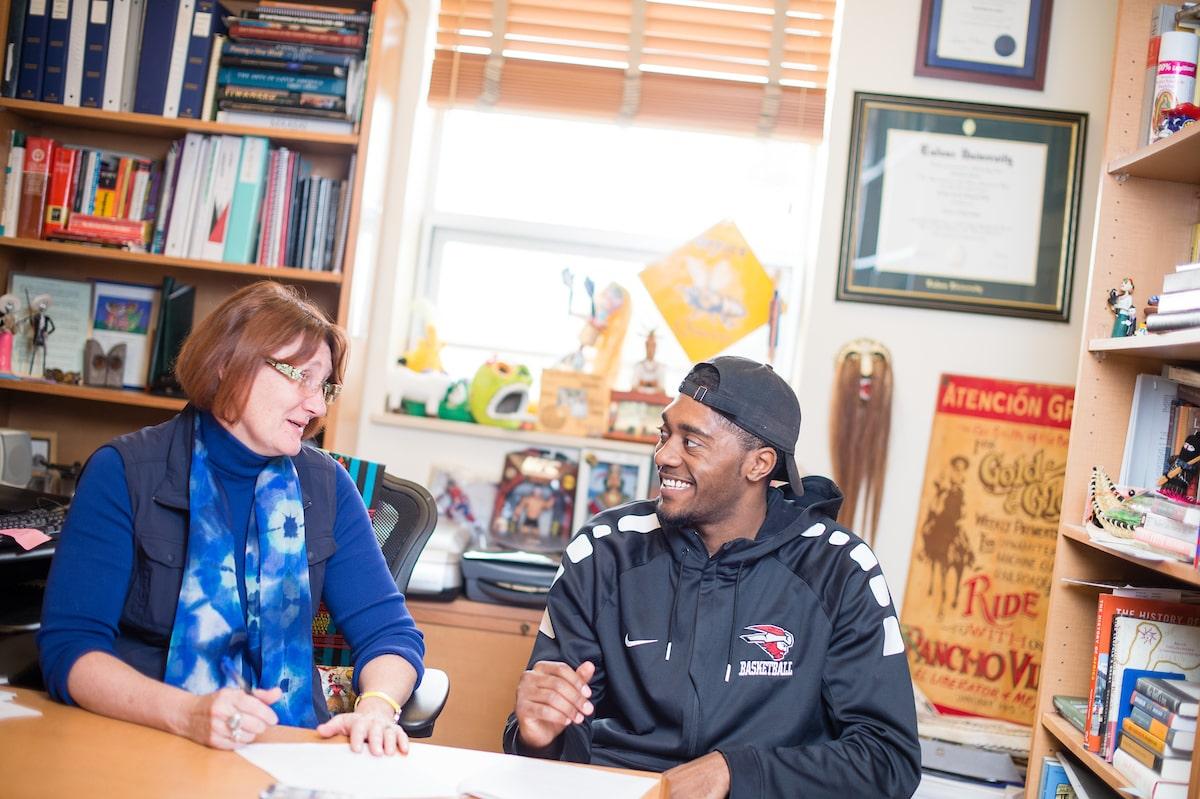 Student Experience and On-Campus Facilities
Before making one of the most important decisions in your life, it's best to feel confident and inspired by the commitment you are saying 'yes' to. When planning your Colorado college tours, whether that is in the southwest of the state, the Mile High City, or somewhere in between, you will want to get a strong sense of the campus and facilities offered. This may include a library, lecture halls, dining halls, student centers, research centers, laboratories, media rooms, leadership opportunities, career services, and, of course, on-campus living options. These resources available to students can enhance their social, educational, and overall lifestyle. Think about what's important to you and make a list of questions to ask when visiting colleges.
Getting a strong sense of the student experience is essential when deciding what college you will attend. During your Colorado college tours, consider how the campus is laid out, class schedules, and faculty hours. This provides students with a sense of what their day-to-day campus experience will be like and how they can plan their days with balance in mind. In addition, they should consider what extracurricular activities are available like sporting events, artistic pursuits, as well as what the nearby town provides, including entertainment, dining, and culture.
Discover Western's exciting Center of Learning and Innovation opportunities for engaging experiences to help you discover your passions.
Admissions and Financial Aid
When selecting a program that is right for you, one of the most important factors to consider is a college's admissions process and financial aid opportunities. Let's be honest, this is an investment into your future that should be approached with thoughtfulness to the details. During your Colorado college campus tours, ask about the application requirements, admitted student checklists, and orientation. You may also want to speak with staff in the admissions and financial aid departments directly so that you have a clear understanding of what is available to you, the resources you will have access to, and the financial responsibilities you will have as a student.
At Western, we aim to nurture your individuality and potential by making the application process holistic and transparent. Our Financial Aid Office is committed to helping you navigate your journey from the very beginning throughout your entire time as a Mountaineer student.
Tune in to Western's College Tour Episodes
At Western, we pride ourselves on the community we foster that is intended to help every student build a purposeful future. What better way to experience our campus than to watch our College Tour episode that details real-life stories and experiences of our current students? The 30-minute episodes are aired on Amazon Prime and provide prospective students with an insider look at what it's really like to live as a Western Mountaineer. We dive into themes like experiential learning and sustainability, what it's like to live in the Gunnison Valley, as well as specific programs like the School of Business — all directly reported from those who are already pursuing their degree here.
Experience Western via a Virtual College Tour
When deciding what undergrad school is right for you during your Colorado college tours, getting a sense of the campus is important. Although it is ideal to visit the campus you are interested in and speak with faculty directly so you can get a strong sense of the place and the people, traveling to every college campus you are pursuing can be an expensive and time-consuming process. Taking a virtual college tour is the next best option when you're early in your decision process. For those who can't make an in-person tour work, Western offers a virtual college tour option as a preliminary tool to help guide you through the Colorado campus.
For questions related to your program, the admissions process, and financial aid, we recommend scheduling a virtual session with a Western Admissions Counselor. They will remotely walk you through the admissions process, answer any program-specific questions, and point you in the right direction to make the most informed decision.
We know that you will have a list of questions you are eager to get answered. Everything from on-campus housing to dining options, to outdoor pursuits and campus culture inquiries. To get those experiential questions answered by an actual student, we suggest scheduling a virtual student meeting. Western Student Ambassadors are here to answer your questions, so you understand what we are all about. All you need to do is select the day you're interested in a session or tour, and we work with you to accommodate your schedule.
Check out our virtual tours at Western and discover if we're the right-fit university for you.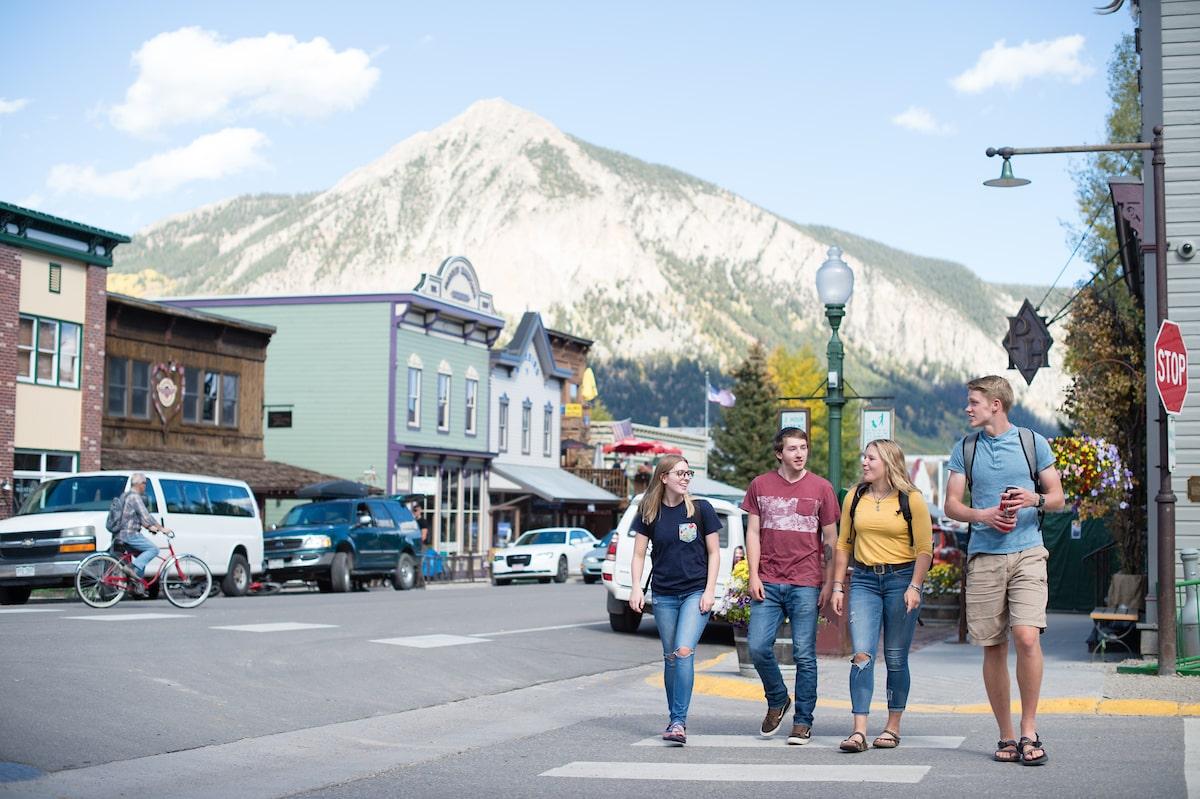 Check Out College Preview Day
For an immersive on-campus experience at Western, consider joining us for our seasonal Preview Days where prospective students can experience a full day of activities, including a welcome session with the president and a full tour of our sprawling campus in the heart of the Rocky Mountains. For those who have the time and interest, we offer a complimentary free night of lodging in the nearby town of Gunnison. This overnight college visit can be either the night before your Preview Day or after, just make sure to provide your preference when registering.
Discover if Western is Right for You: Schedule a Colorado College Tour
At Western, we are known for our hands-on learning experiences, small classroom sizes, inclusive attitude, diverse programs, and a high graduate employment rate. Student life is enhanced by the beauty and outdoor pursuits just steps from campus while the town of Gunnison provides a safe, cultural, and social environment for students to have a well-rounded college experience. With over 100 areas of study and accelerated degree programs available, we support students to have an immersive education paired with awe-inspiring adventure.
Plan your campus visit to Western to discover what student life in the heart of the Rockies could offer you.