You're academically driven and prefer an intimate classroom setting with attentive professors. You enjoy world-class adventures and seize every opportunity to apply your knowledge outside of the classroom. You've done the hard work and decided that Western is the university for you—now you just have to apply to your program of choice. We know that the admissions process can seem overwhelming. We're here to help you every step of the way.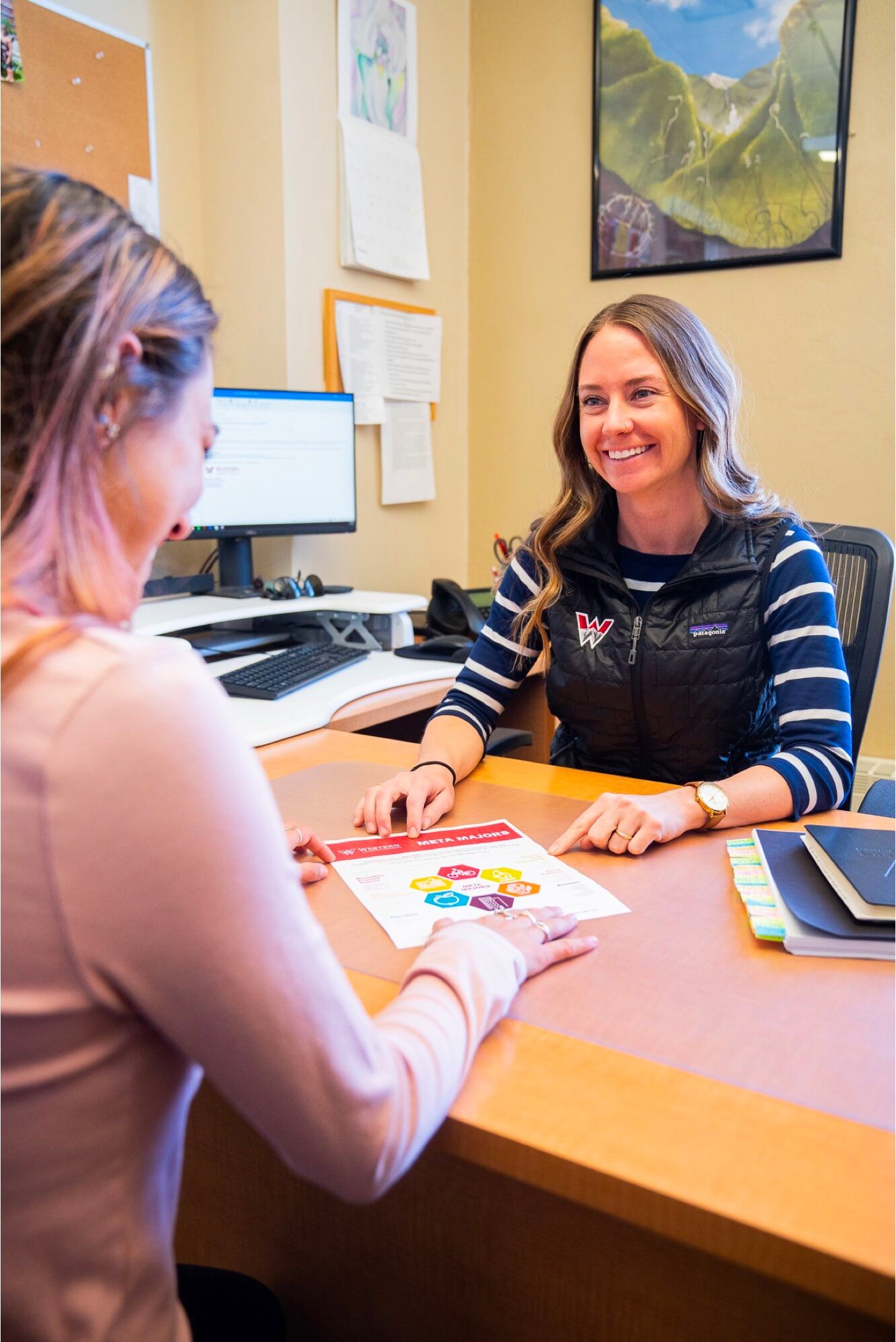 Start your journey at Western.
Western Colorado University offers a dynamic blend of academic excellence, unique experiential learning opportunities and world-class adventures. By nurturing your individuality and potential, we'll support your pursuit of a prosperous future—starting with your application to Western. Akin to our values, our application process is holistic and transparent. Our WCU Financial Aid office is committed to helping you navigate your journey now—and throughout your time as a Mountaineer.
Set up for success
We understand that applying to a university can be daunting, which is why our admission process is straight forward. We are committed to helping you apply to your program of choice with confidence and ease.
Explore key dates for application and admissions.
To find information about important dates and deadlines for incoming students, please select a drop-down option below:
August 1, 2022: Apply to Western
The earlier, the better.
Western uses a rolling admissions policy, which allows students to apply at any time. The earlier you're accepted, the better you're set up for housing, classes and financial aid. Apply now.
October 1, 2022

: Complete FAFSA
Before you do:
a. Student and parent create FSA IDs (Federal Student Aid)
b. Compile student and parent 2020 tax info
c. Set aside approx. 1 hour
d. Western's school code: 001372
The Free Application for Federal Student Aid (FAFSA) opens October 1, 2022 and makes you eligible for grants, loans, scholarships and work-study. Start your FAFSA.
Once accepted to Western, you're considered for merit aid.
Visit western.edu/cost to learn whether your GPA qualifies you for a merit scholarship. If not, your state of residence could qualify you for 150 percent of in-state tuition via the Western Undergraduate Exchange (WUE) or Central Plains (CP) discount programs. Learn more about our tuition discount programs here.
December 1, 2022: Tentative Award
Look for this starting early December 2022.
You'll receive a tentative award in the mail, which is a first look at your estimated financial aid. Estimates include eligible scholarships, grants, work-study and loans.
March 1, 2023: FAFSA Priority Deadline
Submit by March 1, 2023, for best award.
To optimize your eligibility for loans and grants, fill out the FAFSA at fafsa.gov by the March 1, 2023, priority deadline.
Note: After the priority deadline, you can still submit a FAFSA, although without priority status.
March 15, 2023: Official Award & Checklist
Look for this starting mid-March 2023.
Once you've been accepted and completed a FAFSA, you will see your award by mail and Western email. Included will be the Financial Aid Checklist containing important instructions: how to accept full or partial loan amounts, complete entrance counseling and loan agreements.
April 1, 2023: Apply for scholarship opportunities
Western's Scholarship Application portal allows you to search for, apply to and manage your scholarship opportunities. This platform houses over 300+ departmental and privately funded scholarship opportunities available to both new and returning students. Through the scholarship portal, students may identify scholarship opportunities based on academic program, campus involvement, academic standing, specific keywords and more. Students may click below to begin learning about what scholarship opportunities are available to them.
You can apply for scholarships after being admitted to Western and creating your MyWestern account. Please note you do not need to commit to Western before applying for scholarships.
You must create your MyWestern account and student email address before you can apply for institutional scholarships:
You will need your six digit student ID. You can find your ID in your application portal, the acceptance letter you received in the mail, or you can contact Admissions at 970.943.2119 or admissions@western.edu.
Visit western.edu/activate. Use "stu######" (stu and your student ID) to create your account.
Look for the email from admissions@western.edu sent to the address you used for your admissions application with instructions on what to do next. Be sure to check your spam/promotions folder if you don't receive this email in your inbox.
Access to apply for scholarships through the portal is open through April 1.
Please check individual scholarship opportunity start dates and deadlines as there are exceptions.
View Scholarships
Note: For information about all Western scholarships, visit our Scholarships page.
May 1, 2023: Submit Tuition & Housing Deposits
Join the Mountaineer family.
Pay your tuition and housing deposits to lock in your place among Western's Class of '27. Class registration opens May 1, 2023. Tuition deposit must be submitted to take the registration survey, which is the key to building your first class schedule. Western's housing survey becomes available in March; deposit by then to select a roommate.
July 1, 2023: Receive Statement of Charges
A first look at your actual charges.
You'll receive your statement of charges in the mail or view it via MyWestern in early July. Take time to read carefully. Don't be alarmed when scholarships, grants and loans aren't applied right away; they disburse August 12, 2023.
First day of classes: Tuition Payment Due
Deadline: First day of classes
After your aid disburses, you can pay your bill in full or set up monthly payments throughout the semester. Pay or set up a payment plan via your MyWestern account or by calling, emailing or visiting the Cashier's Office:
970.943.3003 | cashier@western.edu | Taylor Hall 314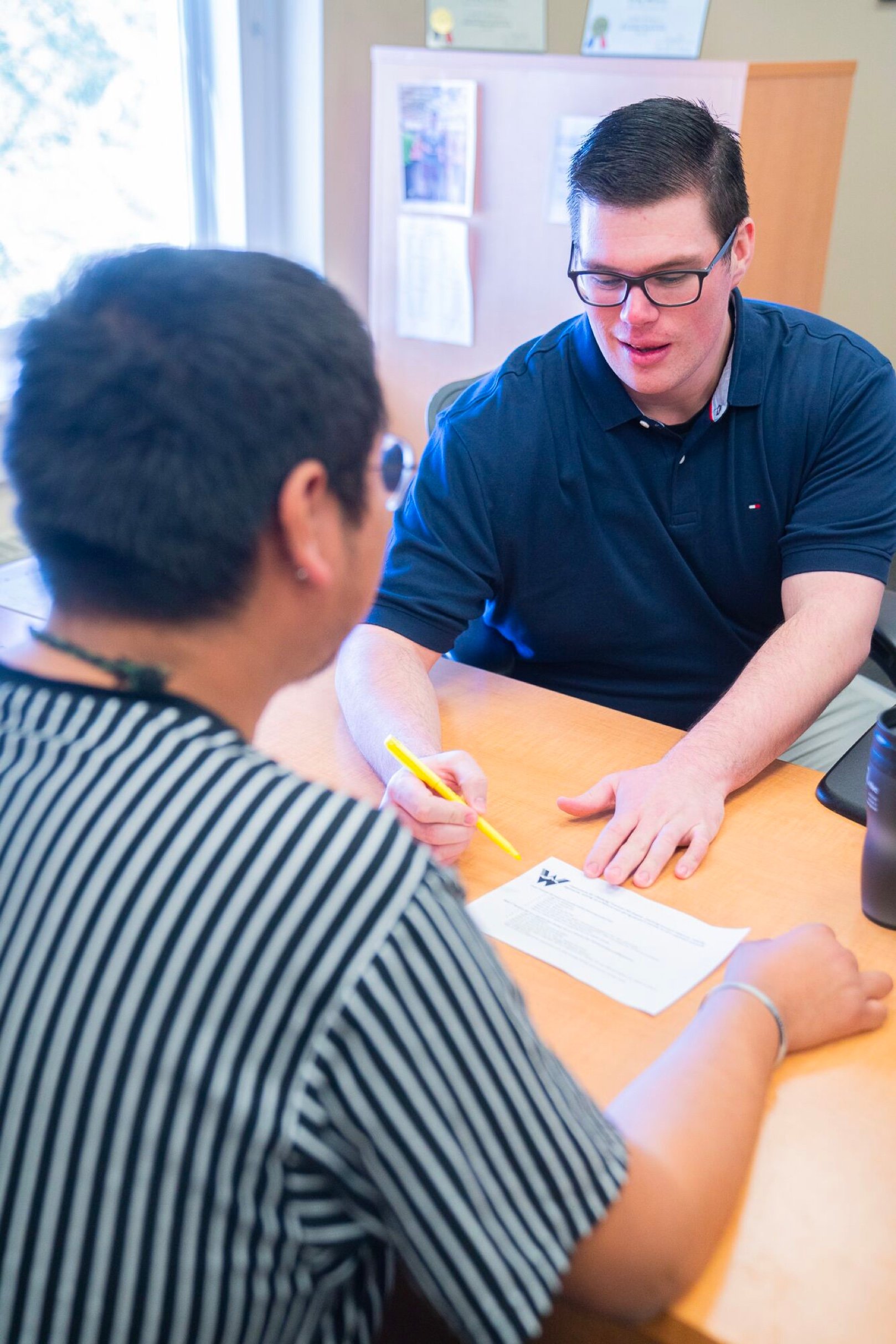 College is expensive, we're here to help.
At Western, we know that managing the investment in your college education can seem overwhelming. That's why we offer a variety of different options for financial aid—to make your education affordable. Our knowledgeable staff in the Financial Aid Department is here to help you navigate your options for financial assistance and support you throughout your academic journey to graduation.
Financial Aid
Navigating your options
We've helped thousands of students finance their education through a combination of scholarships, grants, loans and work-study programs.
2022-23 Tuition and Fees
To help you navigate your financial investment, below is a breakdown of tuition and fees based on residency status. Our expert team in the Cashier's Office is also here to help you and your family learn everything you need to know about your financial investment. We provide professional and personal services to ensure that you have clarity about tuition, fees and financial aid opportunities, so you can focus on thriving academically.
| Direct Cost | In-State | Out-of-State |
| --- | --- | --- |
| Tuition | $6,936* | $18,960 |
| Required Fees | $3,877.10 | $3,877.10 |
| Optional Fees | $250 | $250 |
| Double Room | $5,304 | $5,304 |
| Board (15-meal/week plan) | $4,982 | $4,982 |
| Total Annual Cost | $21,349.10 | $33,373.10 |
| Indirect Cost | In-State | Out-of-State |
| --- | --- | --- |
| Books & Supplies | $1,350 | $1,350 |
| Miscellaneous | $1,521 | $1,521 |
| Transportation | $1,665 | $1,665 |
| Total Indirect Cost | $4,536 | $4,536 |
| Total (Direct + Indirect) | $25,885.10 | $37,909.10 |
Tuition costs are subject to change. For a breakdown of tuition costs per credit hour, email cashier@western.edu.
Also, please be advised that some departments have course specific fees. This may increase a student's due balance depending on the classes they enroll in each semester.
Tuition and Fees cost breakdown:
2022-2023 In-State Undergraduate
2022-2023 Out-of-State Undergraduate
NOTICE:
*Reflects that the College Opportunity Fund (COF) stipend has been applied. Register for COF at cof.college-assist.org. Visit western.edu/finaid for more information. Total In-State tuition without COF is $10,056.
**Optional fees include Mountaineer Field House ($200), Renewable Energy ($30) and Scholarly Activity ($20). For information about waiving these fees, email cashier@western.edu.
***For information about options on housing and meal plans, visit the Residence Life room and board rates page.
Get a detailed picture of your estimated expenses and see if you qualify for a merit scholarship.
Immediately upon acceptance at Western, you'll be considered for a merit scholarship based on GPA. To determine whether you qualify for a merit scholarship, complete the first section of the Net Price Calculator, which will take less than a minute.
To get an approximate overall cost of attendance if you are a full-time student, pursuing your first undergraduate degree beginning fall 2022, complete the entire Net Price Calculator. You will need to have some information about you and your parent's most recent tax returns. This will take approximately five minutes.
Please note that this calculator is for estimates only. The actual award package will vary depending upon the time of year, regulatory and institutional policy changes, availability of funds, actual test scores and academic information, as well as verifiable financial information.
Calculator for First-Year Students Calculator for Transfer Students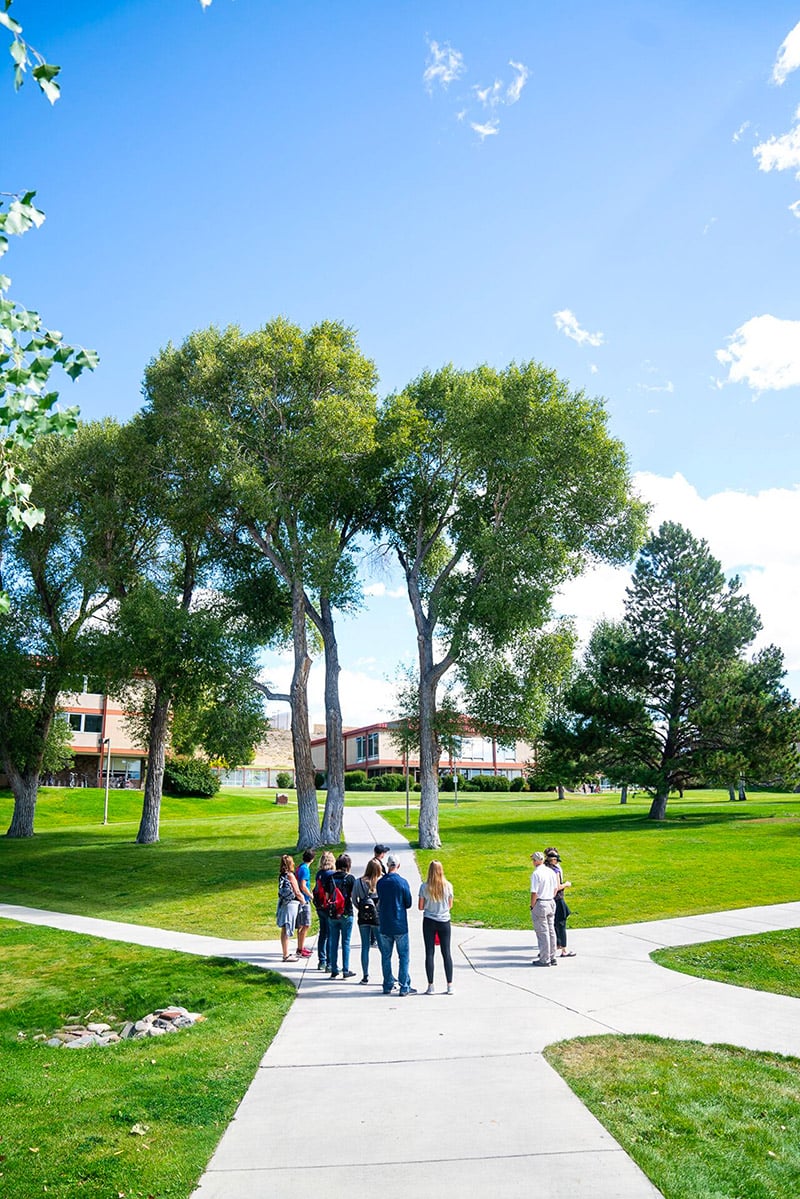 Experience all that Western has to offer.
A visit to campus or virtual tour are great ways to experience all Western has to offer. Our faculty, staff and student ambassadors are eager to help you explore your academic interests and career goals. Experience what makes Western an innovative and unique institution. Don't miss your opportunity to see what it's like to be a student at Western.
Visit Western
Experience Western
We offer many ways for you to explore the Western campus including group tours, virtual tours, preview days and more.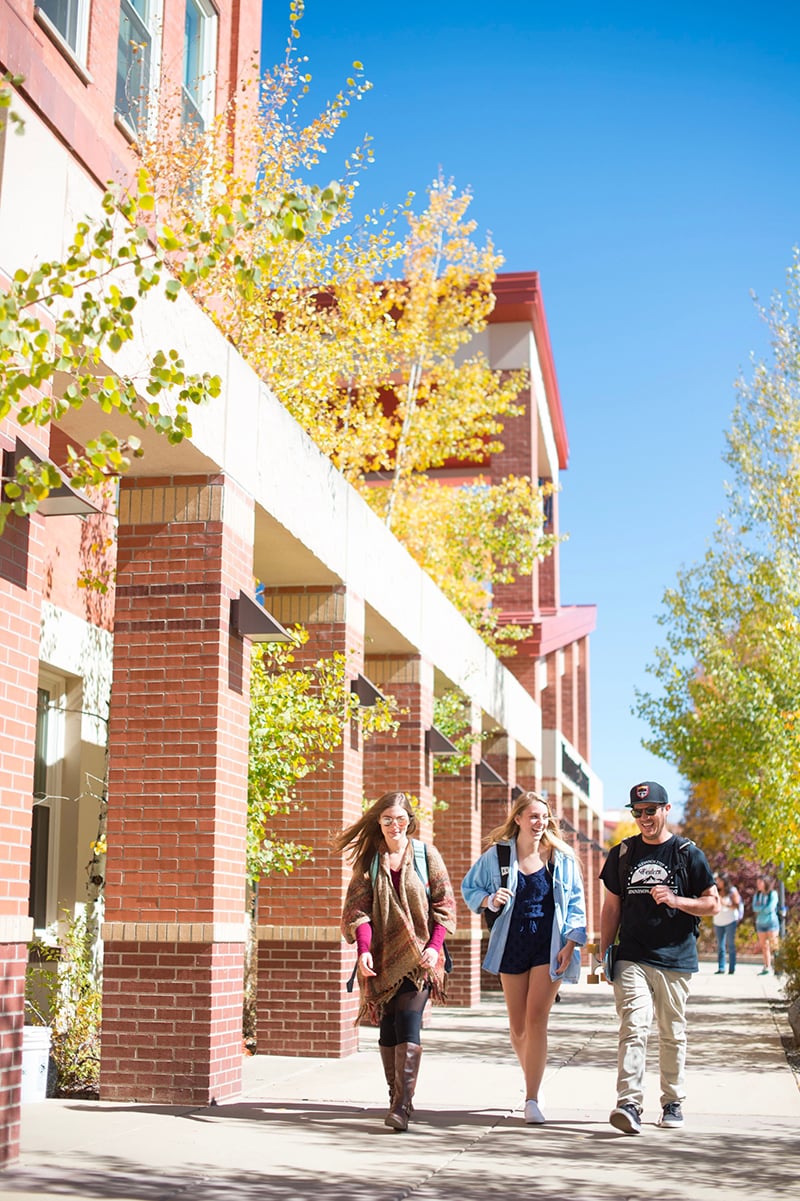 Welcome Mountaineers.
Congratulations on becoming a Mountaineer! At Western, we know that you'll find the perfect blend of academic excellence, unique opportunities for experiential learning, an inclusive community and extraordinary adventures. Before we welcome you to our beautiful campus, there are a few things you need to do. Use our checklist to guide you through the process. If you have any questions, please contact the Admissions Office. We can't wait to see you here!
Starting your journey
Your first year at college is an exciting time. We've designed our residence halls and campus amenities to be welcoming and supportive spaces where you'll thrive.