Thinking about when to start applying for college can be an exciting and overwhelming process. College is a great way to further your education and pursue your passions. It is also important to make the right decision for you. The college application process can be time-consuming and confusing, but find tips to guide you on your college application journey below.
When Do You Start Applying to Colleges?
So, when do you start applying to colleges? College applications should be on the radar of juniors in high school. This doesn't mean that you need to start applying right after you finish your sophomore year. Start researching and visiting schools to find what interests you during this year. Starting early can help give you a better idea of what you want to do in college and ensure you stay up to date on important deadlines.
We recommend beginning the application process during the summer before your senior year. Starting in the summer gives you plenty of time before a majority of deadlines near the beginning of winter. If you want to be more proactive, you can even begin some college applications during your junior year. Ultimately, you should start as soon as possible to give yourself more time to make the right decision. Applying sooner means you hear back sooner, which gives you time to confirm your decision or explore all your options.
Some schools even offer early decision, in which you can send in your application before their standard deadline. This application helps to express your interest in the university. This is great for those who know where they want to go, because reduces the amount of work you'll need to do for the rest of your time in high school. Some of the tips you can explore in this article are:
College Application Requirements Checklist
Before you start applying for college, it's important that you complete this checklist:
Complete SAT, ACT, or AP Exams (If Required)
Exams like the SAT and ACT are a popular way for colleges to set guidelines for applicants. Recently, most of these exams have become optional as many colleges no longer require scores to be reported. This does not necessarily mean you shouldn't take these exams. They act as a solid college aptitude test, however they do not define your ability to be successful in college. Review Western's application requirements for first-time freshmen.
AP Exams are also not necessary for some colleges. Be sure to check the school's website for more details. Even if these scores are not factored in your application, they are a great way to start accruing college credits and help guide a decision on your major.
Discuss Letter of Recommendation
Letters of recommendation are an essential element of the college application requirements checklist. Recommendations help admissions officers read between the lines of numbers and letters from the standard portion of the application. These letters are personal as they come from people who know your personality and ambitions well. They help paint a more holistic picture of who you are as a person.
Be sure to reach out to people who have played a crucial role in your life and academics. Great examples are teachers, coaches, employers, or any other role models who you feel comfortable reaching out to. Be cognizant of the schedules of whomever you ask and remind them of the deadline to ensure you have this piece ready for your application on time.
Review Application Form
Once an application opens, review the questions and materials necessary to complete the form. Understanding what is required of you to complete the application is a crucial part of the college application requirements checklist. You'll be more prepared if you read through the application to start brainstorming answers to the questions. Plus, you can gather and attach the necessary documents without scrambling last-minute.
Draft Essay Topics
The essay is an important part of the college application requirements checklist and the application itself. Here is your time to explore a topic of your interest and explain its importance to you. An essay, like the letter of recommendation, allows the admissions officer to get to know you better and see you beyond your high-level academics.
Take time to read through the essay question and start brainstorming ideas and writing drafts to convey the message you intend. Find your tone and voice: do you want to sound funny, serious, or adventurous? The possibilities are endless, and you have the power to craft your story. If you are struggling to come up with ideas, search some solid examples online.
Stay Focused in School
It can be exciting to think about going to college, which may lead to distraction from your current academic responsibilities.  The college application offices review your academic history through your high school graduation. Colleges have the power to rescind offers due to the actions and academic standings of incoming students. Finish out your high school career strong while looking into your next school and its programs.
Speak to Your College Counselor
An extremely powerful resource highly recommended on the college application requirements checklist is to talk to your school's college counselor. These counselors are equipped to help find students a good match based on their academics and interests. Building a relationship with your college counselor can unveil valuable information in deciding which schools to apply to, based on location, size, cost, and more.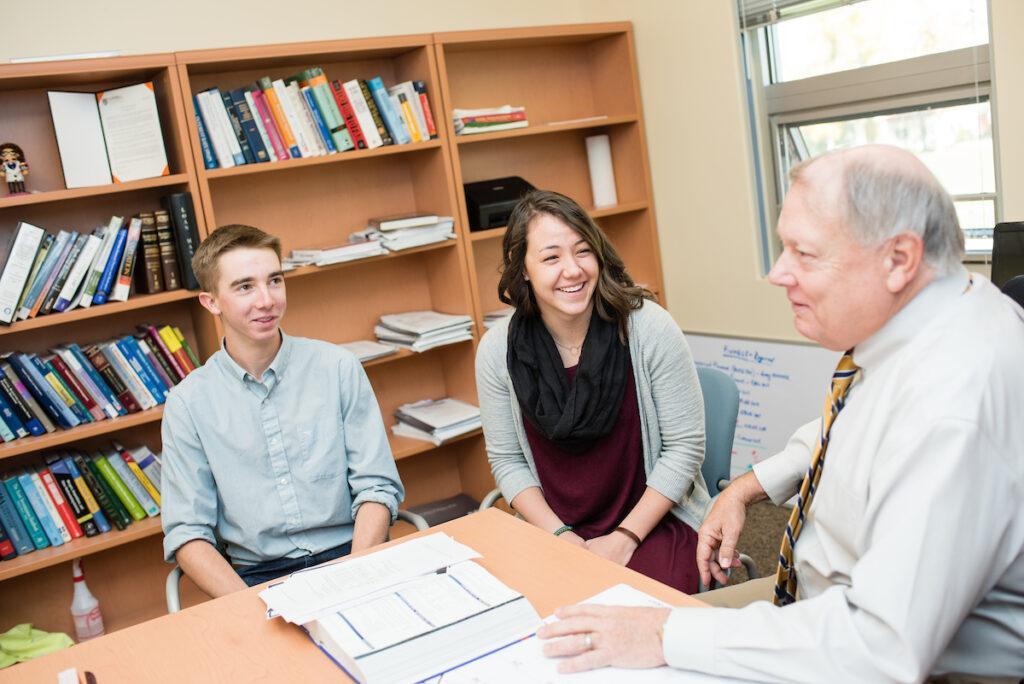 College counselors are great resources, but you can also reach out to friends and family who are current or former college students to gain insider information about specific schools. Choosing where to go to college is a personal decision and thorough research helps you gain confidence in your selection.
Visit Colleges
One of the most crucial guidelines of the college application requirements checklist is to get out and visit different colleges. It is almost impossible to get a feel for a school without touring and visiting. Walk around the campus, ask questions to your tour guides, and take time to explore the campus for yourself.
We recommend starting tours early to visit as many schools as you would like. Schools drastically differ depending on the region, programs, culture, and student body. Be sure to know what interests you and find a school that feels like a great fit. If you have friends or family at a school, try to have an overnight college visit to see the school from a student's perspective.
College Application Deadlines
There are seemingly an endless number of college applications, so it's difficult to juggle all the different dates. Know when to start applying for college by keeping track of college application deadlines. Here are a few important dates to remember at Western:
| | | |
| --- | --- | --- |
| Application | Deadline | Admission Decision |
| Early Action | November | December |
| Early Decision | November | December |
| Rolling Admissions | Depends | 1-2 Months After |
| Regular Decision | January to February | March to April |
Many college applications open around the beginning of August, providing students with a couple of months to complete the applications and send them in. One of the most popular applications is the Common Application. For schools that accept this application, be aware of the open date, Aug. 1, and close date(s), Jan. 1 or Jan. 15. Research which application the schools you apply to accept and note the dates they are due. College application deadlines may change over time, so stay up to date on whichever application you complete.
Early Action
This application is a great option for students who like to complete their work early and are eager to hear back about the application decision. Early action is not binding, but it expresses interest and informs the application officer that you are enthusiastic about their institution.
If you are applying to reach schools, this option is a great choice as you'll also find out the status of your application before the deadlines of submission for many other schools. This offers flexibility for students to complete more applications. In the event of being waitlisted or declined, you definitely have enough time to apply to another school.
Early Decision
Early decision is the perfect option for students who are completely committed to attending a specific school. This form of application is binding, meaning there can be negative consequences for accepting early but choosing not to attend. The early decision application shows your dedication and commitment to your school. There may or may not be an impact on your application status with early decision. Be aware that you are applying to a school before viewing your financial aid offer, this can be a concern for students who may depend on financial aid. Some schools will help you explore your financial aid options with early decision.
Rolling Admissions
Rolling admissions open generally around the beginning of fall allowing students to submit their application anytime between the opening and closing of the application. Students who are prompt with their applications can submit them at any point while the application is open. There are no direct benefits to when you apply, whether that be earlier or later, but admissions offices may appreciate those who are mindful of college application deadlines.
Applying sooner in the open period may mean you find out the status of your application sooner as fewer applications are processed versus the end of the period when all applications are submitted. If you don't have a specific preference for a school but are eager to get answers, rolling admission is a great option.
Regular Decision
Regular decision is the standard option for most students. This type of decision gives students the most amount of time to complete their application. The deadlines for schools offering regular decision is usually sometime around January to February. Students will typically hear back between March and April. There is also a requirement on the school's end to inform students by May 1st, at the latest.
For students who are unsure of where they would like to attend, regular decision is a great tool to apply to many colleges at once. This application allows students to research the schools and determine where they could see themselves.
How to Get into College
There is no step-by-step recipe on how to get into college, but there are steps to take prior to applying. By no means is this a comprehensive guide, but it should offer valuable tips to help you stay ahead and apply to colleges. Make sure that college is the right decision for you and aligns with your career goals.
When Do You Start Applying to Colleges?
Knowing when to start applying for college and how to get into college can be a daunting decision. Make sure to take the appropriate amount of time to ensure this is a choice you are ready to make. There are many alternatives to going to college right after graduating high school. Some of those options are:
Taking a gap year
Working an internship
Pursuing a trade
Traveling and exploring
Pursuing a passion or hobby
Get Ready to Apply
Now that you know the steps to take, start to think about colleges that interest you and the programs they offer. It's never too early to start thinking about when to start applying for college. College is a great way to further your education and pursue a field of interest.
Explore What Colorado Has to Offer at Western
Ready to discover Western Colorado University? Browse the Academic Programs and Student Life to see the academic opportunities available in the heart of the Rocky Mountains.
Apply today to get started.