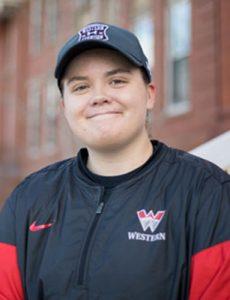 Profile
---
"I wanted to know my professors by name and feel like I could go to them."
Caitlin Gleason is a student from the Front Range studying Strategic Communication in the Communication Arts program at Western Colorado University.
Caitlin went to a large high school, and although there were good things about attending a bigger school, there were also some downfalls to it as well.
"I knew I didn't want to be just a number," said Caitlin. "I wanted to know my professors by name and feel like I could go to them. The small class size and the community when I found Western were what I looked at and really enjoyed and I eventually chose Western.
"I really like how Western focuses on having the student know the professor by name and vice versa. All of my professors have wanted to get to know me, and I feel confident reaching out to them if I needed anything even outside the classroom."
Coming to Western, Caitlin found a new passion in fishing. She joined the Gunnison Sockeyes club on campus, where students go fishing in any season. In the winter, students head out on the ice and go ice fishing. In the spring and summer, they head to the river for some fly-fishing.
"I've met some really great people because of that," said Caitlin about her experience with the Sockeyes. "Being able to go out for an afternoon and go out and meet new people was really cool. It's a way to really enjoy the valley."
Caitlin says that by picking the Communication Arts program with an emphasis in Strategic Communication, it was the closest thing to journalism she could get.
"It's giving me skills outside of journalism as well. Like just being able to communicate with people," said Caitlin. "I am in a production class right now, so I am able to work with cameras and documentary. I also found out about KWSB, the radio station. I am a student DJ there. I am kind of getting a little bit of everything rather than just writing."
Along with her schoolwork and fishing, Caitlin is a student reporter for the Marketing Communications Department, a copy editor for the on-campus newspaper, Top o' the World, and plays old-school country to pop as a student DJ for KWSB 91.1 FM, which has been a student-operated radio station on campus since 1968.
Off campus, Caitlin is an intern at the Gunnison Country Times, where she writes feature stories about Western every week or so for the local newspaper.
When Caitlin is not writing or being a DJ, she likes to spend her time in the Gunnison Valley.
"I like to get out and explore the valley," Caitlin said, "whether that be fishing or just taking a drive up to Taylor Canyon.
"I think a lot of people think Western is really small and there is not much to do here. I also think that you can't judge a book by its cover. You just have to do your research. For me, it has been the best decision I've ever made."
Profile by student writer Taya Olson.