As Western Colorado University prepares to honor its graduates with spring commencement on May 7, the institution's Alumni Advisory Council has chosen eight students to honor for their extraordinary achievements.
The Alumni Award for Excellence
The Alumni Award for Excellence was established by former President Harry Peterson in 1997 to recognize the numerous talents and accomplishments of the graduating class. Students are nominated by faculty and staff, and then the advisory council evaluates the merits of each submission.
This year's winners are James Bivens (Computer Science and Mathematics); Naiyabingi Budler (Sociology); Kiri Carmody (Biology); Audrey Erickson (Recreation & Outdoor Education); Meaghan Forbes (English); Charles Hammaker (English); Daniel Lesh (Art); and Bailyn Salsbury (Business Administration). The students in turn, nominate a faculty member of distinction.
Selecting the Honorees
"In the tradition of past honorees, this year's recipients have throughout their Western experience exemplified what it means to be a Mountaineer," said Craig Beebe, director of Alumni Relations. "Through their academic initiative, upstanding character, and service to their communities, these graduates continue to demonstrate that Western is the special place that alumni have known for more than a century."
Beebe said the decision-making process was tough for the advisory council as the drive and initiative of the nominees was clearly demonstrated by the faculty and staff that recommended them.
---
James Bivens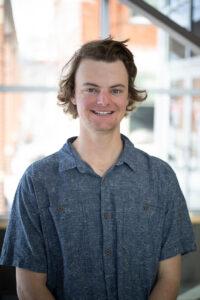 Bivens is a computer science and mathematics major who has been a Supplemental Instructor, served on the Honors Student Advisory Board, was an Orientation Leader and Color Lead (mentor) for two years, has sat on Student Government Association as the Honors Ambassador, and was a member of the Mountain Sports Mountain Biking team. He's known by his instructors as curious, kind, equanimous, grateful, engaged, and exceptionally humble. He is the kind of guy that offers to help carry boxes in from the parking lot if he notices your hands are full. Not only his grade point average, but his overall engagement set Bivens apart from his peers.
"James is one of those unique students that brings out the best of everyone in the classroom through his creativity, positive attitude, willingness to work with and meet new students, and ability to spark conversations with students who may otherwise remain quiet," said Samuel Micka, Ph.D., assistant professor of computer science. "James is at the top of my list of students that I have worked with that exude creativity, initiative, engagement, and positivity in the classroom."
---
Naiya Budler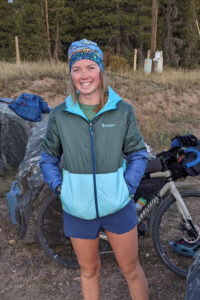 Budler, who graduates in sociology, is known throughout campus as having a commitment to Western and her peers. During her time at Western, she has been an advocate for student academic needs, for student health needs and for community needs. She has served as the Lead Peer Health Educator. In this role, she helped ensure there were programs, resources and services dedicated to student health and wellness. With the departure of the Director of Student Wellness, her contributions are even more significant because of her overall advocacy, commitment and collaboration that permeated her work as a Peer Health Educator. Budler was also front and center in representing Western as a stakeholder and active committee member on a variety community-based committees.
"Naiya has shown exceptional grit, resiliency, and moxie throughout her years at Western. I have been duly impressed with her ability to respond to incredibly challenging situations with amazing strength, courage, character, and perseverance. All of these experiences have provided her with tremendous perspective and maturity that is uncommon for many of her peers," said Gary Pierson, dean of students. "Naiya has reinvented and transformed her life in ways that were likely unimaginable to her when she first started at Western. She is a shining example that showcases the Western experience for many of our students."
---
Kiri Carmody
Carmody is a biology major who has maintained a 3.5 grade point average while involved in a variety of extracurricular activities. She was the president of both Omicron Delta Kappa and the Pre-health Club. Serving as the student lead for our first annual bike-a-thon last fall, Carmody helped raise $3,270. Half of the proceeds were donated to Gunnison Valley Health for their new paramedic barn. The remaining funds will be used to maintain pre-health related scholarship opportunities and they will support the club's attendance at a national health professions conference hosted in Denver this summer.
"Teaching Kiri is always a pleasure. She remains engaged in the lesson, she asks thought-provoking questions, and she shares useful feedback," said Emily McMahill, the Ferchau lecturer in biology and the health professions advisor. "I still recall Kiri telling me face-to-face that she thought the basic nutrition course I taught would benefit from more hands-on experiences. Many students aren't willing to even fill out their end of the year evaluations and here Kiri was taking time out of her busy day to tell me about her suggestion in person."
---
Audrey Erickson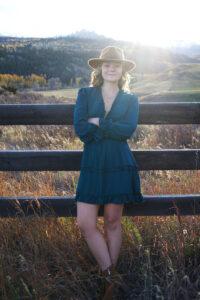 Known as a leader of her peers, Erickson will graduate from recreation and outdoor education with a 3.8 grade point average. She was instrumental in launching a new program in summer 2021 called the Wilderness Opportunities.
The week-long grant-funded course hosted nine 15–18-year-old women for four days in the backcountry. This experience was designed to be a developmental leadership course for high school aged students interested in outdoor learning, with a safe and encouraging space for women.
Erickson served as a bridge between the participants and the instructors, and recruited participants, created and oversaw the application process, and co-facilitated the course through Western's Women's Leadership Program. She also used her leadership and counseling skills to help make the inaugural program a success.
"Audrey worked for the program for almost a year to develop marketing materials, create an application to the course, recruit students from schools across the state, and then was an intern leader on the course under two Western graduates who are now outdoor professionals," said Professor Brooke Moran, Ph.D. "Her thoughtful feedback after the course will help future years as well, though it will be difficult to find another student with her energy and drive."
---
Meaghan Forbes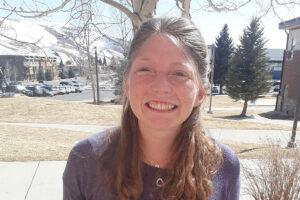 Forbes is not only an outstanding scholar who demonstrates creativity in the classroom, she is also an exceptional campus and community member. A member of Omicron Delta Kappa, Forbes has planned monthly pop-up food pantries, volunteered as a site leader for Western's Day of Service, co-managed regular meetings, and has been a contact for the non-profit sector.
She was Vice President of the Honors Program Student Advisory Board where she planned monthly community events and managed the budget. She is secretary for Word Horde, Western's creative writing club and a member of the national English honor society, Sigma Delta Kappa. On the editorial board of Pathfinder Magazine, she reads, vets, and edits creative writing. Forbes also runs 50-mile races for Western's Mountain Sports Team.
"Meaghan took six classes from me, so I know her well," said Christy Jespersen, professor of English. "She voraciously devours course content, draws connections among all of her classes, and enthusiastically learns from new ideas. Everything that she turns in is of excellent quality and more than that, she takes criticism well, seizing every opportunity to improve."
---
Charles Hammaker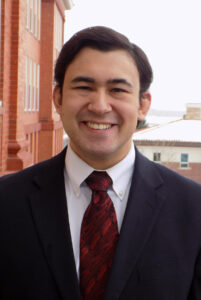 "Chas" Hammaker is an English major and has been active on campus in numerous ways. He co-organized the Stop Asian Hate march while ensuring that safety precautions would be in place during the pandemic. He has served as: Multicultural Center director; member of Student Government Association; a teaching assistant in the English program; member of the Multicultural Center; president, vice president and secretary of Asian/Pacific Islanders Club; member of Amigos Club; and president of the Native American Student Council.
He provides constant support to all of the organizations with which he is affiliated. He has been recognized by membership to Sigma Tau Delta, the International English Honor Society, as well as the awarding of ALPS and Multicultural Awareness Scholarships. Chas' scholarly activities are bolstered by his deep and abiding love for learning about other cultures. In addition, he has a job at Sherpa Café.
"The knowledge he brings to the classroom has typically been gained through his own initiative in that he voraciously reads materials which he has sought out on his own," said Alina Luna, English professor. "That is a mind which can only be described as inquisitive, open, receptive, and appreciative, with a desire for a worldview and thorough understanding of a culture and its values. He has also repeatedly demonstrated a concern for those marginalized and a commitment to equity efforts."
---
Daniel Lesh
Lesh was nominated for his academic excellence in Fine Arts. Faculty said Lesh's motivation was not driven by getting great grades, although he was able to achieve a 4.0 GPA. His goals were more personal and profound—he wanted to become the best artist and also the most generous classmate he could be while at Western.
Lesh's work ethic doesn't stop at the classroom, and he is extremely dedicated to campus and community events and organizations at large. He has also been a part of several student clubs including Black Student Alliance (BSA), Amigos, and Asian Pacific Islander Club (APIC). He was a Student Ambassador, and an English conventions tutor. All four years at Western he has also been an invaluable employee at Sodexo, Mad Jack's, Rare Air Café, and Sodexo Catering. He was an essential worker during campus COVID outbreaks when Western would deliver food to quarantined students in the dorms. While his specialty is painting, he is accomplished in other areas, such as ceramics.
"Few and far between is the student that also has something to teach. In my 15 years at Western, few students have ever met this standard, and Daniel Lesh is certainly one of them," said Chase Hutchison, chair of the art department.  "Simply put, an award such as this which is dedicated to excellence is made for someone like Daniel because Daniel is one of the best and brightest students Western has ever had to offer."
---
Bailyn Salsbury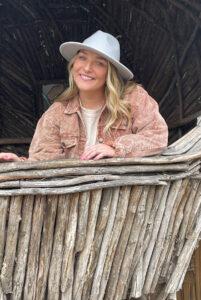 Salsbury has earned her bachelor's in Business Administration and has been a pivotal leader in the energy management program. Her work ethic in class was consistently above and beyond. The energy management program is one of the more strenuous programs in the School of Business. Bailyn managed a full course workload while nannying, dog sitting, coaching softball in the community, volunteering in the community, actively contributing to the WEMSA (Western Energy Management Student Association) club, and executing an internship. Despite the number of out-of-class obligations she had, she prioritized her grades and her academic record reflects that.
"Bailyn always exhibited a great deal of curiosity in the classroom. If she didn't understand something fully, she asked," said Jessica Laramie, director of the Energy Management program. "What makes Bailyn unique in her academics is her ability to ask the right questions and dig until she understands how the finite details fit into the big picture. She did this in the classroom, and she did this in her independent study. She paid great attention to detail and skill development in class, but she has a remarkable ability to take a step back to understand the broader implications of concepts at a higher level, unprecedented by her peers."
---
Honored Faculty 
Faculty honored were Dr. Al Caniff, by Daniel Lesh; Dr. Greg Haase, by Naiyabingi Budler; Jessica Laramie, by Bailyn Salsbury; Emily McMahill, by Kiri Carmody; Dr. Brooke Moran, by Audrey Erickson; Dr. Jeremy Muskat, by James Bivens; Sally Romero, by Charles Hammaker; and Kimberly Yadon, by Meaghan Forbes.
Author Credit: Chris Rourke