Supporting student success is a key component of the Western experience. From choosing a meta-major with the assistance of the Academic Resource Center to the helpful team in the Writing Center, Mountaineers have a variety of tools available to them. Of all the academic support services Western offers, the Supplemental Instruction (SI)  program is the only one dedicated specifically to helping students succeed in high-risk classes.
Empower Students to Learn from Their Peers
SI is an academic support service that uses peer-assisted study sessions to improve student success in historically difficult academic classes like Chemistry and Economics. SI leaders are current Western students who have already taken the course and excelled in it.
The work truly begins after a student is selected to be an SI leader. They attend lectures, take notes, and often work as an assistant to the professor during the class period. These students then prepare to lead regular review sessions outside of scheduled class time.
Sessions are generally held between 5 p.m. and 9 p.m. in campus spaces like the Borick Business Building and Hurst Hall. In an effort to make these sessions comfortable and inviting to students who may be struggling in a class, faculty members are not involved. This gives students the opportunity to ask questions about the material in a more relaxed environment.
Improved Confidence and Grades
According to the supplemental instruction program's faculty advisor and Mathematics professor Jeremy Muskat, Ph.D. students who attended a session improved their grades and increased their confidence in understanding the material.
"Western has so much to offer students, but never forget that you are a student first. SI is where [students can] develop the skills to be…successful," Muskat said.
While the academic support is vital, it is the social aspect of this program and the relationships sustained over time that set this group apart from traditional tutoring centers. Or supplemental instruction program creates small communities where students can collaborate and create a network they can rely on in the future.
"SI sessions are a great place to meet like-minded students that you can work with for years to come," Muskat said.
Students Helping Students
Senior Cell & Molecular Biology major Sydney Poole leads an SI session for Chemistry 113 and can relate to the challenges that some of her peers might face in the classroom.
"As a former chemistry hater, I can genuinely relate to the struggle of passing chemistry," Poole said. The supplemental instruction program empowered her to take ownership of her academic life at Western, something that she tries to pass on to students who attend one of her sessions.
"Finding a social atmosphere centered around challenging course work created a network of resources that influenced my dedication to academics. When someone attends my SI sessions they leave with a sense of confidence and diligent work ethic," Poole said.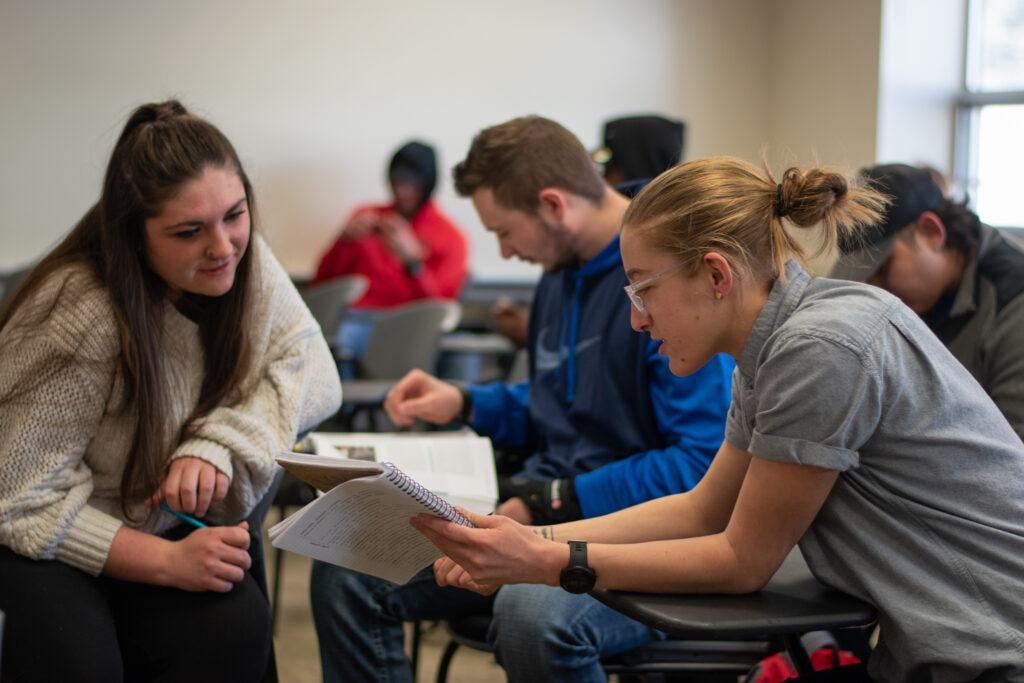 Western's Academic Support Services to Supplement Your Education
Western's office of academic affairs is dedicated to ensuring the integrity of our students, undergraduate programs, and graduate programs. The staff at the academic resource center is here to help you establish and follow through on a personalized plan to help you achieve your academic, financial, and health goals. With opportunities like the supplemental instruction program, Western also offers a myriad of additional services such as:
Disability Services
Testing Services
Exploratory Programs
Summer Courses
Health and Wellness Services
And more!
Find the full schedule of academic support services and supplemental instruction programs offered here.