The dates for this year's festival are March 3-5, 2022. The Treble Choir guest conductor is Dr. Mirna Cabrera, Music Instructor at Mid Plains Community College, North Platte, NE. The mixed choir guest conductor is Dr. Kyle Fleming, Artistic Director of the Colorado Repertory Singers.
Contact WCU Director of Choirs Dr. Heather Roberson at hroberson@western.edu for audition information.
To view the director's letter, click here.
Schedule
1:00-1:30 p.m.  Check in—Quigley lobby
1:30 p.m.   Welcome & Announcements – Kincaid Concert Hall (Quigley)           
2:00-5:00 p.m.  Quartet Checks & Rehearsal (Breaks at discretion of directors)
Treble Choir –Kincaid Concert Hall
Mixed Choir – Quigley 133 (band room)
5:00 p.m.  Campus tour and Dinner at Rare Air provided by Western Colorado University
7:30 p.m. Western Vocal Music Department Showcase Concert – Kincaid Concert Hall
8:30-10:00 a.m. Sectional Rehearsals AND Scholarship Auditions
Treble Choir Sopranos — Quigley 130 (choir room)
Treble Choir Altos — Quigley 129
Mixed Choir Sopranos and Altos — Quigley 133 (band room)
Mixed Choir Tenors and Basses—Kincaid Concert Hall
10:15-12:15 p.m. Rehearsal
Treble Choir—Quigley 133 (band room)
Mixed Choir—Kincaid Concert Hall
12:15-1:15 p.m. Lunch on your own
1:30-3:30 p.m.  Rehearsal
Treble Choir – Kincaid Concert Hall
Mixed Choir—Quigley 133
 3:30-4:00 p.m. LEAD Office Presentation (band room)
4:00-5:30 p.m.  Rehearsal
Treble Choir – Quigley 133
Mixed Choir—Kincaid Concert Hall
 2:00-4:30 p.m. Director's Choir rehearsal and Director's meeting – Quigley 130
5:30 p.m.  Dinner on your own
7:30-9:30 p.m. FUN! (Music, games, & snacks) in University Center Ballroom.
8:30-10:15 a.m. Rehearsal
Treble Choir – Kincaid Concert Hall
Mixed Choir – Quigley 133
9:00-10:15 a.m. Directors' Choir Rehearsal – Quigley 130 
10:30-11:45 p.m. Dress Rehearsal—Kincaid Concert Hall
Order of Program: Directors' Choir, Treble Honor Choir, Mixed Honor Choir
12:00-1:15 p.m. Lunch on our own, Change into concert attire
1:30 p.m. Assemble
Treble Choir –Quigley 130
Mixed Choir – Quigley 133
Please plan to keep valuable personal items with you at all times or leave them with family members or in a secure vehicle.
2:00 p.m. Western Slope Choral Festival performance at Kincaid Concert Hall
Admission to the concert is by donation to the Gunnison Volunteer Fire Department.
About the Guest Artists
Treble Choir Guest Conductor – Mirna Y. Cabrera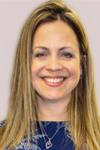 Mirna Y. Cabrera is the music director at McCook Community College in McCook, NE, where she conducts choral and instrumental ensembles, teaches music theory and musicianship and other various music classes, and oversees all aspects of the music program. A native of Holguín, Cuba, Dr. Cabrera has taught music for all ages and levels, including choirs and chamber ensembles, and community and church groups. She is also the director and founder of MCC Children's Choir and the MCC Singers, a community-based group comprised of educators.
Dr. Cabrera received Bachelor of Music Education from Loma Linda University, La Sierra, California, Master of Music and Doctor of Musical Arts in choral conducting from the University of Kansas. She holds a teaching certificate from the state of Texas and is a certified music educator specialized in the Kodály philosophy, trained in both the U.S. and Hungary. Prior to her appointment at MCC, Dr. Cabrera served as the music instructor at Haskell Indian Nations University in Lawrence, KS, and the music director at St. Paul United Church of Christ.
Mixed Choir Guest Conductor – Mirna Y. Cabrera

Kyle is husband to Amy and dad to Caleb and Addie.  He has spent the entirety of his adult life, to this point, being a choir nerd.  Many would say he is as crazy as he is predictable…predictably crazy perhaps?  In his own words…
Isaac Newton once said, "If I have seen a little further it is by standing on the shoulders of giants."  Nothing could be truer of my own journey.  From my schooling at the University of Colorado Boulder to the many colleagues I have known across the past two decades, I am the sum of the knowledge, passion and advocacy that has been poured into my life from those around me.  Like many stubborn musical leaders, I have learned most lessons the hard way and have had more failures than successes…and of the handful of successes, all were made possible by the generosity, grace and support of those around me.
My career, over the course of the past two decades, has been an embarrassment of riches in many ways.  I have sung in amazing venues for world class conductors.  I have traveled around the country and have met some incredible singers and directors.  I have had the irreplaceable privilege of leading a great number of people in song…every single one special and unique.  And yet, without hyperbole, my favorite place to be is in a roomful of high school singers and directors.  It is a bit odd given the fact that I was a terrible high school choir director myself!  When I am surrounded by high school musicians I am challenged and inspired all at the same time…moreover, I find myself willing to let down my guard in ways that many aspects of the choral profession work against.  High school singers, in my experience, could care less about your resume…they do care deeply about your heart and your motivation for being with them.  Again, challenging and inspiring all in the same breath.
It is why tonight, I do stand on the shoulders of the "giants" on stage…your sons and daughters, grandkids, nieces, nephews, and neighbors. Directors are nothing without singers willing to lend their time, their voice and their artistic passion.  Never a moment goes by where I am not acutely aware of this as a director.  And these high school "giants" are the product, in the most human and best sense, of the directors who got them this far.  Your High School choir directors and music educators are my heroes…period.  They work harder than I, they are more committed to choir than I, they are better prepared than I and they will make more of an impact during the span of their careers than I could ever dream of.
I say all of this here in my "bio" so that we are all on the same page as the 2022 Western Slope Choral Festival choir takes the stage…the credit for this performance goes wholly and enthusiastically to the singers and their teachers.  The funny lookin' Asian guy on the podium…he's just a predictably crazy conductor along for the ride.
 Thank you for giving your students, your kids the gift of song…KEEP THEM SINGING!
-Kyle