Donate to the Western Mountaineers Music Association
A Letter from the Program Director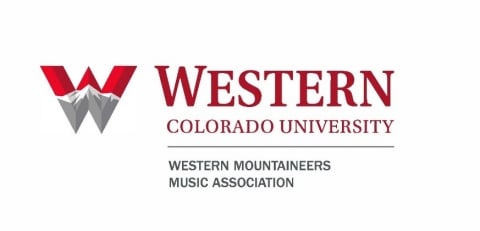 Greetings to you, our friends of Mountaineer music. In our inaugural year as an organization advocating for the personal and financial support of the Department of Music at Western Colorado University, it is our honor to invite you to become a new or ongoing member of the Western Mountaineers Music Association (WMMA). The faculty, students and administration of Western and the Department of Music are excited to expand upon our rich traditions and successful programs. We hope to realize this expansion with collaboration and support from community members, local professionals, music enthusiasts, the Western campus and surrounding areas throughout the Gunnison Valley and beyond.
Your support will help in our initiative to further the mission of the Department of Music and the continued institutional goals of Western. As a regional provider of the arts in music, we are committed to music education and the opportunities we provide. Throughout the year, we host concerts featuring new and contemporary artists as well as established performers and groups in our newly renovated performance space—the John and Georgie Kincaid Concert Hall, located in Quigley Hall.
Your giving will help us continue our efforts to enhance growth in recruiting, retention, program offerings and other educational aspects associated with our growing department and university. Giving helps to enrich current and future students in many facets of their musical and educational growth. The WMMA will help to support our students with scholarships, performance opportunities, travel, attendance at state and national music conventions, as well as a variety of opportunities within the music profession and music industry.
We, the faculty and students of the Department of Music and Western Colorado University, look forward to having you as a supporter of our musical initiatives and program within our growing university community. If you have any questions, please don't hesitate to contact me or any of the music faculty. For information on giving to the WMMA, please read on. Go Mountaineers!
Sincerely,
Kenneth W. Todd
Program Director-Chair, Department of Music
Director of Orchestra Studies and Applied String Studios
970.943.2162
ktodd@western.edu
Giving to WMMA
If you would like to donate by credit card, please visit the Western Foundation WMMA page. For a summary of giving options, please review the levels of support listed below or on the aforementioned webpage.
If donating by check, please choose your level of support and indicate it in the check memo. Make checks out to the Western Colorado University Foundation. Please note the Western Mountaineers Music Association in the memo. Address checks to:
Western Colorado University Foundation
1 Western Way
Gunnison, CO 81231
The WMMA operates under the umbrella of the Western Colorado University Foundation and is a 501c3 nonprofit organization. You have received no goods or services in exchange for your tax-deductible gift.
Levels of Support
Donations can be given as a onetime gift or a per-month donation. Suggested levels of support include, but are not limited to, the following.
Prelude: $25
Overture: $50
Crescendo: $100
Forte: $250
Finale: $500
Encore: $1,000
Custom: You decide
Thank you for supporting Western Mountaineers Music!