With no time to waste, Western Colorado University President Brad Baca has dived into issues impacting the institution and—more broadly—higher education. He spoke to these issues during a road show on Colorado's Front Range July 25-27, 2022. The president was introduced to alumni and prospective students as Western's new president. Events were held in Windsor, Ft. Collins, Denver, and Colorado Springs with about 250 people attending.
Broadcasting Throughout Colorado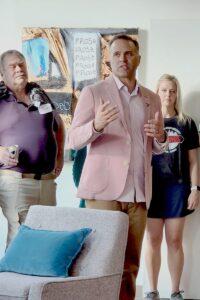 While in Denver he appeared on several broadcasts, ranging from talk radio to CPR's Colorado Matters.
On Tuesday, July 26, Baca spoke with 850 AM KOA's Marty Lenz and 710 AM KNUS's Steffan Tubbs about the president's role at Western and the unique offerings at the institution. Baca also discussed the challenges facing a rural university and other institutions of higher learning including cost, the "return on investment," and diversity of student populations. Those interviews can be found here:
710 AM KNUS with Steffan Tubbs
Colorado Matters
On Thursday, Baca spent time on Colorado Public Radio's "Colorado Matters," with host Ryan Warner. The two discussed the benefits of the college experience and Western's effort to help adults with college credit complete their degrees. Colorado Matters can be found here:
Colorado Matters with Ryan Warner
Author Credit: Chris Rourke
Photo Credit: Chris Rourke