Veteran Educational Benefits
Western is committed to helping veterans and their dependents achieve academic success. Through coordinated efforts with resources across campus, we strive to simplify the process of receiving educational benefits.
Yellow Ribbon Institution
Western is a proud participant in the Yellow Ribbon program. Through this program, Western and the VA will partially or fully fund tuition and fee expenses that exceed the established thresholds under the Post-9/11 GI Bill. In addition, Western has been recognized as a Yellow Ribbon Program Select School – Best in the Central U.S. by https://www.militarysupportivecolleges.com/.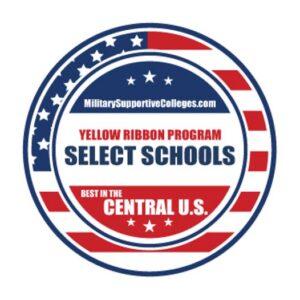 Title 38 Compliance
Western students who are covered under Chapter 31 or 33 are not subject to late fees, disenrollment or other penalties if they are waiting on a payment from the VA.
Monthly Enrollment Verification
Students Must Verify Enrollment with the VA
Beginning with terms starting after December 17, 2021, students using their Post-9/11 GI Bill® benefits at an Institution of Higher Learning (IHL) facility will be required to verify their enrollment at the end of each month.
Failure to verify for two consecutive months will impact their Monthly Housing Allowance (MHA) and/or kicker payments.
The Department of Veterans Affairs (VA) is encouraging students to sign up for text message verification.
After December 17, 2021, all impacted students with a US mobile phone number on file will receive an opt-in text as their next enrollment period approaches.
You can verify your enrollment via text message or by calling the Education Call Center (ECC) 1-888-GIBILL-1 (1-888-442-4551).
The ECC can also help you opt into text verification. VA strongly recommends verifying enrollment via text.
Contact Us:
Carrie Reinecke, VA Certifying Official
Phone: 970.943.2048
va_rep@western.edu
Taylor Hall 300C
1 Western Way
Gunnison, CO 81231
Office hours: Monday-Friday, 8 a.m. – 5 p.m.