Western Colorado University's Taryn Mead, Ph.D., recently had her research published in the Journal of Cleaner Production. The journal has an "A" ranking on the Australia Business School Dean's list—the highest a journal on the list can be ranked. Mead's publication is not only a testament of Western's dedication to a strong faculty, but also exemplifies the School of Business' push for high quality research from the department.
Learning from Nature
Before becoming the School of Business' product and track coordinator for the Outdoor Industry program, Mead worked as a corporate sustainability consultant—specifically in the field of biomimicry. In this profession, Mead studied how corporations can learn from nature to solve sustainability challenges. She talks about biomimicry in terms of technological innovations, systems building innovations, and organizational innovations.
Technological innovations using biomimicry might propose making better packaging based on a biological model, while systems building innovations could implement a manufacturing process that mimics a natural system. An organizational model that follows biomimicry might be, "trying to understand how a business unit can operate like a swarm of bees," said Mead.
After six years in the field, her intrigue in biomimicry as a management style started to grow.
"I got to this place in my career where I started wanting to ask different questions like why are some companies able to adopt [biomimicry] and other companies aren't," said Mead.
Identifying Organizational Narratives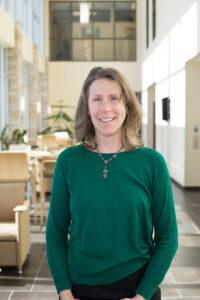 To explore this question, Mead conducted 52 interviews to determine the culture around sustainability in corporations. Through these interviews, three types of organizational narratives were identified: ambiguous, accountable, and aspirational.
"Ambiguous narratives were those that if you asked anybody within the organization about what they thought sustainability was, they would all have different responses," said Mead.
In others, the opinions are just as the category describes—ambiguous. The accountable organizational narratives were those corporations that had a cohesive narrative in terms of sustainability. These organizations had various and numerous systems in place to guide and maintain the sustainability narrative throughout.
"One of them even had a 20-point checklist for new product development related to sustainable design," said Mead.
Empowering Creative Solutions
Although the accountable organizational narratives ingrained sustainability into their identity, Mead's research found that these companies had little room to grow.
"What happened in those organizations is that they were really good at measuring things, but they had these rigid innovation infrastructures that didn't allow them to do really creative work," said Mead. "It was difficult for them to push the envelope."
The aspirational organizational narratives, she found, are ones who trained their culture to innovate first and measure afterwards. They did the best with nature inspired innovation because they didn't hold themselves to rigid metrics along the way, Mead said.
In her publication, Mead lays out how corporations can fix their issues through these organizational narratives. While her research benefits the greater good of all corporate sustainability, the impact of her research starts at home.
"We have a lot of opportunity on Western's campus to make strides in sustainability," said Mead. "This research helps me to understand where Western is culturally and operationally and procedurally. And if we want to take steps further what those steps might be."
Building a Path for Growth
Dean of the School of Business, Peter Sherman, Ph.D., said that while any publication of a professor's research is exemplary, Mead's publication in the Journal of Cleaner Production is exceptional.
"[A journal] just being on the Australia Business School Deans list is good, but this was an 'A' journal so that's really impressive," said Sherman. "One of the things that makes a professor really, really great is when they can bring in their own research to classes and they're the content expert."
Still, Sherman said this publication is part of a much larger push to gain accreditation through the Association to Advance Collegiate Schools of Business (AACSB). Gaining this accreditation is a multiple year long process that examines a school's adherence to the standards that have been developed from the best practices for business schools. "
Just the Beginning
Alignment with these standards is a number of things, and we're just at the beginning," said Sherman. "Even if we were to never get the accreditation, attempting to align ourselves with those standards will make us a much better school."
Learn more about Western's School of Business.
Author Credit: Kinlee Whitney
Photo Credit: Carley Clegg