Every aspect of our society has been influenced by philosophy. As a discipline, philosophy offers a diverse range of skills from analytical thinking to persuasive argument. Whether you aspire to be a politician or a writer, its universal application makes it an ideal background for almost any career.
Examine every aspect of modern society from art to government.
In the program, you'll explore the history of philosophy, examine diverse worldviews and analyze the core assumptions underlying contemporary society. Philosophy as a discipline will allow you to see the world from varied perspectives and provide practical, rational approaches to evaluate ideas. The Philosophy minor will deepen your educational experience by providing the intellectual skills needed to understand and appreciate relationships among other fields of study. Studying philosophy will train your brain to be versatile, which will prepare you for a successful career in a variety of occupations and fields.
Teaching tomorrow's leaders
Western's Philosophy program examines the complex, unexamined assumptions underlying contemporary society.
At Western, course rotations are crafted to encompass a variety of subject fields for a comprehensive education and versatile degree. For required courses and degree plans, visit the official University Catalog. Below is a general overview of courses at Western Colorado University related to this area of study.
A minimum of 18 credits is required, including the following:
Course List
Code
Title
Credits

PHIL 101

Introduction to Philosophy (GT-AH3)
3

PHIL 201

Epistemology
3

PHIL 335

Advanced Ethics
3

Select two of the following:

6
Eastern Philosophy
Women and Gender in Philosophy
Philosophy of Religion
Philosophy of Science
Reality and Representation

Select one of the following:

3
Modern Art History, Aesthetics, Theory, and Criticism
History of Economic Thought
Literary Theory and Criticism
Environmental Ethics
Critical Thinking
Introduction to Ethics
Symbolic Logic
Political Theory I- Ancient to Early Modern
Political Theory II-Modern and Contemporary
Social Inequalities
Total Credits
18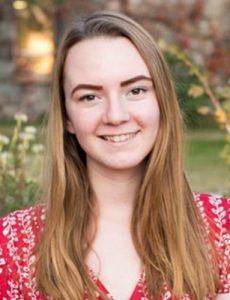 Hannah White
Student
"Being so involved in so many different things you get to know all kinds of people. You get to make connections with people that just aren't at Western."
Career preparation starts your first year at Western and is the primary focus of every degree.
Visit Career Services in Library 120 or online to discover your interests, define your goals, and land the career of your dreams.
The data below is automatically collected by Burning Glass Technologies, a firm that sources job market data and provides analytics. The statistics illustrate general trends in U.S. careers, but do not precisely represent every job and salary.
Make your education a life changing experience.
A college education is so much more than just taking classes. Expand your community and network, while gaining hands-on experience in your field.
Bistro Philosophy: A monthly gathering of philosophy students and faculty at a local bistro to discuss concepts taught in classes, then brainstorming and expanding upon them creatively to address "burning questions" that arise through the semester.
Philosophy Intersections: A series of discussions and lectures that highlights work among disciplines campus-wide, where students and faculty look at how their fields intersect and interact with Philosophy.
A deeper understanding
The Philosophy minor deepens the value of a liberal arts education itself by providing the intellectual skills needed to understand and appreciate relationships among other fields of study.
Department Chairperson
Jack Lucido, MFA
Professor of Communication Arts, Director of Film Studies, Chair of CALL Department
Administrative Assistant
Cindy Petito
Administrative Assistant II
Campus Location
Western Colorado University
Taylor Hall 216
1 Western Way
Gunnison, CO 81231