Behind most iconic brands is an excellent strategic marketer. From Fortune 500 companies to small startups and nonprofits, all businesses rely heavily on marketers to turn their target audiences into loyal customers.
Master the art of turning a company into a legendary brand.
Marketers are managers, researchers, artists and communicators who seek to understand what people need and how to satisfy those needs in a profitable and valuable way. At Western Colorado University, we'll prepare you for a wide range of careers including advertising, retail, government, and tech. You'll learn how to analyze trends and changes in the marketplace, build a strong understanding of business best practices and gain real-world experience through internships. Through comprehensive coursework, you'll become well-versed in brand strategy, consumer insights, analytics and how to work with different mediums like print, digital, social media and TV. The curriculum will also help you develop leadership and analytical skills to prepare you for a successful career working in the creative and collaborative field of marketing.
The Professional Selling Program provides students with skills and experience to launch a successful career in sales, while developing the sales leaders of tomorrow. The professional selling courses provide students with the necessary interpersonal communication, sales management and leadership skills to be successful in a sales career. All students receive personal mentoring from top industry sales experts and will represent Western in nationally recognized sales competitions.
Become a marketing leader
Graduates from Western's Marketing program are fully equipped for marketing jobs in the 21st century—planning, deploying, managing and measuring effective business strategies.
At Western, course rotations are crafted to encompass a variety of subject fields for a comprehensive education and versatile degree. For required courses and degree plans, visit the official University Catalog. Below is a general overview of courses at Western Colorado University related to this area of study.
Program Requirements
A minimum of 63 credits is required, including the 21-credit Base Curriculum, the 15- credit Business Administration Nucleus:
Course List
Code
Title
Credits

Base Curriculum

ACC 201

Introduction to Financial Accounting
3

ACC 202

Introduction to Managerial Accounting
3

ECON 201

Macroeconomics (GT-SS1)
3

ECON 202

Microeconomics
3

Select one of the following mathematics courses:

3-4
College Algebra (GT-MA1)
Precalculus (GT-MA1)
Calculus I (GT-MA1)

One of the following:

3
Spreadsheets and Analysis
Professional Computer Skills

One of the following:

3
Probability and Statistics
Statistics for Business and Economics
Total Credits
21-22
The 15-credit Business Administration Nucleus forms the core for each of the emphasis areas and also comprises the bulk of the Standard Program. It is important that the student achieve a high level of understanding of the basic fundamental concepts represented by these courses to be successful in the completion of the required upper- level course work and in their business career. If BUAD 350 Human Resource Management Human Resource Management is used to satisfy the requirements of the Business Administration Nucleus, then it cannot be used to satisfy the elective requirement within the major.
Course List
Code
Title
Credits

Business Administration Nucleus

BUAD 185

Business Communication
3

BUAD 210

Legal Environment of Business
3

BUAD 270

Principles of Marketing
3

BUAD 360

Managerial Finance
3

One of the following:

3
Organizational Behavior
Human Resource Management
Total Credits
15
And the following courses:
Course List
Code
Title
Credits

BUAD 327

Social Media Marketing
3

BUAD 335

Marketing Communications
3

BUAD 343

Sales I
3

BUAD 345

Consumer Behavior
3

BUAD 425

Marketing Research
3

BUAD 491

Strategic Management
3

Select nine credits of the following electives:

9
Business of Life 1
Introduction to Hospitality 1
Business Ethics
Business Analytics
Business Law
Management Information Systems
Human Resource Management
Sales II
Sales III
Internship in Business Administration 1
Introduction to Web Design
Total Credits
27
1

No more than three credits from BUAD 101 Business of Life, BUAD 150 Introduction to Hospitality, or BUAD 499 Internship in Business Administration may be used to satisfy the elective requirement.
Capstone Course Requirement
The following courses in the Business Administration Major fulfill the capstone course requirement: BUAD 491 Strategic Management.
Graduation Requirements
Undergraduate programs require a minimum of 120 semester credits for graduation.  Of those 120 credits, 40 credits must be in upper-division courses (those marked 300 and above).  Fifteen of these 40 upper-division credits must be earned in courses that are part of the standard or comprehensive major program being pursued. 
Students are expected to review all graduation requirements, which can be found in the Western Undergraduate Catalog: Graduation Requirements. 
Plan of Study Grid
Year One
Fall
Credits

BUAD 101

Business of Life
3

ENG 102

Academic Writing (GT-CO1)
3
Natural Sciences w/lab
4
HWTR 100
First Year Seminar
1
MATH 140
College Algebra (GT-MA1)
3
 
Credits
14
Spring
ACC 201
Introduction to Financial Accounting
3
ECON 201
Macroeconomics (GT-SS1)
3
Gen Ed
Natural Sciences w/lab
4
Gen Ed
Area I
3
Gen Ed
Area III
3
 
Credits
16
Year Two
Fall
ACC 202
Introduction to Managerial Accounting
3
COM 202
Academic Writing and Inquiry (GT-CO2)
3
ECON 216
Statistics for Business and Economics
3
Elective
Elective
3
Gen Ed
Area III
3
 
Credits
15
Spring
BUAD 220
Spreadsheets and Analysis
3
BUAD 270
Principles of Marketing
3
ECON 202
Microeconomics
3
Gen Ed
Area I
3
Gen Ed
Area III
3
 
Credits
15
Year Three
Fall
BUAD 185
Business Communication
3
BUAD 210
Legal Environment of Business
3
BUAD 343
Sales I
3
BUAD 345
Consumer Behavior
3
Elective
Elective
3
 
Credits
15
Spring
BUAD 327
Social Media Marketing
3
BUAD 333


or BUAD 350

Organizational Behavior


or Human Resource Management

3
BUAD 335
Marketing Communications
3
Elective
Elective
3
Elective
Emphasis Elective
3
 
Credits
15
Summer
BUAD 499
Internship in Business Administration (optional, but recommended)
3
 
Credits
3
Year Four
Fall
BUAD 360
Managerial Finance
3
BUAD 425
Marketing Research
3
Elective
Elective
9
 
Credits
15
Spring
BUAD 491
Strategic Management
3
Elective
Elective
9
Elective
Emphasis Elective
3
 
Credits
15
 
Total Credits
123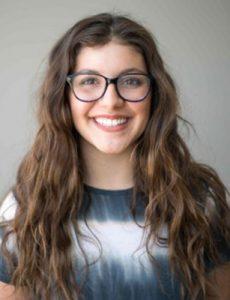 Skyeler Smith
Student
"The professors here are really encouraging when it comes to making your time at Western unique. It has been so easy for me to take opportunities and it's easy for anyone to start their own club."
Take the first steps toward your dream career.
Career preparation is the primary focus of every academic program at Western. Our professors and Office of Career Services will help you identify your strengths, hone your skills, define your goals, and prepare for a fulfilling role in hundreds of professional fields after graduation.
The data is automatically collected by Lightcast, a firm that sources job market data. The statistics illustrate general trends in U.S. careers, but do not precisely represent every job and salary.
Expand your community and your network.
There are so many ways that you can maximize your educational experience at Western. Take advantage of these opportunities to advance your career.
Career Fairs: Connect with future employers during the various career fairs in the School of Business and around Colorado.
ICELab: The Innovation + Creativity + Entrepreneurship (ICE) Lab on upper campus is a space that provides startups and expanding businesses with the materials and support needed to succeed.
Office of Career Success: Business students have a department-specific career services professional.
Study Abroad: Experience Harlaxton College in the English Midlands.
Data-driven marketing
Marketing students develop skills in defining research problems, designing surveys, experiments, and observational studies, managing data collection, performing data analysis, and communicating results.
Campus Location
Western Colorado University
Borick Business Building 223
1 Western Way
Gunnison, CO 81231