All businesses, nonprofits and government entities require leaders with the dynamic skills to orchestrate strategic negotiations, enforce business ethics and support growth and innovation. If you aspire to start your own business or rise in the ranks of a corporation, you'll need a comprehensive understanding of both hard and soft business skills.
Become the business leader you've always aspired to be.
The Innovation, Creativity & Entrepreneurship (ICE) emphasis and minor will prepare you with the dynamic skills you need to be a leader who challenges the status quo. In the comprehensive curriculum, you'll learn about cutting-edge innovation and problem-solving techniques necessary to solve commercial, social and environmental challenges. The program will teach you how to recognize opportunity, frame problems, think creatively and manage risk.
Before graduating, you'll have the opportunity to start your own company as an ICE Project. By talking to customers, partners and competitors, you'll get first-hand experience managing the chaos, uncertainty and rewards of launching a startup. If you have an idea of a product you want to make, you can take advantage of the ICEstation, a student-run space for prototyping materials including 3D printing and app development. No matter what career path you choose, the ICE emphasis will add a useful and complementary set of skills to your business education.
ICElab
As an entrepreneurial hub, the ICElab supports new and growing businesses with coworking space, professional development and a diverse network of mentors, programs, and opportunities.
At Western, course rotations are crafted to encompass a variety of subject fields for a comprehensive education and versatile degree. For required courses and degree plans, visit the official University Catalog. Below is a general overview of courses at Western Colorado University related to this area of study.
| Code | Title | Credits | Description |
| --- | --- | --- | --- |
| ACC 350 | Income Tax | 3 | View |
| BUAD 100 | Business in Society | 3 | View |
| BUAD 240 | Strategic Negotiations | 3 | View |
| BUAD 275 | Innovation, Creativity and Entrepreneurship: Mindset (ICE: Mindset) | 3 | View |
| BUAD 300 | Business Ethics | 3 | View |
| BUAD 311 | Essential Excel Skills for the Workplace | 3 | View |
| BUAD 315 | Business Law | 3 | View |
| BUAD 335 | Marketing Communications | 3 | View |
| BUAD 340 | Global Business | 3 | View |
| BUAD 345 | Consumer Behavior | 3 | View |
| BUAD 350 | Human Resource Management | 3 | View |
| BUAD 375 | Innovation, Creativity, and Entrepreneurship: Toolkit (ICE: Toolkit) | 3 | View |
| BUAD 425 | Marketing Research | 3 | View |
| BUAD 491 | Strategic Management | 3 | View |
| BUAD 494 | Innovation, Creativity, and Entrepreneurship: Launch (ICE: Launch) | 3 | View |
| BUAD 499 | Internship in Business Administration | 1-6 | View |
| ECON 201 | Macroeconomics (GT-SS1) | 3 | View |
| ECON 302 | Intermediate Microeconomics | 3 | View |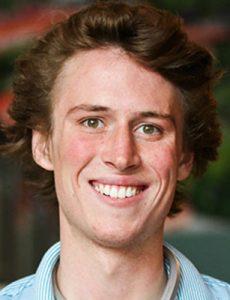 Tyler Brandt
Student
"Every professor I've ever had here has been amazing. The class sizes are incredible. And I'm dyslexic, so the class sizes and working with professors one-on-one is really cool. I know all of my professors really well, and you get to interact in class."
Career preparation starts your first year at Western and is the primary focus of every degree.
Visit Career Services in Library 120 or online to discover your interests, define your goals, and land the career of your dreams.
The data below is automatically collected by Burning Glass Technologies, a firm that sources job market data and provides analytics. The statistics illustrate general trends in U.S. careers, but do not precisely represent every job and salary.
Expand your community and your network.
There are so many ways that you can maximize your educational experience at Western. Take advantage of these opportunities to advance your career.
Fellowship: Travel to Stanford's Hasso Plattner Institute of Design (d.school) as a University Innovation Fellow.
ICE Project Design Days: A student-led program that introduces innovation and entrepreneurship to local middle school students through co-development of their projects.
ICE Project: A group of students and community members that works together to move their visions to ventures.
ICELab: A modular, high-tech workspace for students and community startups.
ICEstation: A student-run space for prototyping materials including microelectronics, sewing and textiles, 3D printing and app development.
Empowering entrepreneurs
The Innovation, Creativity & Entrepreneurship program equips students with the mindset to plan, start, finance and manage their own profitable ventures.
Campus Location
Western Colorado University
Borick Business Building 223
1 Western Way
Gunnison, CO 81231