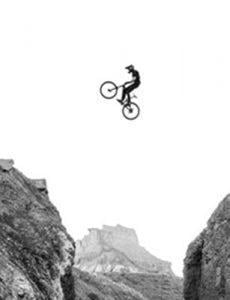 Profile
---
Extreme sports aren't for everyone, but the Western Colorado University student population seems to have a large number of more than willing participants. It can be challenging balancing academic studies with athletic endeavors, but 2019 Western graduate Tyler Nixon managed to excel in both arenas. As an avid mountain biker, he executes graceful backflips and jumps 25-foot cliffs on his bike. He's also a future investment banker.
It might seem incongruous, but the precision with which Tyler trains for his stunts sheds light on the surprising similarities between investment banking and extreme sports. People assume he must be reckless to attempt these stunts, but they don't understand the calculation Tyler places behind each move.
"I think about each previous attempt and analyze it. Whenever it goes wrong, I think about how to fix it," he says.
Tyler asserts that the stunt work he does all comes down to muscle memory and practice. In some ways, learning bike stunts parallels his own development as an undergraduate student at Western: overcoming obstacles through steady persistence.
Tyler started classes at Western in 2015. Born and raised in central Massachusetts, he experienced a night and day difference when he first arrived at the remote mountain town of Gunnison.
Tyler didn't miss the hustle and bustle of the East Coast. In fact, he was looking for somewhere a bit more remote. With well over a decade of mountain biking and skiing experience, the Colorado Rockies were an ideal college location. A shy but ambitious freshman, he found his way to the Mountain Sports program early on and it served him as an ongoing source of friendship and inspiration throughout the rest of his college career.
"Most people [mountain bike] with a small group or on their own," says Tyler. "It was nice to be on a team for mountain-oriented sports."
He credits the dedicated coaching of Eddie Cohn for helping him achieve more in the realm of mountain biking than he ever thought possible.
It took significant individual drive to pull off his first stunt — a backflip on his bike. Tyler spent three consecutive weekends driving to a facility with a foam pit so he could practice.
"I'd take my bike and do it over and over until I developed the muscle memory," he says.
His goal was to eventually do the backflip on dirt. In order to push himself outside of his comfort zone he practiced in a safe, indoor location until he knew he was ready. After weeks of preparation, he achieved his goal and successfully nailed the stunt.
That dedicated practice and drive occurred off his bike, too. Through Dr. James Harriss' finance program, Tyler discovered an interest in investments. He found himself reading books about finance and investing that weren't on his class curriculum, developed an appreciation for investors like Warren Buffett, and eventually took his skills to a competitive level.
During his junior and senior years,Tyler competed on Western's team at the Rocky Mountain Investment Challenge. The first year the students participated, the team had to pitch the organizers to let them into the competition as Western had not competed in the past. They not only succeeded in convincing the judges to let them compete — they swept the competition and reclaimed their title the following year.
After winning two investment challenges, Tyler realized he had a natural analytical ability for investments and that was the career path he wanted to pursue. He plans to begin his graduate studies in finance in the fall of 2019.
He isn't exactly certain where his plans beyond graduate school will take him, but he is excited to continue biking and pursuing his studies in finance. No matter where ends up, his drive, passion and dedication are bound to help him soar to new heights both on, and off the biking trails.