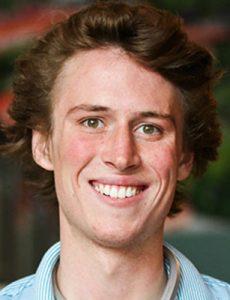 Profile
---
"Every professor I've ever had here has been amazing. The class sizes are incredible. And I'm dyslexic, so the class sizes and working with professors one-on-one is really cool. I know all of my professors really well, and you get to interact in class."
Tyler Brandt is a student in Western's Innovation, Creativity and Entrepreneurship (ICE) emphasis, but he's already making things happen. Brandt interned at a startup community in his hometown of Colorado Springs in high school and knew he wanted to continue entrepreneurship in college.
He looked at several schools but was drawn to Western's ICE program and the partner ICE Project, which organizes entrepreneurial events in the Gunnison Valley community and at Western.
"I wanted to come in and help build it and be a part of doing something at the school," he says.
Brandt is the student director for the ICE Project, meaning he regularly meets with business owners in Gunnison and in nearby Crested Butte. Along with other students, he organizes and oversees community events like Western's annual Rail Jam, where skiers and snowboarders compete on a course or campus.
Brandt and the ICE Project also work on developing new community events like entrepreneurial speaker series and workshops. The ICE Project seeks to get the Gunnison Valley community involved in entrepreneurial thinking. Members try to "take those events that are in startup communities and make them Gunnison-specific," Brandt says.
The community at Western—both professors and students—is one of the things that Brandt finds most inspiring.
"I love my professors," Brandt says. "Every professor I've ever had here has been amazing. The class sizes are incredible. And I'm dyslexic, so the class sizes and working with professors one-on-one is really cool. I know all of my professors really well, and you get to interact in class."
Brandt says he chose to continue onto college because he wanted to be around people who were engaged, who were interested in building something. Western provided him with the resources and the community to do so.
"The professors are so involved that the amount you can do and have an impact on is huge," he says. "Just the accessibility to people that will help you is huge."
Brandt is already using what he learns in his classes to engage and gain entrepreneurial experience outside of the classroom. As part of the ICE Toolkit course, which takes students through developing a business plan and model, Brandt and other students are working towards their own business.
"We are starting SkidoBurrito, which is food delivery on the ski mountain. We're starting to put the wire frame for the app together and looking at financials. We have to talk to Monarch Mountain soon and see if we can get up on their mountain for next year," Brandt says.
After he completes his degree at Western, Brandt plans to continue working in the startup world.
"I'll have the skills to easily apply and work at a startup. Especially building this community, I can see it being very easy for me to get a job at a startup straight out of school. I want to be working for one that's growing quickly, or I'll hopefully be running my own," Brandt says. "I couldn't be happier with my pick of Western."