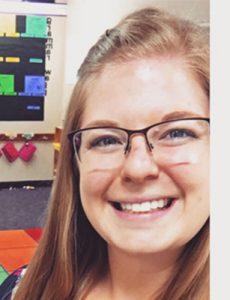 Profile
---
Western Colorado University Alumna, Taylor Denny, graduated from Western in 2019. After graduation, Denny found herself in Tempe, Arizona, where, in just her first year of teaching, she was nominated for the Rookie of the Year award in her district.
Not only was Denny nominated for the Rookie of the Year award, she also won the Tempe Diablos Rising Star award, which, she explains, "is the equivalent to New Teacher of the Year award."
Though Denny's teaching expertise is evident in her merits, this wasn't always the case. "It wasn't the original plan," says Denny. After her freshman year of college, Denny spent the summer working at a daycare and fell in love. "I felt like what I was doing had purpose," Denny says.
Denny is inspired by her students. "Everything I do is for them," she says. While she wants them to learn, she also wants to build a love of learning. She says this goal pushes and challenges her to try different techniques and find new ways to become a better teacher.
While Denny spent her first year of teaching winning awards and building her credibility, it wasn't all perfect. Amidst it all, the outbreak of COVID-19 caused some problems for the new teacher. "In my school, we have families that can't afford internet, parents that have no education or English [speaking abilities], and kids that are homeless," says Denny. "These barriers made it tough for our students to still be learning."
With the struggles of COVID-19, Denny says her school did the best they could. The school Denny works at used Google Meet to stay in contact with her students as well as the postal service to mail cards to students' houses.
Despite it all, Denny stays hopeful. "My advice to teachers during this time is just try your best with what you can," says Denny, "don't focus on what you can't do right now."
Though it was only her first year of teaching, Denny knows she's learned a lot. "The best thing I have learned as a teacher is how far kindness and positivity can actually go," says Denny. She says seeing her students help one another makes her proud to teach.
At the end of her first year, Denny admits there were days when she questioned what she got herself into, but says there are moments that make it all worth it. She concluded, "This is definitely the best job ever!"