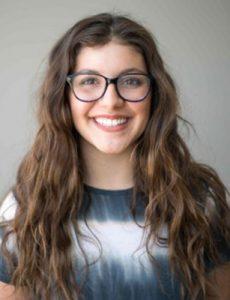 Profile
---
"The professors here are really encouraging when it comes to making your time at Western unique. It has been so easy for me to take opportunities and it's easy for anyone to start their own club."
Skyeler Smith, originally from Greeley, Colorado, is studying Business Administration with an emphasis in Marketing and a minor in Psychology at Western Colorado University.
Skyeler did not find Western; Western found her. Though she did see advertisements online and heard about it from a few friends, she was not interested until Western reached out to her about the Borick Scholarship Program.
"They reached out and thought I would be interested [in the Borick Scholarship Program]," said Skyeler. "I came out, visited for the weekend and did that program. That is what did it for me."
On campus, Skyeler is involved with quite a few things.
"I am pretty involved in the Business Department," said Skyeler. "Within that I am in Pi Sigma Epsilon, which is a new business marketing club that is a year old now. I am the Vice President of Administration for that."
Skyeler also started Women at Western about a year ago. Women at Western is a women's community on campus that has personal and professional growth opportunities. The big focusses are networking and growing their personal and professional strengths as well. Women at Western is housed under the Women's Student Lounge, which is a separate program.
As well as being involved with Women at Western, Skyeler is also involved with Amigos within the Multicultural Center, started the figure skating club her freshman year, is in the Geiman Fellowship Program and is the Marketing Director for Club Sports Council.
Through Club Sports Council, Skyeler has been able to attend leadership conferences and plan events that involve all the club sports teams. The most recent leadership conference that Club Sports was able to attend was in Boston.
"We were able to bring back a lot of workshops," said Skyeler. "That not only applies to Club Sports, but I am also able to apply what I learned to the other clubs I am involved with on campus."
Needless to say, Skyeler is busy when she is on campus. When she finds free time, Skyeler enjoys art, as well as skiing and ice skating "a lot."
Not only is Skyeler involved on campus, but also off campus she teaches ice skating classes—both group and private lessons.
When Skyeler talks about her experience at Western with her professors, she said, "The professors here are really encouraging when it comes to making your time at Western unique. It has been so easy for me to take opportunities and it's easy for anyone to start their own club."
Profile by student writer junior Taya Olson.