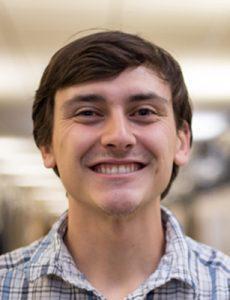 Profile
---
"Western is the reason I got into graduate school; it helped build my confidence and knowledge in my field."
Ryan Belson graduated from Western Colorado University in December 2018 with a bachelor's degree in general chemistry and a minor in math. He's now pursuing a Ph.D. at the University of Wisconsin-Madison where he feels fully prepared to be successful.
"Western is the reason I got into graduate school; it helped build my confidence and knowledge in my field," he said.
Ryan, a Massachusetts native, chose Western for the small class sizes and the outdoor recreation opportunities. These aspects combined with helpful faculty set Ryan up for guaranteed success in his major.
"My favorite part of being a student at Western was how dedicated the faculty was in pushing us to achieve," he said. "Many of the opportunities I received at Western were because the faculty encouraged me to go out and try to get them."
In fact, the reason he joined the Research Experience for Undergraduates program (REU) was due to one of his professors encouraging him to do so. The REU program solidified his plan to go to graduate school and helped build his resume.
His professors also helped him with his personal and research statements when he applied to graduate schools.
"I must have had them look at 10 different drafts and every time they were happy to help me so I could keep improving," he said.
The lifelong friends he met and the faculty who cared about his success are the reasons why Ryan's Western experience was so valuable.
Profile by Western senior Jessica Cusick.