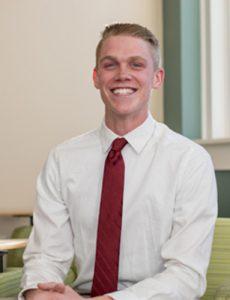 Profile
---
"Being an orientation leader and having that leadership position helped me branch out to try these other things. It gave me the confidence to express myself as a leader and learn what kind of leader I am. And then be able to use that leadership in other aspects."
Ryan Barnhouse is a student at Western Colorado University and an Exercise & Sport Science (ESS) major with a minor in Biology and Chemistry. Ryan is also in the Honors Program.
Ryan moved around a lot growing up, but he came to Western after graduating high school in El Paso, Texas. He discovered Western by doing a simple Google search. He knew he wanted a school that was great for outdoor adventures.
"I just googled 'Best outdoor universities,' and Western popped up," said Ryan. "After doing some more research, I realized the Exercise & Sports Science program was excellent, so it made sense. Once I visited, I knew this was the place."
On campus, Ryan is very involved with many different clubs and programs.
"The main thing I am a part of on campus is the EPIC Mentorship Program," said Ryan. "I am the student coordinator for that. I am the mentor of about 35 or so first-year students right now. I have also been a part of developing the program, because it is new. I help with hiring new mentors and train them."
EPIC is a mentoring program for the incoming first-year student class. As soon as a student makes their tuition deposit, a mentor reaches out to them. A mentor helps incoming first-year students go through the process of getting to campus. The main goal is to help students find their passion and be there as a friendly face on campus.
When Ryan was a first-year student, he was stuck in that routine of going to class and then going back to his dorm. He was not really involved on campus until his sophomore year.
"I think what really helped me [with getting more involved] was being an orientation leader this past year," said Ryan. "Being an orientation leader and having that leadership position helped me branch out to try these other things. It gave me the confidence to express myself as a leader and learn what kind of leader I am. And then be able to use that leadership in other aspects."
"I am also the president for Operation Smile and the president for the Exercise & Sport Science Club," said Ryan about what else he is involved with on campus.
Ryan was given the opportunity to attend a conference in Virginia through Operation Smile.
In his second year at Western, Ryan says that his favorite part about Western is how the campus community is like one big family.
"It is incredible how nice everyone is on campus," said Ryan. "Also, how almost everyone wants to have a genuine conversation and really wants to get to know you. Once you take hold of the opportunities available, the family seems to grow."
In his free time, when he gets it, Ryan "really enjoys being outside. Just getting outdoors really helps me take a deep breath and relax from being so busy at school. I also really enjoy building Legos and playing board games with my friends."
Profile by student writer Taya Olson.