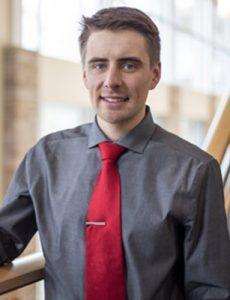 Profile
---
"I came in thinking, 'I'm going to major as a ski bum,' but Western opened my eyes to there is more in life than just skiing."
Ouray Walker is an Accounting major from Denver expecting to graduate December 2019.
When Ouray was in the eighth grade, he was assigned a project where students had to pick a college they would be interested in attending after finishing high school. Ouray's grandfather attended Western, so he picked that as a school to look into. When high school graduation came around, Ouray was still interested in Western.
"Coming to Western, I had no idea what I wanted to do, but over the last four years I found that accounting has been that niche for me," said Ouray. "The whole Accounting program here has helped me find what I was passionate about."
Ouray thanks the Director of the Accounting program, Steve Crowley, for helping guide him through the process of finding something he enjoys studying.
On campus, Ouray was involved with the Mountain Sports program as an athlete his first three years. When one of the coaches stepped down, he was hired as one of the coaches for the Big Mountain Freeride Skiing team. He is also involved with the VITA program. The VITA program is the Volunteer Income Tax Assistant, where Ouray helps people in the community and students with their taxes.
On top of his academics, coaching and volunteering, Ouray also has a full-time job in downtown Gunnison at Gene Taylors Sporting Goods, where he says he gets all the good deals on gear he needs for any season.
"All of my friend groups come from skiing and Mountain Sports," said Ouray. "We all share the same passion that most Western students have—skiing. The education has been the extra bonus. I came in thinking, 'I'm going to major as a ski bum,' but Western opened my eyes to there is more in life than just skiing."
Profile by student writer Taya Olson.