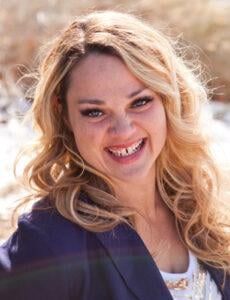 Melissa Dalton-Martinez
Alumna,
---
Profile
---
We recently caught up with Melissa Dalton-Martinez from the Publishing class of 2021 and she took some time to answer our questions. Melissa is, among many other things, the official book recommender for several major television stations in Utah.
Tell us a little about yourself.
MDM: I graduated in July 2021. Since then, I published three children's books, all of which became Amazon #1 Bestsellers. In November 2021, my Master's project book, The Story of Doctor Dolittle: Revised, Newly Illustrated Edition, was chosen by Amazon to be on the recommended Holiday Toy List. This again pushed this short novel to be an Amazon Bestseller.
Prior to doing the Publishing program at Western I worked in marketing and media for the book publishing industry and ran my company, The Book Break. Since graduating, I've been asked to teach more classes than before, and I get paid more to teach classes on a variety of book marketing classes and publishing classes. My business has grown and I've been able to hire more employees.
I also do a monthly book recommendation segment on Utah's ABC, CBS, NBC, and FOX stations. During these segments I recommend three books to viewers based on a theme I chose for the month. I also still have my monthly online show, The Book Break, where I interview authors, artists, or other publishing world experts, and each episode consistently has more than 1,000 views.
Why did you pursue an MA and why did you choose to study Publishing?
MDM: While I was a marketing and media expert in the publishing industry, there were many other steps in the process of publishing that I didn't know enough about and that I didn't know how to do and I wanted to learn. I also knew that a Master's degree in publishing would add to my credibility and allow me to charge more when I'm asked to teach at conferences.
I LOVE teaching, and at some point I want to back a little more out of providing so many marketing services and teach more, especially in a college setting. I'm invited as a guest speaker to many college classes, but I'd like to teach a full class, which requires a Master's degree.
How did you make the most of your time in the GPCW?
MDM: I learned SO much from the publishing program. I started working in this industry around 2004, but there is always more to learn. I took what I learned and then immediately started putting into action for my clients, my husband (who's an author), and for myself. I also expanded on some of the things I learned by getting in contact with some of our guest speakers, networking with them more, and experimenting with additional distribution approaches. I was able to make a lot of progress and now I help my clients and teach others how to do it.
How have your interests or approach to writing and publishing changed?​
MDM: Marketing for books is still my first love, so the majority of my writing is copywriting, however, I was inspired to write a 32-page picture book, which has been selling well. I think I may write another children's picture book someday.
I've also been working on my own distribution network. I'm not sure if I'll offer distribution services for authors or not, but I definitely teach authors how to get their book into bookstores, which has been going well.
What success have you had since you graduated?
MDM: My business, The Book Break, has grown with more clients, offering more classes, and now offering publishing services. I am the go-to "book person" all the Utah TV stations go to when they have questions or if they want to do a story on a book, author, or reading theme of some sort.
What are you reading, watching, and/or listening to these days?​
MDM: In 2021 I read 168 books. My goal is to read 170 books in 2022. The Big 5 publishers and Disney Books, all send me books to review, as well as do smaller publishers and Indie authors. This leaves me reading 3-5 books each week. So, what I'm reading now changes every other day. So far this year, I've read books by:
Jay Boyce
James Hunter and Eden Hudson
C.J. Anaya
Danielle L. Jensen
Gama Ray Martinez
David Farland
Arthur F. Coombs III
Dr. Joseph Q. Jarvis
James Clear
David L. Bradford & Allen R. Cohen
Arlem Hawks
Many children's picture books with my 1st grade daughter
And more . . .
What's next for you?
MDM: I'm currently in the process of working with Harper Collins on marketing for my husband's (Gama Ray Martinez) book, God of Neverland, that comes out on April 12th.
Amazon has asked me to work with them as an adviser on the Amazon Ads platform. I'll be testing out potentially new options, making suggestions for how to change and add functionalities to the ads platform, and more.
I'm also currently filming book marketing classes that I'll soon be selling as individual classes or as a workshop bundle. Later this year, I'll be offering six week and longer virtual programs where the attendees will get pre-recorded classes, live classes, small group consulting, and one-on-one consulting with me.