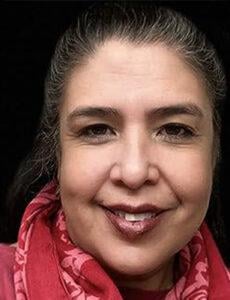 Ligiah Villalobos Rojas
Faculty,
---
Profile
---
Ligiah Villalobos Rojas is a new addition to our Screenwriting faculty. Ligiah recently took time to share about herself and answer our questions.
Tell us a little about yourself.
LV: I am a screenwriter, working in TV and features, and both live-action and animation. I am originally from Mexico, but have lived in the States most of my life. I come from a family of 10 children (from 3 marriages). My mother and all her children live in the States. My father, and his children from his second marriage, all live in Mexico. So I have family both here, and in Mexico.
When did you know you were going to be a writer?
LV: I didn't. I actually started to write as a result of the frustration I felt as a TV and feature film executive, overseeing projects that I didn't believe in. I knew then that I had to figure out a way that I could have more control over the stories that I was putting out into the world, and that led into my first creative writing class, which was after being a TV and feature film executive for 10 years.
What or who are your main influences?
LV: I really have a broad taste in terms of authors and writers I like. I am a huge fan of Sherman Alexie and Junot Diaz (and I do realize that they became very controversial figures during the #MeToo movement, so I am talking about their work as writers.) I'm also a big fan of YA literature and have read some wonderful books in that space — Stargirl, The Giver, Trash, The Sky is Everywhere, etc. In terms of screenwriters, I like the way Aaron Sorkin writes because he writes from theme. He, like me, is not as focused on the story we want to tell, but rather, what is it that we want to say.
What current project(s) are you working on?​​
LV: I have a podcast coming out in January, which is a scripted, music-driven story with an all LatinX cast. It was done both in Spanish and in English, with a total of 72 episodes. I am also developing a limited series inspired by Don Quijote de La Mancha, and developing a couple of animated series with different production companies. I am also attached to do an adaptation of a South African feature film titled Sink.
​How did you find Western's GPCW or how did the GPCW find you?
LV: They reached out to me at Cal State LA, where I teach full-time.
What are you looking forward to most?
LV: I'm always interested in getting acquainted with a new generation of writers, regardless of what their age might be. And low residency programs tend to have a variety of writers that are sometimes not found in a regular program