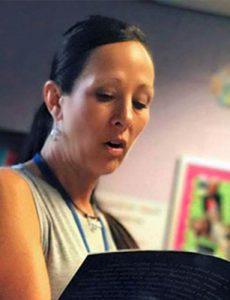 Jamie Frank-O'Connell
Alumni,
---
Profile
---
"I remember being embraced by Western's faculty. Gunnison was a place where I worked really hard, played really hard and grew a ton."
Jamie Frank-O'Connell is a student counselor at Palmetto Scholars Academy, a school for gifted students in South Carolina. Many of the students she counsels are considered "twice exceptional," meaning they are gifted academically plus they have additional considerations such as attention deficit disorder or anxiety. Frank-O'Connell has compassion for kids who struggle or who've been dealt an unfair hand. Her training—master's degrees in clinical psychology and school counseling—taught her methods to help these students cope. But she brings additional insight.
Frank-O'Connell had a rough childhood herself. As a result she didn't have a successful high school career. She was one of 4,000 kids in her high school and remembers, "nobody was keeping track of me." Today, she recognizes she probably would have been identified as a gifted student. Her home life was stressful and she dealt with a number of risk factors which left her thinking something was wrong with her. "I thought I was stupid," she says, "but when I got into Western I realized I was capable."
Despite a lack of support from her family, Frank-O'Connell was determined to go to college. She recalls talking to Western's dean of students, who helped arrange a financial aid package that made it possible for her to attend her freshman year. She worked hard to make ends meet, even taking on a graveyard shift at a nursing home.
Frank-O'Connell entered college without a lot of confidence. What she needed most was for people to acknowledge her and be patient with her. And that is what she found at Western and in the community of Gunnison. While she was determined to do well, she didn't enter college with the academic skill set necessary for success, and her experience at Western was rocky initially. But she remembers feeling embraced by the faculty, and credits Western and the Gunnison community for giving her the space and security necessary to thrive as a student.
"I just needed a chance to be successful," says Frank-O'Connell. A small school environment where people knew her by name and noticed if she was in class made the difference in her progress. She worked hard, recouped some of what she didn't get during her high school career, and eventually blossomed academically and socially.
Frank-O'Connell always knew she wanted to be a counselor or a lawyer. She declared a Psychology major early on. "I made plenty of mistakes. I had to learn to write academically, how to argue a point," she says. "But I was so excited to be at Western."
Socially, her world expanded as well. It was the first time she had interacted with affluent kids. She was exposed to different lifestyles and met students from across the country. "I became myself there," she says.
Eventually she decided psychology, not law, was her path. She earned her two master's degrees before she left Colorado. Today she marvels at the change in herself in that short amount of time. "[Growing up] I never would've believed that I'd have the confidence to enter a graduate program and come out of it with honors," says Frank-O'Connell. "I worked hard, but it still seems like a miracle."
Eventually, she worked in a mental health prevention program and in schools in New York. She met her husband, and together they moved to South Carolina and began their own family. Three years ago, Frank-O'Connell took the position at Palmetto Scholars Academy.
The most challenging aspect of her career today is working around policies that are designed to protect children, but from her view, do not. She also encounters people on occasion who unfortunately see therapy as a sign of weakness. One of her preferred therapeutic methods is bibliotherapy. As a school counselor she often has to get to the root of a problem quickly, and she doesn't always know if she'll have multiple sessions. Reading and discussing books with her clients has proven an efficient method to figure out a problem.
She's turned that interest and her love of writing into a second career as a children's book author. Her books focus on mindfulness, the natural world and people's connections to one another.
Frank-O'Connell credits her life in Gunnison for giving her a strong foundation. "The people there were real. No one judged me. The people in Gunnison accepted and loved me and gave me the permission to do the same thing," says Frank-O'Connell. "And from there I continued to grow. Now I'm living a pretty awesome life."