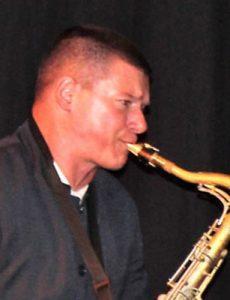 Profile
---
"I used to think I was a music teacher; now I think I'm teaching life with music as a vehicle."
Teaching and music have been critical elements in James Divine's decades-long career. Divine—orchestra conductor, music teacher, motivational speaker, professional jazz musician, and former Army sergeant—knows from personal experience that music has the power to heal. He affirms that music saved his own life. As an educator and public speaker he's using music to help others experience the powerful benefits of forgiveness.
At a young age, Divine's abusive father abandoned their small family. His Italian mother, Rita Fiorina, moved Divine and his older sister to Naples, Italy where they healed their wounds and lived a modest life surrounded by extended family, music and delicious food. However, in the midst of the family's recovery a family friend molested Divine. The abuse continued for several years, until Divine was nine years old. By then, Divine's mother had moved her children back to the United States where they'd made a home in Norfolk, Virginia.
Divine speaks candidly about his abuse and the toll it took on him. He battled with his hatred of his perpetrator. He endured bullying from classmates. Luckily, two things pulled him through those difficult years—caring teachers showed young Divine patience, and friends coaxed him to sign up for the middle school band. The decision to join the band turned out to be a life-changer. Divine started with the clarinet and showed natural musical affinity. In seventh grade he discovered the saxophone. He still owns his first—a vintage Conn tenor saxophone. Music helped Divine find his place, discover a talent and develop self-esteem.
Through his adolescent years, as Divine developed his musical skills, he wrestled with the hatred he felt for the man that molested him as a child. At age 16 he came to the realization that this hatred was holding him back from what, and who, he was meant to be. He made a conscious decision to forgive his abuser. He also told his mother about the abuse. These became the first steps in his lifelong healing journey.
Years later, as an adult, Divine began sharing his experience with others. When he saw how much it helped others heal he leaned into that effort. Today, Divine is a public speaker who focuses on a variety of motivational topics. The top of the list is the freedom that forgiveness provides.
There was a time when Divine saw himself as a musician who shared stories about his life. Now he sees himself as a storyteller who happens to use music. His perspective has also shifted about his role as a teacher. "I used to think I was a music teacher," says Divine, "but now I think I'm teaching my students about life with music as the vehicle."
Divine began teaching while in the Army band. Once he was out of the Army, Divine pursued a career as a professional musician, supplementing his income by teaching private lessons. A school principal offered him a part-time job teaching a couple of classes a week. Over the course of a few years, Divine found both his music career and teaching career were growing, and ultimately he had to choose between the two. Divine chose teaching. "By that point, I knew the ins and outs of music," he says. "It was ideal because if I'd gone right into teaching I would've always wondered."
Divine earned his alternative teaching license in 2005 through Western's online program. He looked at many programs, but they all required relocating and dedicating two years as a full-time student. As a husband with four children at home, that wasn't an option for Divine. Then he found Western's one-year, low-residency online program and it was a perfect fit.
Divine still performs mainly in coffeehouses and small concerts. His children are grown, which has given him time to work on his newest creative pursuit–a memoir called "I Cannoli Imagine: My Italian Life," decidedly lighter than his first book, "Forgive."
At this point in his life, Divine is able to see the benefits of the work he's done to heal himself. He tells others who are struggling to make the decision to forgive and then reach out for all the help they can find. You can learn more about James Divine and his keynote speaking at jamesdivine.net.