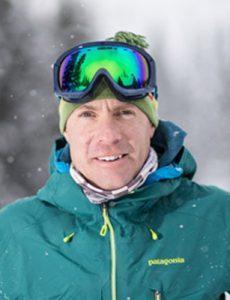 Profile
---
"My own mission around the work I do is – 'What's the point of doing what I'm doing today?'"
Jake Jones jokes that he was an "aspiring ski bum" when he arrived in Colorado more than two decades ago. At that time, he couldn't have imagined the life he's living now. "I've managed to build a family, a career and a home here in Crested Butte," says Jones. "I kept saying 'yes' and looking for new challenges." This philosophy continually opened new doors for him.
Jones and his family lead an active life. He lists the activities his 10-year-old son participates in — mountain biking, skiing, soccer and tennis — and it's clear he's excited to provide these experiences for him. He believes these outdoor, athletic experiences can be life-changing, and his career path over the past two decades supports this belief.
Currently, Jones is the Managing Director of Eleven Experience, a company that delivers high-end custom adventure travel experiences. His path to this position wasn't a direct route. "I've had a diverse career and one that I didn't exactly map out," says Jones. "It's been a matter of working really hard and achieving to the limit of my capacity and continuing to grow within organizations." While Jones may not have mapped out his career path there has been a common theme: guiding others through nature to help them better understand themselves and enjoy their lives.
Jones grew up in Oregon and was drawn to Colorado for the outdoor opportunities. He began his college career in Boulder. What was supposed to be a one year break after his sophomore year turned into three years of skiing. When he decided it was time to return to his education, he looked for a school that would provide easier access to the slopes. Western's location in the Gunnison Valley was a perfect fit. He declared a biology major and thought his future might be in science education. While location was the initial factor for choosing Western, Jones quickly recognized he was getting a solid education. As a non-traditional student he had mentors who identified his abilities and took the time to cultivate them. One example is history professor Heather Thiessen-Reilly who recognized Jones' talent for writing. Thiessen-Reilly oversaw a student writing lab and recruited Jones to be a writing tutor. "That would never happen at a big university," says Jones.
Jones observed that treating students with respect was a universal approach to the student body. "Western met me where I was," he says. "I felt the professors recognized that I was different from the students who were three years younger than me." The level of attention and recognition he received was due in part to the size of the school and the dedication to student experience, something he saw when he returned to work at Western years later.
As a student, Jones also instructed for Outward Bound, a well-known provider of experience-based outdoor learning for kids and adults. After graduation he continued working his way up the ladder with Outward Bound until Western hired him as the school's Wilderness Pursuits Director. That's when Jones saw from inside what he'd experienced firsthand as a student—the devotion to student experience. Jones worked under Dean of Students, Gary Pierson. He credits Pierson for influencing his own student-centric approach to his job. That mentality has had a lasting benefit.
Today, as managing director at Eleven Experience, he is focused on providing lasting experiences for his clients that will make them better people when they return to their lives. "My own mission around the work I do is 'What's the point of doing what I'm doing today,'" says Jones. He is motivated by the Eleven Experience mission to impact the people who influence the world. He says his own personal version of that motto is to create structured experiences around nature and joy which, when combined can be something powerful.
Profile by Liz Renner