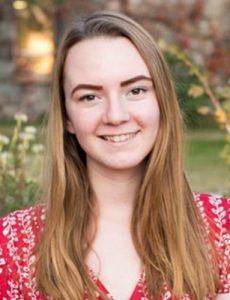 Profile
---
"Being so involved in so many different things you get to know all kinds of people. You get to make connections with people that just aren't at Western."
Hannah White, originally from Kansas City, is a Politics & Government major with an emphasis in Global Studies and minors in Philosophy and Environment & Sustainability (ENVS).
When Hannah was researching different colleges, she wanted a school with a good ENVS program that was somewhat close to home. Western was a school that stood out to her most, and the rest is history.
On campus, Hannah has her toes dipped into everything she is passionate about.
"I am a Senator on Western's Student Government Association (SGA) and an Orientation Leader for the 2019-20 school year," said Hannah, but it does not stop there. "I am also a member of Women at Western, Vice President of the Politics Club, a member of the Women's Student Lounge, participated in Model United Nations (UN) and a Geiman Fellow starting 2019-20 school year."
Hannah always knew she wanted to work to protect the environment and write policies.
"When I was taking the Intro to ENVS course, I was really passionate about it. I still am, and then I took American Foreign Policy with Dr. [Maria] Struble," said Hannah. "It made me realize that what I want to do with the environment is to write protection policies for it and to do that on the global scale. My majors and minors are how I think I can do the most with the environment."
Because of how involved Hannah is on campus, she has a lot to choose from as her favorite part of attending Western.
"The friendships I have made here are one of my favorite things about coming to Western," said Hannah. "Being so involved in so many different things, you get to know all kinds of people. You get to make connections with people that just aren't at Western, because of conferences like the Model UN. The opportunities that Western has given me through these different groups and clubs have been an amazing thing."
When Hannah gets time away from school, she likes to spend time relaxing. Her favorite spot to be is the Women's Student Lounge in the library.
Her advice to incoming freshmen: "Get involved. Freshman year, I did not do anything besides class and hanging out in my room. What would have made that year better for me was to be involved with clubs on campus. Doing the extracurriculars really makes the college experience that much more enjoyable."
Profile by Western junior Taya Olson.