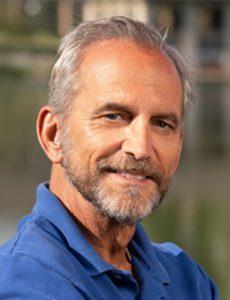 Profile
---
"I grew up [at Western]," says Greg "Geese" Giesen. "I was a boy when I arrived, a man when I left. I found myself at Western."
As a young person Greg "Geese" Giesen never considered himself a leader. By his own account, his first couple of years at Western were remarkably, well, unremarkable. So when he was approached his sophomore year by the three captains of Western's women's soccer team, the last thing he expected was for them to ask him to become their head coach.
In fact his first response was to laugh. He assumed their first choice must have turned them down. But the three women were serious.
They'd determined that he was easy to work with and observed that he was organized. In their estimation, he had the ability to lead. This came as a revelation to Giesen who did not recognize those qualities in himself.
Giesen took some time to consider the offer which sparked a period of intense self-evaluation. It challenged him to see his own place in the world from a new perspective. And despite his fear, he agreed to take on the job.
He'd always had an interest in helping people and leading the soccer team revealed talents that had lain dormant. It also marked the beginning of a genuine transformation — from an observer to a doer, from a C student to an A student, from a follower to a leader.
He recalls that his grades improved once he started coaching the soccer team even though he wasn't studying any more than he had before. "It was about mindset," says Giesen. "How I saw myself directly enhanced my academic abilities because I was motivated. I knew what I wanted."
After graduating from Western, Giesen went directly to Miami University where he earned his master's degree in personnel services and counseling which launched a more than thirty year career dedicated to developing people's talents and leading them to their own success.
In the 1990s Giesen took part in a 10 day Outward Bound course. "It was the first time I'd ever done experiential learning," says Giesen. "The ropes courses and all these activities were a huge breakthrough for me in what teaching could be." He was so moved, he partnered with an Outward Bound instructor to create a unique outdoor leadership training course. Over two decades, Leading From Within has evolved into a multi-day course that helps participants connect to their authentic purpose and develop tools to live life in a meaningful way.
Giesen credits Dave Barilla, the director of Western's career center while Giesen was a student, for being an excellent mentor. Barilla acknowledged Giesen's talents and connected him to opportunities and jobs. The two men still make a point to talk at least once a year. Today, Giesen is in the process of transitioning from his role as a manager of people development to an author and Barilla is still an active supporter. "My latest book is very personal and I had to have his endorsement, " says Giesen.
Giesen wrote It's All About Me!, a compilation of stories from his own life, with the intention of motivating or inspiring others, particularly those interested in writing their own life story.
"It's a legacy thing," says Giesen. "I'd like to inspire people to find a medium to tell their story, leave their legacy for their family."
He believes everyone owes it to themselves to reflect and record the stories they want to share with the people they love. Helping people document their personal stories is how Giesen wants to spend the final chapters of his career.
For more than three decades, Giesen has been leading people in an effort to connect them with their own purpose, talent and now, their legacies. He traces his path back to that defining moment when he was first asked to step up and lead.
"I was a shy, quiet kid who lacked confidence, but it was easy to connect at Western and so I found my way. I grew up there," says Giesen. "I was a boy when I arrived, a man when I left. I found myself at Western."
Profile by Liz Renner