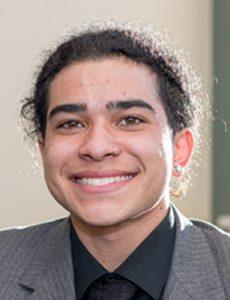 Profile
---
"I love the ways both my majors have rewired my way of thinking and the way I can apply them to make myself happier and more successful."
Gabriel Portis grew up in Longmont, Colorado and was craving something new and the chance to rebuild himself. A Western Colorado University admissions counselor showed him exactly where he could find that—right in Gunnison, Colorado.
Gabriel found his true self through his various extracurriculars, such as the campus' Multicultural Center, and through his psychology, English and business courses.
"I love the ways both my majors have rewired my way of thinking and the way I can apply them to make myself happier and more successful," he said.
Over the years, Gabriel realized graduate school was something he wanted to pursue, and his professors have prepared him for a successful future in a graduate program.
"My professors and the departments I'm in always give me opportunities beyond education. I've conducted research, been a teaching assistant for both departments and written for the campus newspaper," he said.
Above all, the relationships Gabriel has made here at Western are his favorite part of his college experience and are what he believes sets Western apart.
"The individual relationships and the way people are authentic in Gunnison sets Western apart; I love the community here."
Profile by student writer Jessica Cusick