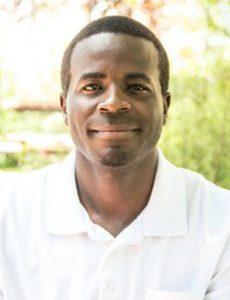 Profile
---
"As an international student, I felt welcomed into the MEM community. I regularly consulted with my accessible professors and fellow students while implementing my graduate project in the Gunnison community with passion, experience and newly gained knowledge."
Francis Mitalo is a 2018 Alumni of the Master in Environmental Management Program. Francis learned about the program as a senior manager for Eco2librium in Kenya, one of the major B-certified corporate partners of the Global Sustainability track which applies business solutions to solve social and environmental problems. There he spearheaded the installation of more than 50,000 energy efficiency stoves, planted of more than 10,000 tree seedlings and installed solar energy kits in the Western Kenya community.
He focused on climate mitigation and energy efficiency working on consumer behavioral changes in partnership with the Nest, an organization that makes smart home energy products. His faculty member was Abel Chávez, Ph.D. who is an internationally recognized expert in climate mitigation.
"As an international student, I felt welcomed into the MEM community," said Francis. "I regularly consulted with my accessible professors and fellow students while implementing my graduate project in the Gunnison community with passion, experience and newly gained knowledge."
Francis is currently working as a sustainability coordinator at University of California, Riverside.