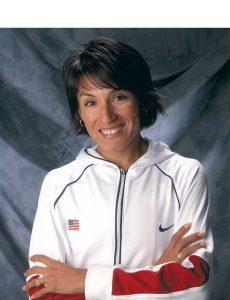 Profile
---
A Western grad and two-time Olympian, Elva Dryer spent years working and giving back at Western.
The world knows Elva Dryer as a great American distance runner, a two-time Olympian, 13-time All-American and 16-time Rocky Mountain Athletic Conference champion, who went on to make her mark on the Elite road-running circuit.
She's been inducted into the Western Colorado University Mountaineers Sports Hall of Fame, the RMAC Hall of Fame, the Colorado Running Hall of Fame, Colorado Sportsman Hall of Fame, the National Cross Country Hall of Fame and the NCAA Division II Track and Field Hall of Fame.
In 2013, she was one of two RMAC athletes – in all sports – counted among 48 as the best in the 40-year history of NCAA Division II.
At Western these days, she's the kind, smiling lady – students, staff and faculty encounter when they want to reserve a room for an event at the Aspinall-Wilson Alumni and University centers.
Asked what prompted her to return to Western and rear her young daughter in Gunnison, Dryer says, "I think it's just homey … or I think … it's just hard to put into words. There are no boundaries in a sense. We're surrounded by open space. You live and let live, in a sense."
Dryer graduated from Western in 1996 with a degree in Business Administration and a minor in psychology. She recalls being ready to leave the Gunnison Valley. And she did, racing around the world and drawing acclaim.
She and her coach, who is also her husband, Russ Dryer, immersed their lives in the running world. For a time, they spent winters in Albuquerque, where she could train at a lower altitude along the river or climb into the hills. They would rent a house each summer for training in Gunnison. Then, for a half-dozen years, they stayed south when not traveling the race circuit. Northern New Mexico had drawn other competitive runners to its varied terrain, and they found good support and companionship to pair with the training options.
Dryer says she found mixed advantages to training in the Gunnison Valley. There is no limit of trails for variety of both terrain and scenery, and the low oxygen of high altitude helps build endurance. However, she found Gunnison difficult to travel from much of the year, running in the winter was problematic, and its altitude of 7,700 feet – and higher – wasn't best for all her training.
"I got better results training lower for speed. Up here was best for the base building and endurance work," she explains.
But Colorado – if not extra oxygen – was in the blood of the next youngest of eight children reared on a ranch near Durango. And she remembered how Western and legendary track coach Duane Vandenbusche had embraced her when she arrived on campus in 1990.
"I came to Western not knowing much about the college and the Gunnison Valley," says the woman who didn't run competitively until age 16 and quickly rose to prominence among high school distance runners. "I was recruited by others. But Coach Vandenbusche convinced me that Western was the right place for me. As an incoming freshman, I was worth something at Western. I would be valued. I would be a key part of the team."
That sense of relationship to the people and the place kept Dryer at Western, even as she had to take a year (1991-92) off to recover from an overtraining injury and preserve a year of NCAA competitive eligibility. She returned in 1992 to success in the 800- 1,500- and 3,000-meter distances. By her senior year in 1996, she was also making her mark at 5,000 meters, pushed on by Russ, who was also a cross-country standout at Western.
Similar connections prompted her to return to Western in 2009. A bad cold had forced her to drop out after nearly 19 miles in the marathon competition during the 2008 Olympic Trials. She had fought to reach her marathon best at 2:31:48, in Chicago in 2006. She had proved that women do, indeed, close an endurance gap with men as they age. But her race times were slowing by the 2008 trials. She sought the next phase in her life.
"I guess you have to leave to appreciate this place," she says. "… There's something about this place that just let's you do your thing and be who you are. … I think of the quaintness of having all easily accessible – including the people. There are fewer distractions, no shopping malls or traffic. We don't have those stressors."
A year after returning to her alma mater, Dryer gave birth to her daughter Marina. Dryer waxes about the convenience of working just six minutes from her north-side home and hardly a jog from her daughter at Tenderfoot preschool. She talks of still loving to run, but doing so now for her physical and mental health, not for any particular goals.
Dryer did run in the Twin Cities Marathon last fall, prompting a long story in Runner's World and several reports elsewhere about her first race in the Masters division. She finished at 2:44:23, third among the Masters women.
But mostly, she's now focused on being on Mom for Marina and a good friend to students, whom she also loves to watch grow.
"There's never a day I don't want to come to work," Dryer says, adding that she's teaching Marina to love Western, too. "I work with great people, and there are great students on our campus. I think a lot of good things are happening at Western."
Story by Greg Smith, Western Marketing and Media Relations.