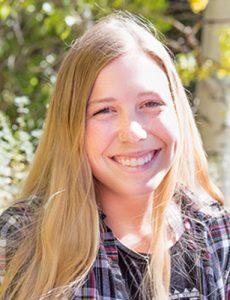 Profile
---
"The people I've met, the surrounding environment … and the supportive professors combined have really made [Western] a great place. I know I'm never going to want to leave."
Snowboarding, bats and butterflies: these are the things that have kept junior Ellie Orr busy.
Originally from Ohio, Ellie was drawn to the Rocky Mountains by Western's Wildlife Biology major and unique outdoor opportunities.
"We have a great Biology program and the Mountain Sports program, those were my top two factors," said Ellie, who plans to pursue a master's degree in Ecology—one of Western's upcoming graduate programs.
During her time at Western, Ellie has accumulated a wealth of academic experience; she studied the endangered Uncompahgre fritillary butterfly the summer after her freshman year and completed a bat acoustic monitoring project for the Gunnison Bureau of Land Management following her sophomore year.
Over the course of that summer, Ellie completed every step of the research, from pre-planning and using the equipment to collecting and analyzing data.
"It was fun," she said. "The biggest takeaway was learning how research will work in the future and getting hands-on experience doing it on my own."
Her enthusiasm doesn't stop with academics; Ellie was also the first woman snowboarder to join the Mountain Sports Freeride Team.
One of the challenges, she said, was "keeping up with the boys."
"Our first trip was me and 28 guys," she recalls, noting that adapting from the park snowboard team to the freeride team was particularly difficult.
"It's a struggle. … It's more technical, but I love being a diverse snowboarder."
But, she says, the athletes are just as adamant about forging friendships as they are about their competitions.
"[During] our first competition at the Canadian Open, I took third and the whole team cheered when I got up there. It felt like I'd accomplished something, and it felt great to have a whole team of people supporting me," Ellie said.
The common thread between her passion for snowboarding and for Wildlife Biology is their mutual involvement in environmental matters.
"My biggest thing is wanting to have an impact on our environment through researching things like climate change," she said. "Our professors are trying to give us [hands-on] experience."
Overall, it's those experiences Ellie has had with her professors and with her team that set Western apart.
"The people I've met, the surrounding environment … and the supportive professors combined have really made it a great place. I know I'm never going to want to leave."