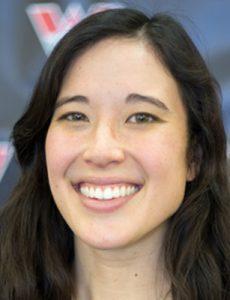 Profile
---
"Western, as a school, has prepared me with wonderful professors I could learn from and provided real world experiences."
The endless amount of opportunities that were available to Elizabeth Beggs at Western prepared her for a job in New York City. After graduating in May 2019, she moved to the Big Apple to work as a sales development representative at a startup company, Aircall, where she's working towards becoming a sales executive.
"Through unique classes, supportive professors and a small school atmosphere, I was prepared to go out into the real world and be successful," she said.
Elizabeth studied entrepreneurship and marketing during her four years at Western. She knew for a long time that she wanted to run her own business and be a positive leader who helped others. Marketing intrigued her because she felt she'd learn about identifying target audiences for her own business while being creative.
The relationships she built over the years represented her favorite part of being a student at Western.
"My experience as a business student and working with everyone in the Borick Business School was wonderful. From the faculty, professors or students, it was an amazing dynamic—something I'm very grateful and appreciative for," she said.
The bond she established with her professor and Pi Sigma Epsilon advisor, Tom Miller, made a big difference during her academic career.
"Tom went above and beyond to make sure each student he knew was doing well. If we needed advice or just a person to laugh with, he was always there for us," she said.
He was also her go-to consultant for anything important, such as her new career at Aircall.
Because of the many resources Elizabeth had as a student at Western, she felt well-prepared for the next chapter of her life. She took advantage of the many company lunches Western hosted, utilized the Office of Career Success to get an internship her sophomore year, joined clubs and attended selling competitions around the country.
"All of these small interactions during my time as a student prepared me for the real world. Having such a close and supportive community definitely helped build my confidence along the way."
Profile by Western senior Jessica Cusick.