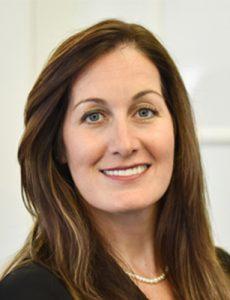 Profile
---
"The community I found was my favorite memory"
Denise Leleux ('90) grew up in the suburbs of New Orleans and spent her summers in Gunnison, her mom's hometown. Leleux began her undergraduate education at Louisiana State University, transferring to Western after her sophomore year in 1988.
"Coming from LSU, which is a very big school, Western seemed small and intimate. And this is the reason I stayed, you just could get involved," Leleux said. "When I got there I got involved in the radio station. I had my own show, it was called 'Overtime,' and it was a sports show. You made friends quickly. At a small school you could connect with lots of different groups."
Majoring in Communication Arts, Leleux supplemented her studies by working at the Savage Library and as a waitress at Cattleman's restaurant.
"It was hard not to say 'I'm engaged, I've joined some things, I'm participating in the school and the community.' Compared to the activities I had been doing at LSU, sorority life and such, I just felt more settled and a part of something at Western," Leleux said.
Making friends with Western students who had been there all four years, Leleux got to experience the Gunnison Valley, or as she calls it, "God's country," in an entirely new way than she had with her family growing up.
"There was also a real spirit that people love coming to school there. The community I found was my favorite memory," Leleux said.
She recalled fondly a story of her younger self, cruising around Gunnison in her '79 Subaru: "I think it passed emissions only because the exhaust came into the car instead of leaving it. I learned very quickly how to drive a stick shift and that I needed a heater block in my car and then plug it in at night so it didn't freeze. I just remember thinking that a girl from south Louisiana, 'What have I done to myself?'"
Experiences like this outside of the classroom and the close-knit relationships she formed with classmates and professors contributed to the success Leleux found at Western.
"At LSU I was going to a class as a freshman or sophomore—you go into these classes that had 500 people in them," she said. "I remember taking classes at Western and felt an intimacy. There was engagement in the class. There was conversation. There was a push for really sharing your thoughts. I felt that openness that you were able to really test yourself during college."
Leleux was able to test herself further during her first job at Cooper Investments in Denver. Using the connections she formed at Western, Leleux launched her career in the marketing and communications field.
Moving across the United States and abroad, Leleux moved up the ranks, finding her niche in the credit card industry.
"Certainly the way I've experienced and looked at my career, I've just been able to move around and follow the opportunities. I've worked on very interesting projects," she said.
From Dallas to San Francisco and New York to London, Leleux has worn multiple hats in business, sales, marketing, and product development. Most recently she was the Vice President of Global Customer Experience for Ebay Inc. in Salt Lake City, Utah.
"Being a leader of large teams and making sure that we all come along on that same journey and we see the outcome of what we want to achieve collectively, that brings me quite a bit of satisfaction and pride and joy," she said.
Being a leader and an executive throughout her career, Leleux feels that the leaderships skills she learned through hard work and involvement at Western set a precedent for the rest of her life.
"Gunnison is a place I go back to with extremely warm memories. I had a base where I could go off and do all of these fun things. I came from Western, a very small and safe niche school and then I went out and I'm in these big cities and big global companies," Leleux said. "I'm very proud of the foundation that was set. I still hold on to who I am and who Western helped mold me into."
Originally published in Winter 2016-17 Westerner magazine