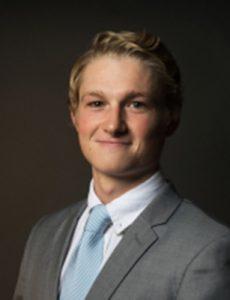 Profile
---
"My education at Western prepared me for this career move."
Soon after his graduation with a Business Administration degree from Western in 2018, Canyon Mueller packed up his car and drove to Seattle where he had a new job waiting at Mutual of Omaha. He didn't know a soul in Seattle, but he felt his experience at Western made it possible for him to take this leap.
"My education at Western prepared me for this career move," Canyon said, "but more through interactions and the community I experienced there."
Originally from North Carolina, Canyon arrived at Western excited about the mountains and the overall college experience. The transition to life at Western was easy in part because of the spirit of community.
"They placed us in dorms according to our majors and interests, so right away I was with the people I would see in class for the next four years," Canyon said.
Canyon also made connections through outdoor activities, clubs and volunteering.
"There were so many different routes to take," he said. "I took advantage of that and it helped me grow."
As graduation neared, Canyon's career plans to go into real estate or commercial banking took a turn. A professor offered him a chance to participate in a selling competition. Through that experience he connected with Mutual of Omaha and not long after they offered him a position in sales.
"I really enjoy talking to people and building relationships," Canyon said, "and that's exactly what this job is."
He credits his experience at Western for preparing him well for this stage of his life and career. The mindset he developed as part of a small school and a small community has made it possible for him to build relationships in business and in his new city of Seattle.
Profile by Western senior Jessica Cusick.