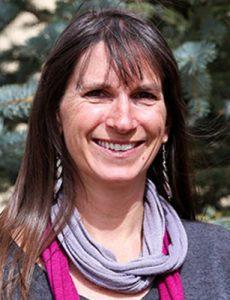 Brooke Moran, Ph.D.
Faculty,
---
Profile
---
"The approach-problem-based learning and experiential learning in the ROE program absolutely foster growth."
On a backpacking trek through Patagonia as an undergraduate, Brooke Moran realized her passion for experiential education and made it her mission to become a professor.
"On one very, very long day, carrying an 80-pound pack over glacial moraine through the rain and being extremely frustrated, I also realized how critical it was for my personal growth," Moran said. "I got into my sleeping bag that night, which was soaking wet, and I made it my mission from that point to become a professor so I could train other outdoor leaders so that the availability of experiential and outdoor education was accessible to more people."
After graduating from the University of New Hampshire, she worked with adolescent girls in a program called Connecting the Courage, whose mission it is to empower young women to find and use their voice.
"I also worked for NOLS [National Outdoor Leadership School] and I worked for Outward Bound," Moran said. "I worked with adjudicated youth. I did corporate leadership executive education and then I went to the Harvard Graduate School of Education for my master's degree. Then I went straight on to do my Ph.D. back at the University of New Hampshire, again in experiential education."
In 2003 Moran brought her wealth of experience to Western, where she has taught in the ROE program, Environment & Sustainability program, Master in Environmental Management program and the Honors Program.
"I believe that students learn best when they are engaged," Moran said. "That includes intellectually, socially, emotionally, physically sometimes. Some or all of those at one time. They need to be stimulated and challenged but also be supported."
Moran has worked with students on a variety of projects and research endeavors, facilitating personal and professional development. Students have devised and delivered original sustainability lessons in community schools and created online guidebooks for local recreational attractions.
"The approach-problem-based learning and experiential learning in the ROE program absolutely foster growth," Moran said. "We expect that students are building their resumes through many of our classes. They're not simply reading and regurgitating or being lectured to and regurgitating. We expect them to struggle, to make mistakes, fail, succeed and learn from all of those experiences and grow from them."
Moran looks forward to continuing to educate the outdoor leaders of tomorrow and encourages students to study in the ROE program at Western for two main reasons.
"One, is we have the most phenomenal set of classrooms in the world," Moran said. "We have incredibly diverse landscapes we can access. The other thing is we encourage and support students in tailoring the program to their personal and professional goals."