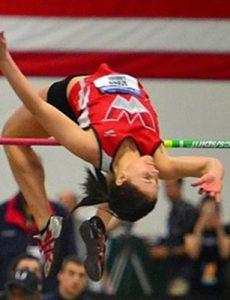 Profile
---
"It's not easy to balance these things [academics and athletics], especially when your goal is to make it to the Olympics straight out of college. "Balancing responsibilities became a good skill I learned for sure."
Countless children dream of making it to the Olympics, the world's ultimate athletic stage.
Straight out of college, Barbara Szabo ('14) achieved that goal, competing for Hungary in Women's High Jump at the Rio de Janerio games.
"It's still a little bit unbelievable that I was able to hit that standard," Szabo said. "Making it to the Olympics was my biggest dream since I was a little girl, and now calling myself an Olympian is just an outstanding feeling. Hard work definitely pays off."
At the Rio games, Szabo earned a mark of 1.8 meters in the qualifiers. Her personal best outdoor mark sits at 1.94 meters and indoor at 1.93 meters.
"I'm taking one step at a time and trying to focus on the next season. Of course Tokyo [2020] is the number one long-term goal," Szabo said. "The goal is to take another big step forward and get as close to the podium as possible."
Szabo spent a tense three weeks in the Olympic Village.
"The energy there was very powerful at the beginning. Everybody was quiet doing their jobs, going through qualifications," Szabo said. "It puts a lot of weight on an athlete's shoulder way before the games actually start."
"Pressure came at every athlete from every direction," she said
"At the beginning I enjoyed being there, but by the end I couldn't wait to leave. I'm probably not going back to Brazil for a vacation," Szabo said.
As a professional athlete, Szabo fills her days with multiple training sessions. While high jump takes up much of her current schedule, she plans to return to school and earn another degree—likely in sports psychology.
"I started working with a professional last year and I know how much of a help it can be in all kind of situations," she said. "It's something I'd enjoy doing at the end of my own career."
Szabo is accustomed to balancing academics and athletics. At Western, she majored in art and graphic design while racking up a collection of Track and Field awards.
While competing for Western from 2011 to 2014, Szabo became one of the most decorated female athletes in school history.
She is a six-time NCAA Division II National Champion, seven-time All American, 10-time Rocky Mountain Athletic Conference Champion and the Colorado Sports Hall of Fame's 2013 Collegiate Female Athlete of the Year. She won four consecutive Indoor High Jump national titles—becoming just the third female DII Indoor Track and Field athlete to win four championships in the same event. She also holds Western's record for Women's Indoor High Jump at 1.92 meters and is tied for the Outdoor record of 1.91 meters.
"I'm proud that I was able to make something that's going to stay there for a long time," Szabo said. "If somebody beats my school record, I'll buy her a cookie."
Spending sleepless nights working on art projects and papers wasn't the best for her athletics—but she wanted to do well in school. She also managed to find time to work in the IT Department and art gallery.
"It's not easy to balance these things, especially when your goal is to make it to the Olympics straight out of college," she said. "Balancing responsibilities became a good skill I learned for sure."
Her years at Western are "one big favorite memory that is going to stick with me forever," she said.
After graduation, Szabo returned to Hungary to spend time with family for a few weeks before heading off to a new life and coach in Sweden. There, she learned new techniques and workouts, but something was off.
"Sweden didn't make it to my heart. I found myself flying back home to Budapest and stay[ing] there for longer and longer," she said.
Eventually, she moved back to her hometown. Now she spends weekends and free time with family, her boyfriend and dog.
"I feel like I am where I'm supposed to be," Szabo said.
Profile published in Winter 2016 Westerner magazine