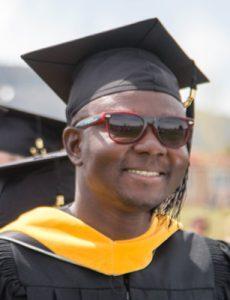 Profile
---
"I recommend this program for anyone who wants to grow professionally and that wants more than to go through the motions of grad school, but wants to be well-equipped life after school. You have to have the right skill set, the right mentality, an 'I can do it' spirit to be able to be competitive out there. That's what the program gives you."
Oluwalana Ayodeji is a Nigerian Master's of Environmental Management candidate with a vast wealth of sustainable and leadership experiences in community-level waste mitigation and diversion.
He has led a non-profit organization in Nigeria that focused on seeking full local citizen engagement on effective waste management practices. While at Western, Ayodeji was a campus sustainability coordinator involved in the quantification of solid wastes generation, as well as composting activities at the Earth tub in Rare Cafe at Western Colorado University.
He immigrated with his family from Nigeria to Gunnison to study intensively in the program. Students have the option to study in full-residency or low-residency through program's distance learning option, which is aimed for committed environmental professionals actively involved in their home community. Regardless of which option they choose. The program values the global perspectives its students bring and it has partnerships with organizations around the world.
Oluwalana emphasized the practical experience he is gaining moving beyond the theoretical nature of the classroom. Through thought-provoking discussions with his classmates, a close relationship with his professors, he is constantly challenged. "I am pursuing projects I would have never thought of," he said.
Before working towards his MEM degree at Western, Oluwalana spent over six years working for Covenant University in Ota, Nigeria, on improving the university's waste management systems. Before this he received his bachelor's degree in Environmental Management & Toxicology from the Federal University of Agriculture, Abeokuta. Oluwalana hopes to bring his passion for waste management with universally applicable ideas to the Gunnison Valley.
As part of the Sustainable & Resilient Communities Track, Oluwalana hopes to spread critical awareness of the importance of recycling practices to campus. He plans to "upcycle" underutilized plastics to develop affordable housing structures.
"I recommend this program for anyone who wants to grow professionally and that wants more than to go through the motions of grad school, but wants to be well-equipped life after school. You have to have the right skill set, the right mentality, an 'I can do it' spirit to be able to be competitive out there. That's what the program gives you."
Academic Programs
---