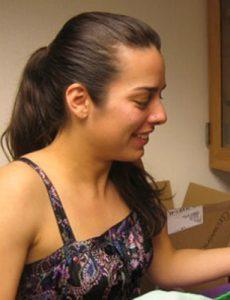 Profile
---
"I felt like Western was full of people who were a lot like me, and I had a sense that I found my people."
While at Western, Angela Fioretti turned a fascination with the natural world and her passion for the environment into a commitment to sustainable energy research.
Angela is a Colorado native who stumbled upon Western while on a high school ski trip. Fioretti and a friend were visiting her friend's older brother who was enrolled at Western at the time.
"I realized there was a college right next to a ski resort and thought, 'how cool,'" she recalled.
When it came time for Fioretti, an avid snowboarder, to choose a college, the choice was easy. Western's location was a prime factor.
She had no idea what she wanted to study. "I just knew I wanted to go to college," she said, "I loved the outdoors and I loved to snowboard."
She remembers feeling homesick her first few days at Western, but the feeling was short-lived as she quickly made friends and acclimated to her new environment. Fioretti chose Biology as a major and was influenced early on by Dr. Robin Bingham who helped her realize that science was a guaranteed way to make an impact on the causes she cared most about.
"Science meshed well with my personal and long-term interests," she said. "Plus, I was good at it."
Working with Dr. Casie Osborne, she became involved in a research project funded by the Thornton Undergraduate Research Program which studied the effects of endocrine-disrupting compounds on the embryonic development of frogs. Her research examined the effects of toxic byproducts from industrial soaps and other products that seep into the water supply on aquatic wildlife.
"Casie was a huge influence on me. She was a younger female professor and encouraged me to go to grad school and feel confident in a lab," Fioretti said.
Two years later, Fioretti added Chemistry to her list of majors. "I was drawn to the sorcery aspect of Chemistry; different colors in different tubes," she said.
During her time at Western, Fioretti was in the Chemistry Club and remembers how fun it was each year to put on a "chemistry magic show." She also participated in the Student Government Association and was involved in sustainability efforts. After graduation, she completed two internships through the Department of Energy with the National Renewable Energy Lab (NREL). Fioretti then was accepted into the Ph.D. program at the Colorado School of Mines in Golden. Her passion for sustainability and the environment grew. While in the program, she became interested in solar energy and began working on solar cell technology.
"I learned about materials science, which focused on things like semiconductors…I found a whole new branch of science and moved from chemistry to physics," Fioretti said.
During the Ph.D. program, Fioretti continued research on the development of new absorber layers of solar cells, one small part of the technology.
"Solar panels based on silicon are great, but they are energy inefficient. My goal is to work on a thinner version of solar cells that you can stack" and thereby increase efficiency, she said.
After five years of intense research and hard work, Fioretti earned her Ph.D. in Materials Science.
Presently, she is living in Lausanne, Switzerland with her husband. Fioretti is in her Postdoctoral Fellowship at the Swiss Federal Institute of Technology (EPFL), a research institute and university that specializes in natural sciences and engineering.
She is still researching thin film solar cells, focusing on contact materials and developing a new material that can both store and conduct energy. She hopes to develop a transparent version, like windows on a house, creating an entirely new material. In addition to research she also mentors students and interns.
Fioretti believes Western gave her an edge and prepared her for life inside and outside of academia, especially since she was given the opportunity to do four years of research in Osborne's lab. She feels that the experience working on a long-term research project early in her studies gave her competitive skills going into graduate school.
"That opportunity was critical for me, I wouldn't have gotten that chance at a big university." Fioretti said. "I came into my Ph.D. program with presentation and time management skills that other students didn't have."
"I wouldn't be where I am now if it wasn't for Western," she said.