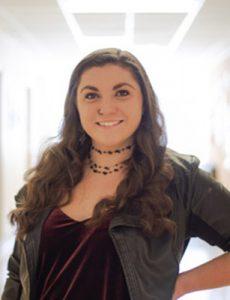 Profile
---
"I'm really happy with the route that I took. Western has afforded me opportunities that I don't think I would have had anywhere else. I don't think I would have had the same access to different resources at a bigger school."
Like most college seniors, Alyssa Ware is planning her next steps: graduate school, a career, where she'd eventually like to live. What sets her apart from her peers is the fact that she'll graduate with her bachelor's degree before her 20th birthday, thanks in large part to Western's Concurrent Enrollment (CE) program.
Ware is a double major in Psychology and Sociology with an emphasis in Criminal Justice who hopes to build a career as therapist in the corrections field. She is a Gunnison native and a graduate of Gunnison High School, where she first learned about CE classes.
"The first [CE] class I took was a Personality Theories class," she said. "After that, it was like, 'OK, how many more of these can I fit into my schedule?'"
CE allows students to take college-level classes while they are still in high school. Not only does it offer more challenging coursework, it also helps students jumpstart their college career at a reduced financial rate.
"My last year at Gunnison [High School] I was only taking one class there. All of my other classes were at Western," Ware said.
She enrolled as a full-time Western student at just 16 years old but didn't necessarily broadcast her age to her new campus community.
"My professors just found out how old I am this year," she said with a laugh. "I try to save it for private conversations."
Her youth didn't stop her from getting involved at Western and taking full advantage of the academic opportunities available to her.
"Your education is what you make it. It's the most important thing in my life right now," she said. "My goal is to go to grad school. But it's also about building connections and getting as much experience as possible in as many areas as possible and being in a community where everyone does everything."
Ware has focused on community involvement during her time at Western, too.
She currently works with the Gunnison County Substance Abuse Prevention Project (GCSAPP), a branch of the Juvenile Services Department at the Gunnison County Courthouse where she runs focus groups for high school students and leads parent educational sessions.
In addition to her work with GCSAPP, she's volunteered with the Gunnison Mentors Program, worked as a supervisor in the juvenile diversion program and secured an internship with the District Attorney's Office. On campus she is also involved with the Western student group Sources of Strength (SOS) and acts as an adult mentor for SOS at Gunnison High School.
"I'm really happy with the route that I took. Western has afforded me opportunities that I don't think I would have had anywhere else," she said. "I don't think I would have had the same access to different resources at a bigger school."
One such opportunity was the chance to work with Kari Commerford, who is the Director of Juvenile Services for Gunnison County and a lecturer within the Behavioral and Social Sciences Department at Western.
"She [Commerford] hires students out of [the department], she invites students to community events so I've gotten to know people who work at the jail and the courthouse and the doctor's office and Health and Human Services and everyone knows each other at this point. I have a ton of people willing to go to bat for me," Ware said.
Ware hopes to earn a Master in Clinical Social Work and has applied for several different graduate programs, including at the University of Washington and the University of Denver's Four Corners Program.
Though her next steps will inevitably lead her out of Gunnison, she feels prepared thanks to her experience on campus.
"Western has challenged me but I've also met people who think similarly to me which I think has really benefitted me," Ware said. "I'm a little nervous to leave but I'm excited to see where I go."
Profile by Katie Mikesell, Marketing Communications