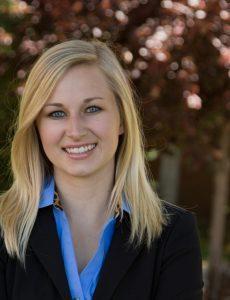 Profile
---
"Through her successful summer internship and experiences at Western, Allie learned "your future is determined by how much effort you put in."
Allie is a Business Administration major with an emphasis in Energy Management. Originally from Elizabeth, Colo., Allie decided to attend Western after visiting for a campus tour.
"Western was just a fit from the moment I got here. I remember thinking, 'this is it, this is where I'm going to school.'"
She liked the idea of a fresh start in a smaller school that wasn't too big and overwhelming. Allie describes the students at Western as "really special kinds of people. I haven't met anyone I don't like."
During school semesters she's a work-study student for the School of Business, a Student Ambassador in Admissions and is in the Honors Program.
One of Allie's favorite classes so far has been her marketing class, because her professor kept it very lively, related it to current real world topics and was passionate about the subject.
One of the biggest things she's learned at Western is, "Your future is determined by how much effort you put in. Because I've put so much effort in, I've had great results." She just experienced a very successful summer internship with SM Energy, and was honored to be invited back for a second summer.
While living in Gunnison, Allie has taken up fly fishing, and often spends her free time hiking, biking around town and enjoying campus events like pool parties. Allie's advice for incoming freshmen is to "meet one new friend your first day, and take the time to meet with your advisor! My advisor has helped me more than I can say."