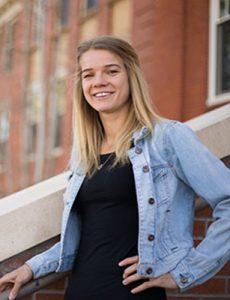 Profile
---
"Western helps students focus on things that matter—you're surrounded by people who believe in you no matter what. The way professors support students is incredible."
Alicja Konieczek wanted to leave her small hometown of Zbaszyn in Poland to go to college where she could take her running career to the next level. When her brother, Dawid Konieczek, made the decision to attend Western Colorado University in the fall of 2014, it made her choice easy. They moved together and competed on both the cross country and track teams.
"When [Dawid] visited Western in the summer of 2013, he was amazed; everyone was really nice and welcoming—the coaches made a great impression on him. I trusted him and came to Western," Alicja said.
Alicja's fascination with science and love of sports made choosing her major in Exercise & Sport Science (ESS) an easy decision. The thought of learning anatomy and physiology of the human body and applying it to her running career (as well as her work career) really excited her.
"I really like the 'hands-on' experience in the High Altitude Performance Lab and being part of the Wellness Elevated program," she said. "There are a lot of opportunities that the ESS program offers to students, which is great!"
Alicja was also very involved on campus through various internships and independent studies. She worked as an assistant for graduate research, shadowed an Occupational Therapist at Gunnison Valley Hospital, and held jobs in the University Center and IT Department while also serving as a Peer Academic Leader and an Orientation Leader. And on top of all that, she is a nine-time national champion in NCAA Division II track & field.
"Western helps students focus on things that matter—you're surrounded by people who believe in you no matter what. The way professors support students is incredible," she said.
Since graduating in 2019, Alicja has been training for track and field competitions in Europe, and once her 2019 season is officially over, she'll move to Albuquerque, New Mexico, where she'll work as an assistant coach at the University of New Mexico while she trains for the 2020 Tokyo Olympics.
Profile by Western senior Jessica Cusick.