Western students build clubs, coops, and bridges
Two years ago, Joshua Clyncke found himself in a place a lot of first-year college students would envy: he was building something that could change the world. Back then, the Rady School was just finding its footing and, having few clubs to offer, had invited students to propose and start clubs they would like to participate in. He knew just what was missing.
Clyncke, who is studying math and computer science at Western, teamed up with fellow first-year student Grace Borden to build a club modeled on Engineers Without Borders (EWB), the service-focused non-profit organization. Soon, they connected with associate professor and associate director of the Partnership Program, Lauren Cooper, and Mountaineers Without Borders (MWB) was born.
"We spent sort of my whole freshman year doing the administrative tasks and setting the club up," Clyncke said. "Then over the [last] summer, we partnered with an organization called Diversa, and through them, we partnered with a community in Colombia."
Diversa had previously partnered with the Massachusetts Institute of Technology and Colorado School of Mines on similar projects. They would provide a forum through which members of the community were able to describe what they needed or wanted, and student groups could pick the problems and associated projects that matched their interests, skills and abilities. Then the organization would facilitate travel and communication between the team and the people they were helping. Once MWB was on the ground, Diversa would supply guides, who also served as translators, as well as tools the team could use to implement their plans.
Borden had spent time as an exchange student in high school and, from that experience, knew she wanted to start an EWB-type club in college. "Starting this club with Josh was empowering," she said.
From the list of projects, MWB chose two: mobile enclosures that could be used to keep chickens and rabbits safe from predators and a substrate mixer that would be the first step toward growing delectable Orellana mushrooms that could be used to cook or sell at the market.
"We split those up. The mobile chicken coops were done wholly by members of the club as an extracurricular," Clyncke said. "Then, the mixer project was taken on by the Introduction to Engineering class. They went through the design process, handed over the blueprints to us as a club and we took them down to implement their ideas."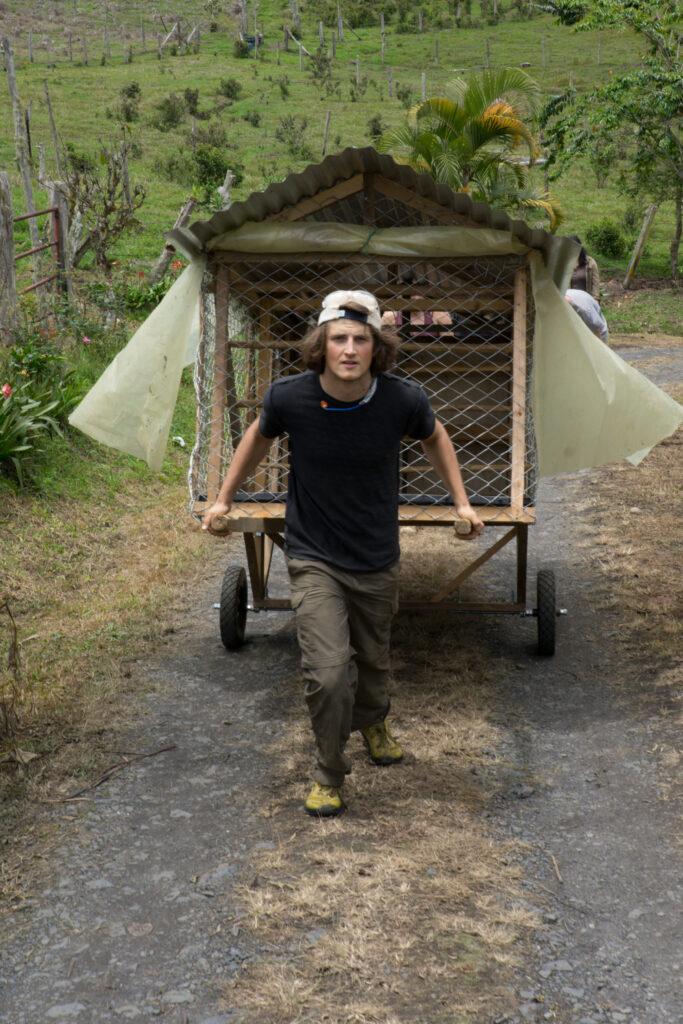 In June, after more than a year of administrative tasks, spreading the word, signing up members, securing a grant from the Western Fund for Scholarly Opportunities, Undergraduate Research and Creative Expression (SOURCE), which provided the funding,  finding partners who could connect them with communities in need, and developing projects they could take on the road, seven students and four advisors packed their bags and set out for South America.
Miraflores, Colombia, is a rural community six hours north of Bogota. The drive there is primarily over rough, unimproved dirt roads and it consists of a town center and scattered farms where about 100 people make a living on the edge of the jungle.
Diversa supplied tools, and the town provided the building materials the team would need to turn their plans into working models.
As one might expect from a group of college students, they initially designed the coolest thing they could come up with to solve the problem. But gradually, reality took hold, and they modified their design to function as it was supposed to, but also to be something they could build with basic materials.
"We tried to adapt our design to fit what we thought would be our limiting factors down there," Clyncke said. "Then when we got down there, we were still in a phase of problem-solving and adaptation to find new materials and ways of doing things we had planned to do."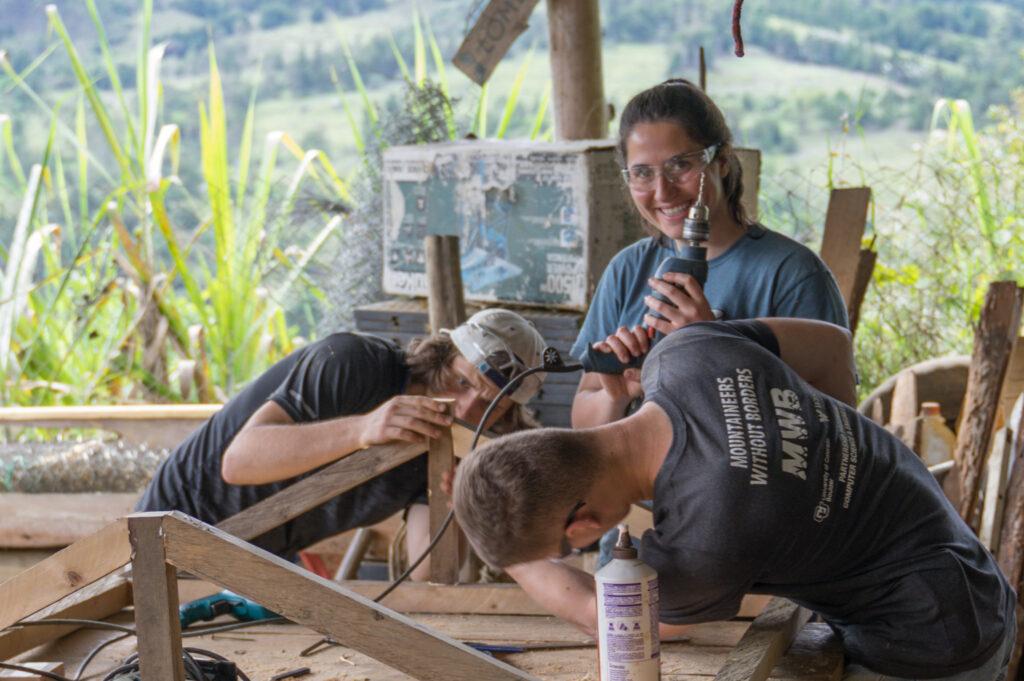 From all that had to be built since the first day they'd been invited to start a campus club,
it wasn't Mountaineers Without Borders or even the projects he was most proud of. It was the bridges they built between two communities and the connection they made with the people.
"The greatest part of the trip was the sense of community and family when we were there," Clyncke said. "They fed and housed us very graciously every day. When we were able to give them the project at the end of the trip, everyone was very excited and overcome. So, I think they were very appreciative of what we were able to go down and do."
For Borden, the experience was life-changing. From forming the club to building the projects, implementing their plans in Colombia and even just seeing the joy the soccer ball they gave to the children in the village brought, it was a trip she called "surreal." Throughout the journey, she discovered what she wants to do with her engineering degree and that real fulfillment can be found in service to others.
"We were thanked by every member of the family, and they all expressed their gratitude. As we were leaving, we were told that we would always have a second home in Colombia, and they hope that we return," she said. "I have never felt so welcome in any house as I did during my time in Colombia. Their hospitality and generosity are the first things that come to mind when I recall the trip and have stayed at the forefront of my mind ever since.