In collaboration with the Mexican government, Western Colorado University has launched a new scholarship program to assist certain Latino students achieve their dream of obtaining a university degree.
The 2020 IME Becas Scholarship program offers up to $1,000 in funding to students of Mexican origin or descent. It includes students in Deferred Action Childhood Arrival (DACA) status and those under Colorado's ASSET law (Advancing Students for a Stronger Economy Tomorrow.) Students must have a financial need to qualify.
This month, the Mexican government awarded Western $5,000 through its IME Becas program—money that will be matched by university Vice President of Enrollment and Student Success Abel Chávez, Ph.D., through his own fundraising.
Chávez met with the Mexican Consulate in Denver on Sept. 11 to receive the scholarship check and to discuss issues important to both Western and its students.
Furthering a Legacy
IME Becas has benefitted thousands of students nationwide and will assist Western fulfilling its legacy of being innovative, forward thinking and open to all.
For Chávez the assistance to these students is personal, having grown up the son of undocumented parents in a predominant Hispanic neighborhood on the northeast side of Denver. He gives credit for his own success to the many people who worked "behind the scenes" to help him and wants to add to Western's legacy of doing the same.
"I want folks to know Western as cutting edge, forward looking—a school that is innovative and is open to all. That's really the legacy that I want Western to have while serving our community," Chávez said. "This is about Western and more so about these students and giving them an opportunity. This is what drives me—without people doing a bunch of work behind the scenes many years ago, I would have never had the opportunity."
Chávez said now he gets to do that same hard work, so others "can have their path."
IME Becas—a shortened version of the Institute for Mexicans Abroad Scholarship—was launched by the Mexican government with the goal of forming partnerships with organizations and institutions in the United States. Its purpose is to collaborate with these entities to strengthen ties with the Mexican government and to foster better integration in the society where these students live.
IME Becas offers two programs to achieve its goals: the first is through promotion of educational programs, alliances and fundraising. The other is by developing partnerships with educational institutions and other organizations by soliciting matching funds, which Chávez has done.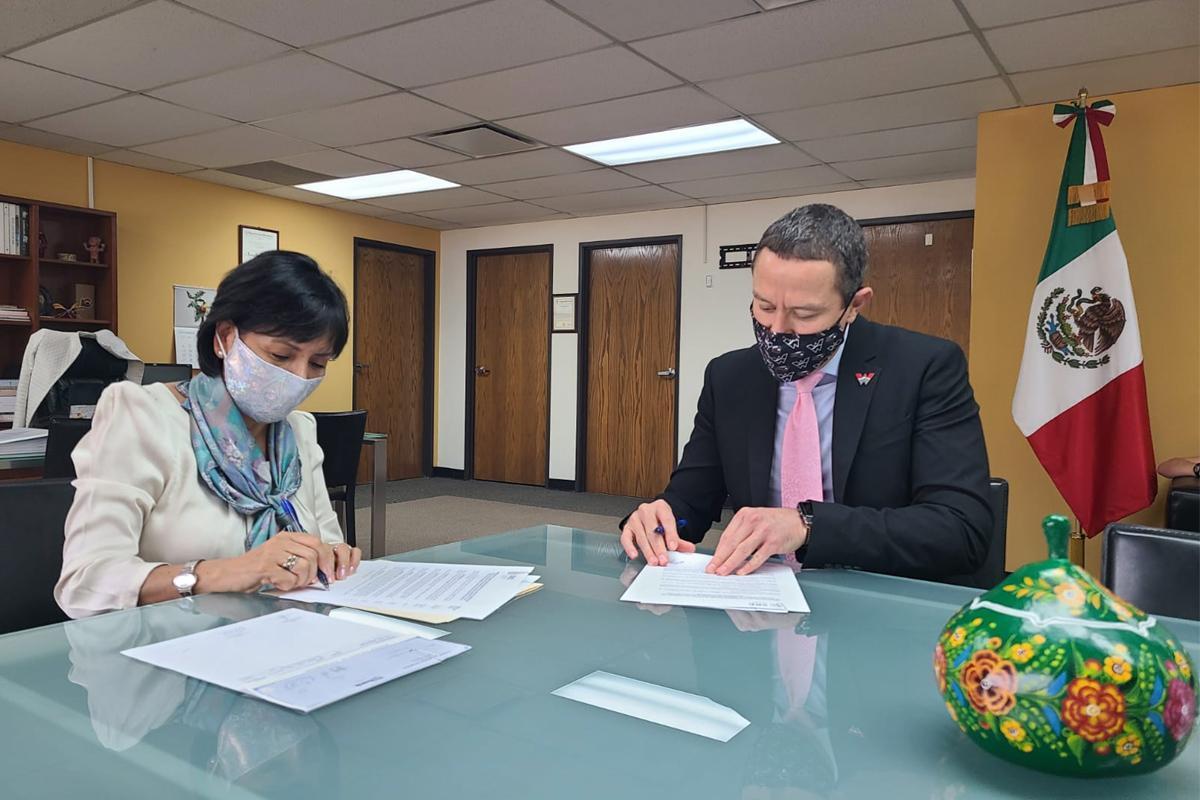 'Someone is Willing to Invest in Me'
"Mexico is making a generous contribution and it sends a message, particularly to our DACA students, that their homeland has faith and confidence in them and supports their dreams,"
said Sally Romero, Western's director of multicultural affairs.
Romero works with students from all cultural and ethnic backgrounds and is well acquainted with how the cost of education can become a financial obstacle to those seeking a degree—especially to those of the immigrant community. She noted that many of those who benefit from IME Becas already are members of communities, who have been educated in local schools and are contributing members of society. Because of this, she posed, there is an obligation to not only allow but assist them in continuing their education.
"When I think about higher education, it's the very core of our mission to provide advancement of knowledge to people for the betterment of society," Romero continued. "It hinders their true success if they're indebted. While this contribution is not huge, it's large enough to make a personal impact, and it's that kind of boost that says, 'Hey, someone is willing to invest in me.'"
'I Am, I Will Do'
With the money, Western has developed a process through which students can apply, drawing out the best in each applicant. They must submit a 500-word essay beginning with the words, "Yo soy," and finishing with "haré." Yo soy is Spanish for "I am." Chávez said this is designed for students to express just who they are. In like manner, haré means, "I will do," giving students the opportunity to describe what they will do in life with their advanced education.
While a final number has not been determined, up to 10 scholarships may be awarded this year. Chávez hopes to make this fund—and similar programs for all other students—available annually through additional partnerships.
"What I will do is continue to show our partners the value that Western brings," he said. "That is something I will certainly do, and I will continue to put our students' stories out there and how they are emerging professionally."
Author Credit: Chris Rourke