Business and entrepreneurship professor Tom Miller joined Western last year because, he says, "I got to a spot in my career where I wanted to teach." He had also recently written a book, Lift: A New Paradigm for Influential Leaders, which redefines and revalues influence and encourages the building of communities and character. Miller wanted to build a business based on the work he had done in this book, and he found the perfect team in some of his business students at Western. Last month, Miller and six of his students launched the beginning of a business called Lifting Leaders that will elevate the leadership community at Western.
Lifting Leaders
The mission of lifting leaders is to redefine what a leader is. "We're basically trying to build up a community of these influential leaders who are making a difference in their communities by doing really cool things … Not someone who's the head of a company, for example, but someone who is out doing stuff to help people and build up the community," said Ryan Taylor, student intern. Lifting Leaders has been in the works since last January and was launched this month. So far, they have established a website and begun both a blog and a podcast, where they hope to interview influential business leaders.
The six students that work as interns for Lifting Leaders come from a variety of backgrounds. Elizabeth Cruz is a recent transfer and a junior who works in two different clubs as part of the Multicultural Center: Amigos and APIC. Taylor on the other hand focuses on Western's hockey and helping create the ICE Project when he's not working on Lifting Leaders. Katrina Seibert is only a sophomore at Western, but she uses her Communication Arts major to serve as the production manager for Western's radio station, KWSB as well as to produce the podcasts for Lifting Leaders.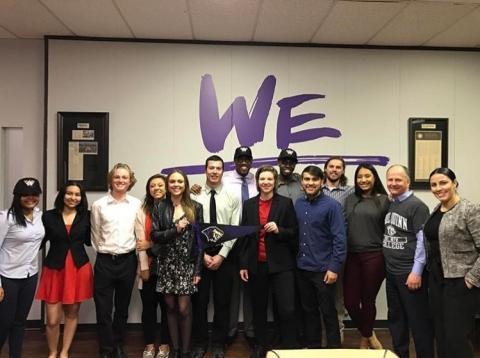 Elevate Leadership Communities Around the Country
Recently, Lifting Leaders went on a trip to Dallas, Texas to meet with business leaders and organization, and to connect with Paul Quinn College, a small historical black college. The students and Miller hope to use their connections with the business leaders to generate their own ideas and to begin establishing a sister school program with Paul Quinn in order to increase the diversity of students at both schools.
These students are gaining real-world experience and the opportunity to meet and brainstorm with influential business leaders as well as to learn from Miller, an entrepreneurial businessperson himself, in a professional environment. The students hope to gain experience, grow their skills, learn all they can from Miller, and "get that entrepreneurial spirit going."
"We really want to see a presence at Western, for students to tune in to our podcast, to visit our website page, so that they know this resource is available for them. You can hear great stories, you can learn how to be a dynamic leader in your own community and in Western's community," says Canyon Mueller, one of the other student interns.
More Student Opportunities
Lifting Leaders is one of many innovative projects and opportunities for students at Western and in the School of Business.
In addition to opportunities to elevate leadership community, Business students can join a myriad of additional extracurricular and research activities. Explore global school of business opportunities in the Harlaxton study abroad program for a semester or as little as a two-week intensive course. Take part in the PDC Energy Weekend to learn more about joining the energy management program. Join Western's annual job and career fair to get ahead in the global marketplace before you even depart from Western.
Learn More About Western's School of Business Offerings